One of the most delicious wet cakes is this lemon tres leches cake. It is the perfect way to satisfy your sweet tooth. This is one of those home recipes that tastes way better than the store-bought version.
Lemon Tres Leches Cake
A lemon tres leches cake is made with a thick cake that is drenched in the most godly mixes of milk. Then it is topped with a very light and fluffy whipped cream. In every layer, you will taste a soft lemony flavor, nothing too strong or too tart. It is the perfect dessert to go by itself or with a big scoop of ice cream. This lemon tres leches is a fresh twist on the classic tres leches.
You will love this recipe because the cake is nice and moist like it is supposed to, no dry cake here! It doesn't matter if it is a lemon, passion fruit or coconut tres leches it should always be wet. Your pan should always have a little bit of milk mix at the bottom.
Why is Tres Leches Cake so Good
The answer to this is simple, it is all about balance. The cake is made so it can have the perfect balance between ingredients and to not be overly sweet. This is because most of the sweetness will come from the wet mixture. Then you will get the perfect balance in texture. You have a cake that is smooth but not soggy, topped with a creamy frosting that wraps it all together.
Can I use Lemon Juice for Lemon Extract
You should not substitute lemon extract with lemon juice when making baked goods. The reason for this is that it will give you a different flavor profile because of where both of these ingredients come from. The lemon juice comes straight from the juice of the fruit and is very acidic. It has a strong tart flavor. While the lemon extract is made from the oils of lemons which gives it a soft lemon flavor.
---
Lemon Tres Leches Ingredients
In this tres leches cake version we make sure that in every layer we incorporate the lemon flavor.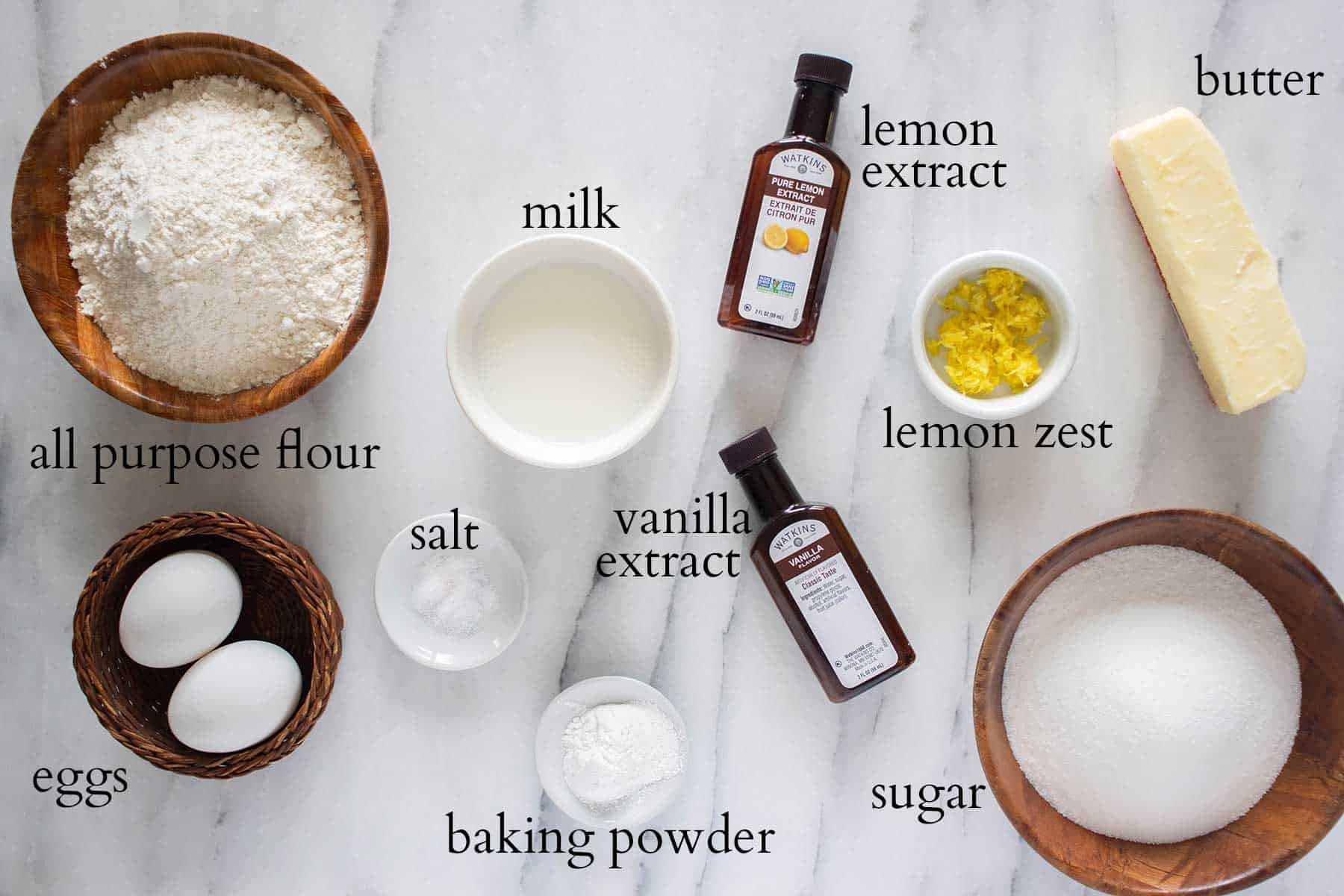 Sugar & Salt- When I add sugar I always like to add salt to enhance all the other flavors and balance out all the sugar in the recipe.
Butter- For this recipe, I used salted butter.
Eggs- I used 2 regular size eggs for this recipe.
Vanilla extract- I use vanilla extract because it helps balance out all the tangy flavor of the lemon.
Lemon extract- The lemon extract to give the lemon flavor to this recipe. Unfortunately, I don't suggest you substitute this with lemon juice because I feel it won't reach the same flavor.
Lemon zest- Lemon zest is necessary because it deepens the lemon flavor in this cake.
All-purpose flour- I use all-purpose flour for this recipe. I have never used cake flour so I wouldn't know if it works well in this recipe.
Baking powder- The baking powder is important because it helps our cake to rise.
Milk- I used full fat whole milk.
Milk Base
One of the secrets of the tres leches milk base tasting so good is the evaporated milk for its unique flavor and because of the sweetness of the condensed milk.
Sweetened condensed milk- The condensed milk is responsible for the sweetness in this mixture.
Evaporated milk- I used a whole 12-ounce can.
Milk- I used 1 cup of whole milk. I suggest not adding more because it would water down the sugar content that is needed to get the right flavor.
Frosting
The way I make the frosting is a little unique because I add cinnamon to it. Tres leches are usually topped with cinnamon but I like controlling how much we put on it.
Heavy cream- I used heavy cream but you can also use heavy whipping cream.
Cinnamon- This is a must in any tres leches so we still added it on top but in the frosting.
Sugar- I added sugar because the cake itself doesn't have a lot of sugar so it still needs a little bit more of sweetness.
Vanilla & Lemon extract- We add these 2 here so every layer of this tres leches can taste like lemons!
---
How to Make Lemon Tres Leches Cake
1. The first step is to cream the butter and sugar. You will know that you did it correctly when you notice the color of the butter turn pale yellow and it has a fluffy texture.
2. Beat the eggs in one at a time so they can incorporate well.
3. Then add the dry ingredients to the wet mixture little by little.
4. Add batter to a lined mold and bake.
5. Now you must add the milk mixture and let it soak all the goodness.
6. Frost and refrigerate.
Pro Tips
* I always think the best way to measure ingredients is with a scale, especially things like flour. But if you don't have a scale, I suggest you measure the flour by filling your measuring cup with a spoon and then removing the excess with the back of a butter knife.
* To get clean-cut tres leches slices I suggest cleaning your knife EACH time you cut. If not, your whipped cream will drag and leave crumbled pieces all over.
How to Store?
You can store this cake in your fridge for up to 5 days. You can store it in the same pan it was made or you can transfer it to an airtight container.
What to Serve With?
This lemon tres leches cake is a good dessert to accompany any main meal or to make for any party or the holidays. A good pairing choice is to make a rice and beans with a roasted chicken.
Do you like recipes with lemons? Here are some more!
Recipe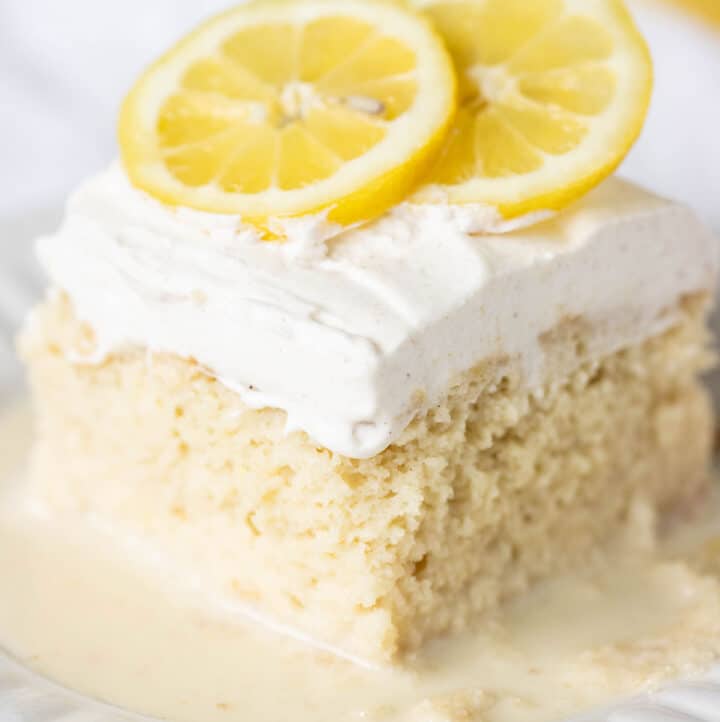 Lemon Tres Leches Cake
Sweet, tangy, and delicious lemon tres leches cake that is soft and moist.
Ingredients
Lemon cake
1

cup

sugar

221g

½

cup

butter (at room temperature)

113g

2

eggs

107g

2

teaspoons

lemon zest

4g

1

teaspoon

lemon extract

2

teaspoons

vanilla extract

1 ½

cups

all purpose flour

205g

¼

teaspoon

salt

2

teaspoons

baking powder

½

cup

milk (at room temperature)
Milk mixture
14

ounces

condensed milk

1 can

12

ounces

evaporated milk

1 can

1

cup

milk
Frosting
1 ½

cups

heavy cream (cold)

¼

cup

sugar

49g

¼

teaspoon

cinnamon

½

teaspoon

vanilla extract

½

teaspoon

lemon extract
Instructions
Preheat oven to 350°F. Grease your baking pan and line it with parchment paper.

In a large bowl beat the butter and sugar at medium speed for 3 minutes. Then add the eggs one by one until well incorporated.

Mix in the lemon zest, lemon extract, and vanilla extract.

Add the salt and baking powder to the flour and mix. Add half of these dry ingredients to your wet ones. Mix at low speed until the flour is mixed in well. Add the other half of the flour and mix. Mix in the milk.

Pour batter into your baking pan and bake for 30 minutes. Once done, take a fork and poke the cake in the middle to check for doneness. It should come out clean. Once your cake cools down, poke your cake all over with a fork.

Mix all three kinds of milk. Give it a good stir to make sure the condensed milk dissolves. Slowly pour them on top of your cake. Refrigerate your cake for at least 2 hours.

While the cake cools make your frosting. Add the heavy cream, sugar, cinnamon, vanilla, and lemon extract to a large bowl. Mix on medium-high speed for 8 minutes or until you form stiff peaks that don't flop. Spread the frosting evenly on top of the tres leches. Cover the cake and store it in your fridge until ready to eat.
Recipe Notes
1. Cake-  This cake recipe makes a dense cake, not a sponge cake. The reason for this is that is intended to soak up all that good milk we add to it. This will result in a very moist cake full of that lemon tres leches flavor. 2. Refrigeration- You must refrigerate your cake after adding all the milk for at least 2 hours. I always recommend 3 hours if you have time. Better yet you can make this the day before you intend to eat it. If you try to cut this cake before refrigerating, it will have bits and pieces come out. 3. Storing- Make sure you store any leftover cake in an airtight container for no more than 5 days. You can leave the cake in the pan but ensure it is tightly covered with plastic or foil. This is to ensure it won't get any weird taste from other foods in your fridge. 
Nutrition
Calories:
643
kcal
|
Carbohydrates:
75
g
|
Protein:
12
g
|
Fat:
34
g
|
Saturated Fat:
21
g
|
Polyunsaturated Fat:
2
g
|
Monounsaturated Fat:
9
g
|
Trans Fat:
0.4
g
|
Cholesterol:
139
mg
|
Sodium:
378
mg
|
Potassium:
419
mg
|
Fiber:
1
g
|
Sugar:
59
g
|
Vitamin A:
1225
IU
|
Vitamin C:
3
mg
|
Calcium:
365
mg
|
Iron:
1
mg
Keywords:
lemon tres leches cake, tres leches lemon cake
---
Don't miss another delicious recipe and sign up for our newsletter!