Pastelillos de Guayaba is a delicious dessert that is made from guava. They're flaky, fruity, and sweet. It is effortless to make and only needs 3 ingredients to be made!
This is the perfect treat for a weeknight dinner when you just want something fast to satisfy your sweet tooth.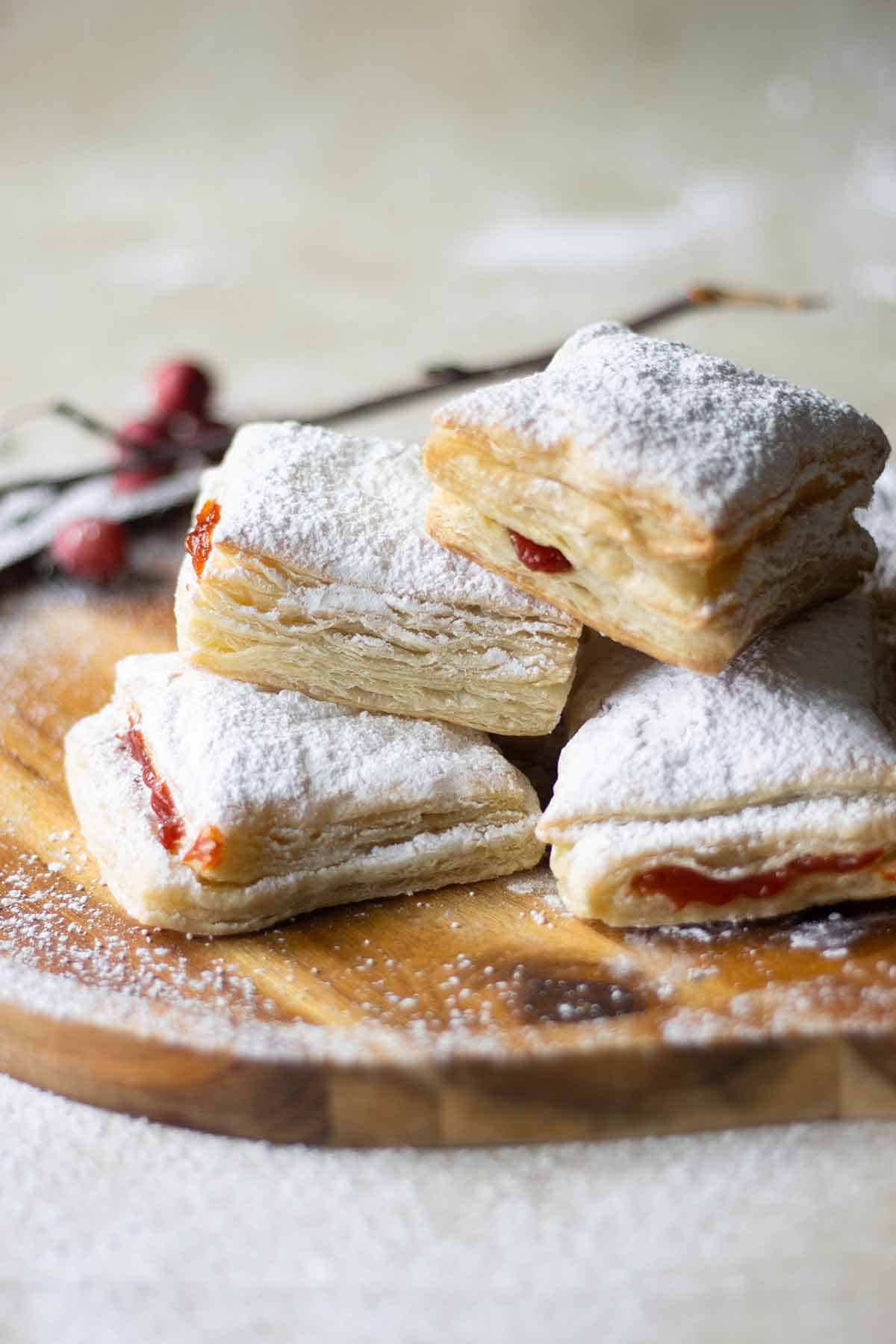 What are Pastelillos de Guayaba?
Pastelillos de guayaba are the Puerto Rican Version of hand pies made with puff pastry. A pastelillo is made with 2 pieces of puff pastry that is usually cut into squares. Then they're filled generously with a smooth and sweet guava paste. Finished by dusting powdered sugar until it's completely covered. They're truly a bite into the Caribbean.
In Puerto Rico, they are sold almost everywhere. From supermarkets to gas stations. But if you want a fresh pastelillo it is best to go to a panaderia(bakery). Here you will find pastelillos de guayaba along with other popular staples like pan sobao, budin, flan, and quesitos.
These guava pastries are very easy to make. Which is why they're the perfect party food. In almost every Puerto Rican activity, such as birthdays, weddings, or family gatherings pastelillos are served. There is usually a tray full of cheeses, cured meats, sandwichitos de mezcla, and many other finger foods.
Are Puerto Rican Pastelillos the same as Cuban Pastelitos?
Puerto Rican pastelillos and Cuban pastelitos are similar but not the same. The similarities are that they're both made with puff pastry. Both are also stuffed with a generous amount of delicious guava paste. But the mayor difference is that the Cuban guava pastries also have cream cheese. Another difference is that Puerto Rican pastelillos are topped with powdered sugar.
Ingredients and Substitutions
1. Guava paste- For this recipe, I used 12 ounces of guava paste, and trust me that is more than enough. If you put more it is just going to ooze out. 
Substitution- if you're not able to find guava paste the best substitute would be guava marmalade. But I warn you, that is not the same but a good substitute still.
2. Water- I used water to dilute the guava paste. Some people use the paste just like it comes. But when I have tried it this way (only because I was being lazy) I find that it makes a big difference. When the guava paste is not diluted and the pastelillos cool down the guava paste turns into the same block it was. If you add the water, the guava will still have a saucy consistency when it cools down.
3. Puff pastry- You can make your own puff pastry but I always use store-bought because it is very convenient.
4. Powder sugar- The powdered sugar is the topping that completes this dessert. You can opt not to add it but I really suggest you put it on. Even if it is a light coat.
---
How To Make Pastelillos de Guayaba
1. Heat the guava in the microwave to soften it. Mash it until smooth. Add 1 tablespoon of water and mix.
2. To make regular-size pastelillos cut each pastry sheet into 9 pieces.
3. Add a tablespoon of guava paste to half of the squares.
4. Wet the borders with water, and place a piece of puff pastry on top. Seal by lightly pushing down.
5. Place them on a lined baking tray and make sure they have space to grow. Bake for 25 minutes or until golden brown on top.
6. Sprinkle powder sugar on top. Be generous!
Different Ways of Making A Pastelillo de Guayaba
There are different ways of making pastelillos de guayaba. These are different methods and one is not better than the other just different. I think it's more so a preference thing.
* Method #1- The first method is to cut the puff pastry, fill it with guava, bake, and sift sugar on top. Just like in this recipe. The good thing about this method is that most of the prep happens at the beginning.
* Method #2- The second method is to cut the puff pastry and bake it. Then you have to cut it in half, fill and top it with powdered sugar. The good in this method is that it yields more pastelillos because you only use only 1 piece of puff pastry per piece. This way of making the guava pastries yields skinnier or flatter pieces.
Useful Tip
If you feel your puff pastry is sticking to the surface use half of a teaspoon to flour the area you're working in. The flour will absorb the moisture and will help with the stickiness. If you see that your dough is way too sticky, it probably means it got too hot. Stick it in your fridge for 10 minutes so it can get cold again.
How to Store?
The best way to store a pastelillo is in an airtight container at room temperature. Keep for no more than 5 days. After that, the puff pastry starts losing its crispiness and freshness. I don't recommend storing it in the fridge because the guava paste hardens when cold.
What to serve with?
A pastelillo de guayaba is usually eaten as a snack or dessert so it's eaten alone most of the time. But you can have it with a cup of coffee or a juice.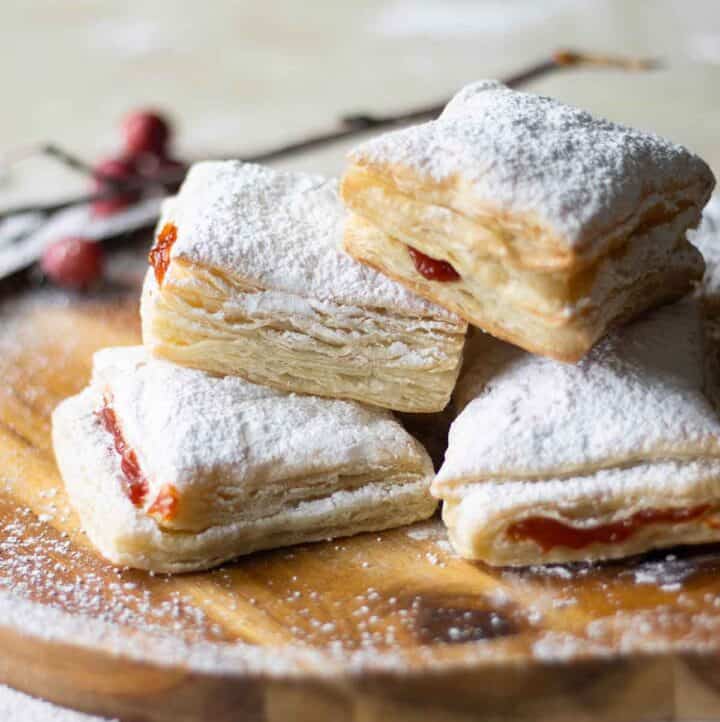 Guava Pastries (Pastelillos de Guayaba)
Easy Guava Pastries that are flaky, sweet, and full of delicious guava.
Ingredients
1

pound

puff pastry

8

ounces

guava paste

2

tablespoon

water

1/4

cup

powder sugar
Instructions
Preheat oven to 350° F. Line a baking tray with parchment paper and set aside.

Heat the guava paste for 30 seconds in the microwave. Mash the paste until smooth. Add the water, mix, and set aside.

Cut each sheet of puff pastry into 9 equal squares. Place 1 tablespoon of guava paste in the center of 9 of the squares. Lightly dip your fingers in water and run your wet finger through the border of each filled square. Top them all with the rest of the puff pastry. Lightly press on all the borders to seal each pastry.

Place the pastries in the baking tray leaving half of an inch of space between each one. Bake for 25 minutes. Dust powdered sugar over the guava pastries with a sifter. Wait for the pastries to cool down before enjoying them.
Notes
1. Puff pastry- You need to thaw the puff pastry before using it. You can thaw it in your fridge the night before making this recipe. You can also take it out of your freezer 1 hour before using it and thaw it at room temperature. But it can thaw very quickly on a hot summer day. It's best to keep an eye on it.
*I used Peperridge Farms store frozen puff pastry. This comes in 2 sheets that usually measure about 10×15 inches each.
2. Substitutions- If you can't find guava paste you can also use guava marmalade. It doesn't have the same thickness but it's the best substitute you can use.
3. Storing- To store the pastelillitos de guayaba use an airtight container and leave it at room temperature. I always like to keep my pastelillos in the oven or microwave. They will be good to eat for up to 5 days. 
4. Yield- The recipe yields 9 guava pastries, but you can get more or less depending on what size you cut the dough. If you want to make mini pastelillos cut each sheet of puff pastry into 16 pieces and add only half a tablespoon of guava paste. Cook, sprinkle with some powdered sugar, and enjoy! 
NUTRITION
Calories:
297
kcal
|
Carbohydrates:
28
g
|
Protein:
4
g
|
Fat:
19
g
|
Saturated Fat:
5
g
|
Polyunsaturated Fat:
2
g
|
Monounsaturated Fat:
11
g
|
Sodium:
126
mg
|
Potassium:
37
mg
|
Fiber:
1
g
|
Sugar:
5
g
|
Vitamin A:
1
IU
|
Calcium:
5
mg
|
Iron:
1
mg
Keywords:
guava pastries, guava puff pastries, pastelillos de guayaba
---
Did you like this Arroz con gandules Recipe? Looking for more Puerto Rican Rice Recipes? Here are a few!
---
Don't miss another delicious recipe and sign up for our newsletter!
---
Hi! I'm Stephenie and I love to make food and share it with everyone. I make everyday recipes that are easy to follow and most importantly delicious! I hope that my recipes inspire you to cook.