Nothing better than to enjoy a beautiful hot and sunny day sipping on refreshing Lemon Mint Juice. Made in 5 minutes with just 4 ingredients. Great for Adults and kids as well.
Lemon Mint Juice
This Lemon Mint Juice recipe is a very delicious drink that combines a tangy flavor with the refreshing tastes of the lemons topped with a minty hint. This is a lemonade recipe with a nice touch of mint. It's one of those recipes that you commonly see in the summertime at pool parties, cookouts, and almost every food joint you see around.
Lemonade Stand Worthy Recipe
This lemon juice is not too tart or too sweet. Making this the perfect lemonade stand recipe for those little summer entrepreneurs. This is such an easy recipe that kids can make and even sell. Since it is not too sweet or sour it can easily be modified to everyone's liking. It also stands out because this recipe contains very refreshing mint, especially on a blazing hot day.
Do I need a blender?
No need for a blender, juicer, or any electric equipment. You will need a knife to open up the lemons, and preferably a lemon squeezer. But even if you don't have one you can still make this by squeezing the lemons by hand. Another option is to take a spoon and scrape the inside of the lemons to release all the juice. Make sure to remove any seed that falls out into the juice.
Is Lemon Mint Juice good for your health?
Lemon juice is good for your health. It contains good vitamin C and is a great way to get hydrated. As always it is good in moderation because of the acidity and the sugar. But it is a better choice than other sugary drinks like soda.
Can I use limes instead of lemons?
You can but you will need a lot more limes because they are smaller than lemons. But for this recipe, it is best to use lemons because I find that limes are a little bit more bitter. You will need to use a little bit more sugar to balance the flavors.
Ingredients
Water- In this recipe, we use room temperature water because we add ice when ready to drink. The recipe calls for 7 ½ cups of water but you can always tweak this up or down.
Sugar– I use white sugar but you can also use brown sugar.
Mint- You only need 4 leaves of mint and more for garnishing.
Lemons- In this recipe we use 3 lemons for the juice and 1 to add to the juice as garnish. You can add more lemons for garnish if you like.
---
How to Make Lemon Mint Juice
1. Heat half a cup of water in the microwave to dissolve the sugar and stir. This can be done on the stovetop but the microwave is faster and easier.
2. You want to cut 1 lemon into wheels and put it aside. You also want to cut the rest of the lemons in half.
3. Squeeze your lemons and remove any seeds that fell into the juice.
4. Add the mint and lemon juice into a large pitcher and stir.
5. Add your water.
6. Add the lemon wheels, mix, and chill or enjoy right away.
Pro Tips
Roll your lemons lightly to make it easier to release all the juice. This is a good tip if you have to squeeze your lemons by hand but if you are using a lemon squeezer then you don't have to worry about this.
If you want to enjoy this right away, I suggest you use cold lemons and very cold water. Remember that is a good idea to add ice to the cup you are going to drink from not to the juice pitcher. This is because you don't want to get all the lemon juice watery.
Variations
Bubbly– One of the variations I love to do is to add some fizz to my juice. Use a club soda or carbonated water to achieve this.
Frozen- This is great to put in a blender with a few pieces of ice and blend to make a frozen lemon mint juice.
What to serve with?
You can serve this with many things. If you are in the mood for everything lemon then you can make a lemon chicken for dinner and a lemon tres leches for dessert. Or make the perfect combo with a crispy chicken made in a puerto rican style paired with some crispy tostones. You can also serve some delicious garlic chicken wings.
How to store?
I recommend storing it in a large pitcher for no more than 3 days. I usually keep my lemonade for 5 days. But not this recipe because it contains mint and after day 3 the leaves start to welt. This can give the juice a funny taste.
---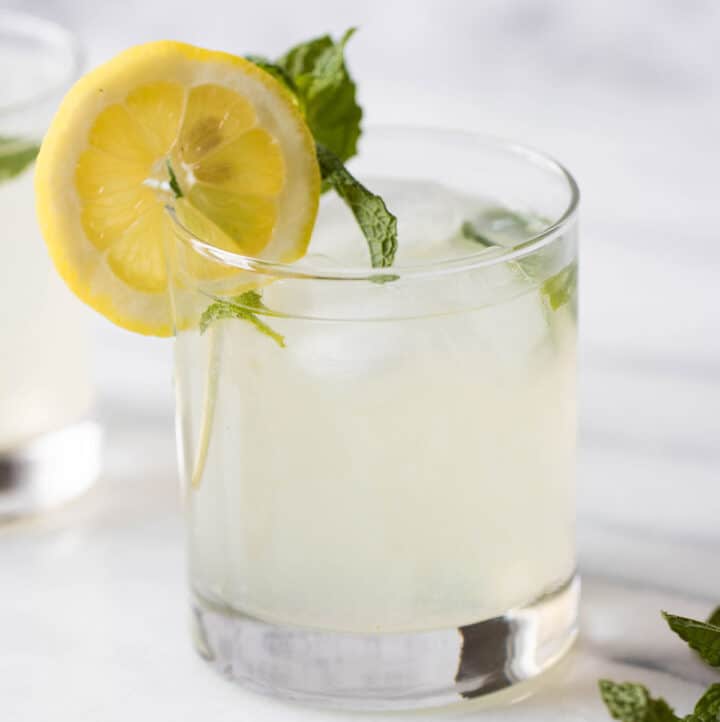 Lemon Mint Juice
This is the perfect Lemonade recipe with a hint of mint. Perfect for a hot day.
Ingredients
4

mint leaves

7 1/2

cups

water

3/4

cup

sugar

4

lemons

or 6 ounces of juice
Instructions
Heat 1/2 cup of water in the microwave for 1 minute. Add sugar to the mug and stir until most of the sugar is dissolved. Add this mixture to a large pitcher.

Take 1 lemon and cut it into wheels and reserve. Cut 3 lemons in half and squeeze them into a small cup. Scoop out any seeds that fell into the cup and pour into the pitcher.

Take the mint leaves in your hand and gently squeeze them to help them better infuse the juice. Add to pitcher.

Add the rest of the water and the lemon wheels to the pitcher. Mix everything and chill or serve over ice.
Notes
It is important that you do not add ice to the juice jug but to the glass where you will drink. The reason for this is to prevent the juice from becoming watery.
1. Substitutions
White sugar is used in this recipe, which you can substitute for the same amount of brown sugar.
2. Storage
Store in the refrigerator for 3 days.
3. Making
In this recipe, you must heat half a cup of water to dissolve the sugar. The reason for this is to avoid feeling the granulated sugar when drinking it.
4. Yield
This recipe makes 8 glasses of juice with a little over 8 ounces per glass.
NUTRITION
Calories:
88
kcal
|
Carbohydrates:
24
g
|
Protein:
1
g
|
Fat:
0.2
g
|
Saturated Fat:
0.02
g
|
Polyunsaturated Fat:
0.1
g
|
Monounsaturated Fat:
0.01
g
|
Sodium:
13
mg
|
Potassium:
78
mg
|
Fiber:
2
g
|
Sugar:
20
g
|
Vitamin A:
33
IU
|
Vitamin C:
29
mg
|
Calcium:
22
mg
|
Iron:
0.4
mg
Keywords:
lemon mint juice, mint lemonade
Don't miss another delicious recipe and sign up for our newsletter!
Hi! I'm Stephenie and I love to make food and share it with everyone. I make everyday recipes that are easy to follow and most importantly delicious! I hope that my recipes inspire you to cook.