If you need dinner made easy then this Pork Rib Rice recipe is what you need. This is the perfect weeknight meal made in one pot and in less than an hour. More time for you and fewer dishes!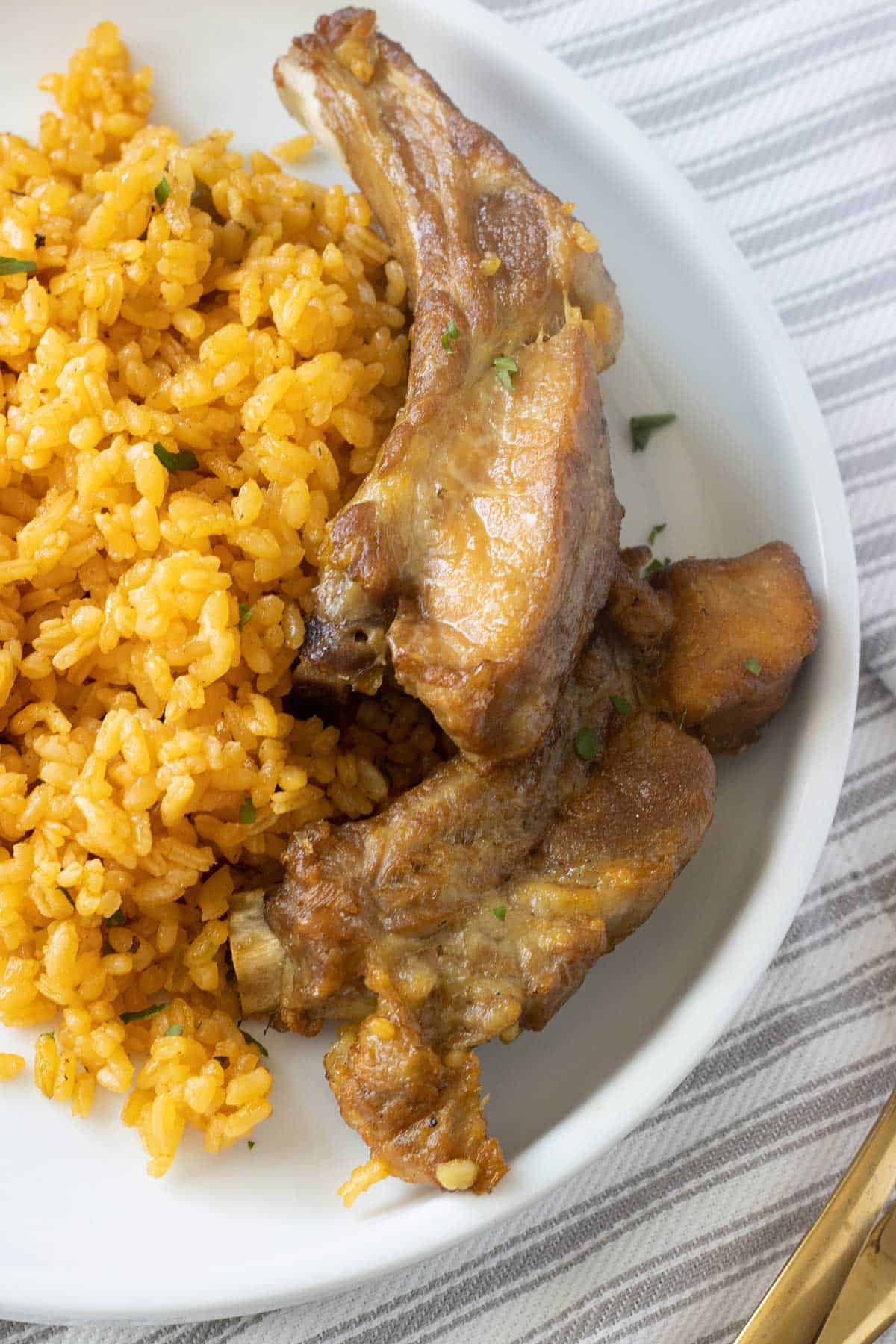 Pork Rib Rice
This Pork Rib Rice is seriously a delicious meal. Made in a puerto rican style that is full of Latin flavors. It has sofrito which contains garlic, onions, peppers, and recao. To give it that golden yellow color we add sazón and achiote oil. We season with a little bit of salt and adobo. Finally, we add the star of the show, the pork ribs. We don't use any stock because the ribs help us make the stock by slowly infusing everything with its flavor.
This recipe has been perfected over the years to make it taste just like the rice my grandma used to make. When you make this rice and ribs recipe you'll get very moist rice with tender ribs all together. To me, it is a complete meal but you can add a salad on the side and call it a day. Trust me when I say you'll want to have seconds.
Pork Ribs
This recipe is made with pork ribs. These are great because they are small in size and very tasty. I don't use beef ribs because they are bigger and take longer to cook. If you use beef ribs you will need to cook the ribs before adding them to the rice.
Do I Need to Parboil the Ribs?
You don't have to parboil your ribs to get rid of the smell, or scum or to tenderize them. This all will be taken care of by searing the ribs. This will get rid of any smell and add flavor to the ribs. The searing will also cook and tenderize the ribs with minimal effort.
Can I use a rice cooker?
This recipe is cooked on the stovetop using a caldero which is the usual pot we use in puerto rican cooking. The great news is that this can also be cooked in a rice cooker with some modifications. You will have to sear your ribs in a pan and then add them to the rest of your ingredients in your rice cooker. Then cook the rice like you usually will.
Ingredients
1. Achiote Oil- We add achiote oil to this recipe because it gives the dish a nice color and adds a smoky flavor. If you can get any, you can use regular vegetable oil.
2. Pork Ribs- I used 1 pound of ribs but you can always add more.
3. Sofrito- The sofrito is important in this recipe because it gives the dish that distinct puerto rican flavor.
4. Tomato Sauce- I used tomato sauce but you can also use tomato paste. You just have to use half of the tomato sauce ratio.
5. Seasonings- For the seasonings I used adobo, Salt, and sazón.
6. Manzanilla Olives- These olives are optional but even if you don't eat them I suggest you add them for flavor.
7. Water- In this recipe, I use water, no need for stock because our ribs will give our water the flavor we need.
8. Rice- I always use medium-grain rice.
---
How To Make Ribs and Rice
1. First, cut your ribs into single pieces or smaller. In a big pot over medium-high heat add the oil, ribs, salt, and sear for 6 minutes.
2. Add all the seasonings, sofrito, tomato sauce, and manzanilla olives and cook for 1 minute while stirring.
3. Add water and bring it to a boil.
4. Add the rice, stir, and cover. Cook covered for 10 minutes or until there's no more water left.
5. Fluff the rice and cover.
6. Finish cooking.
Tips
If you want everyone to have a bite of the ribs it is best to cut each rib in 2 or 3 pieces or just add more ribs.
To cut the ribs I suggest using a cleaver knife because it is probably the only one that is going to cut through bone. Also, what you can do is ask the butcher at the supermarket to cut the ribs for you.
Variations
Vegetables- One of my favorite things to add to this rice is beans. About half of a 15 oz can. They can be pink beans, red beans, or even black beans. Carrots and peas are also a delicious addition.
Meat- If you want to make this rice but don't have ribs then add a few chunks of pork butt or shoulder.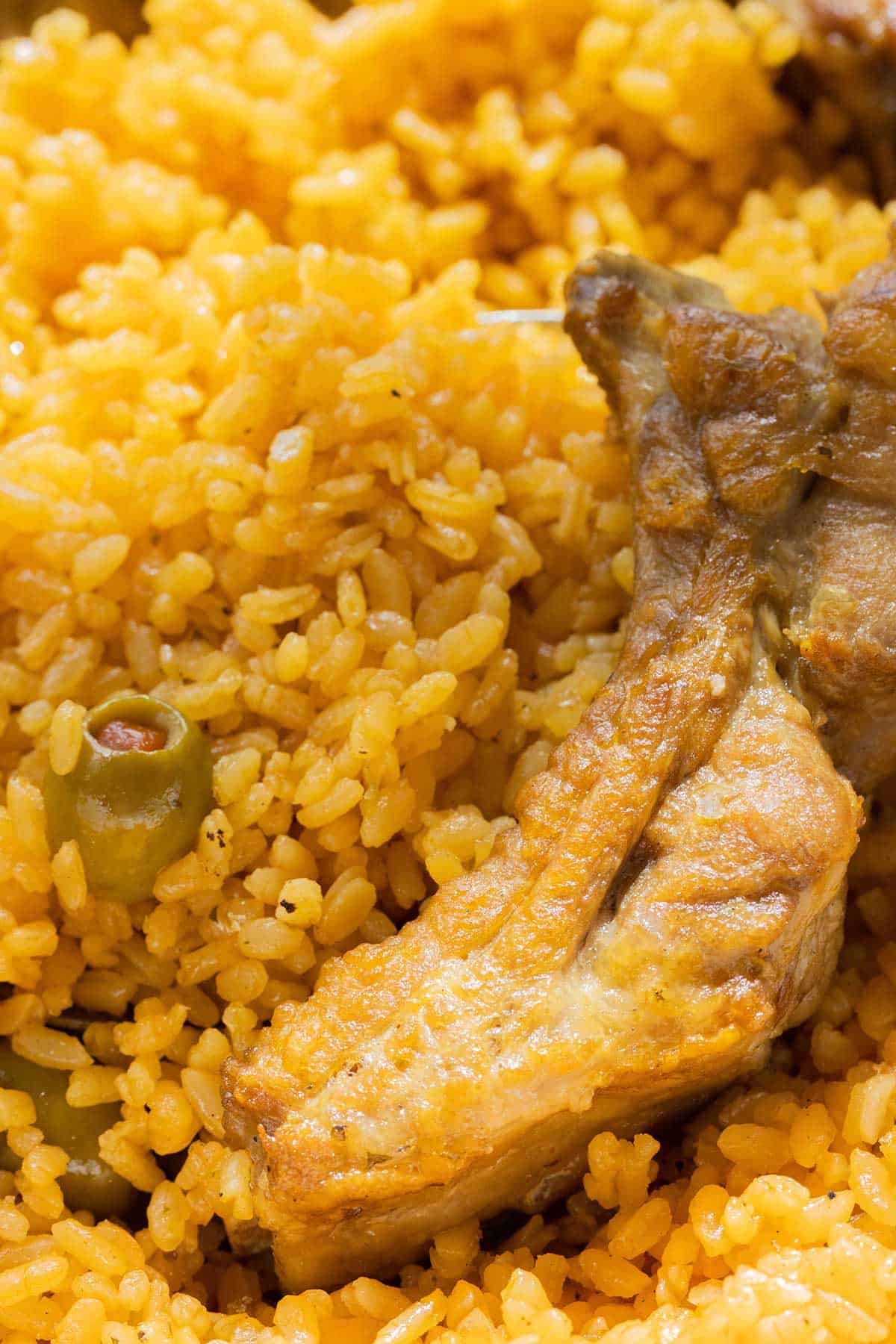 How to Store?
To store you can use an airtight container or even a freezer bag and freeze for 1 month. I don't know if you can leave it longer because I haven't stored this rice for that long. Keep it in the fridge for no more than 3 days. But being honest, many days I just pop the whole caldero in the fridge until the next day.
How to Reheat?
If you are going to reheat this on the stovetop I suggest heating it at medium low heat for about 10-12 minutes. Make sure to add a few drops of water to create steam and add a little bit of moisture. You can also reheat this in the microwave. Heat for 45 seconds each time until it is as hot as you desired.
What to Serve With?
As a puerto rican, I can tell you that there's nothing better to serve this with than a simple salad and 3 or 4 tostones. Other great sides are yuca en escabeche(cassava) or fried ripe plantains. A refreshing passion fruit mojito will go perfectly with this recipe.
---
Recipe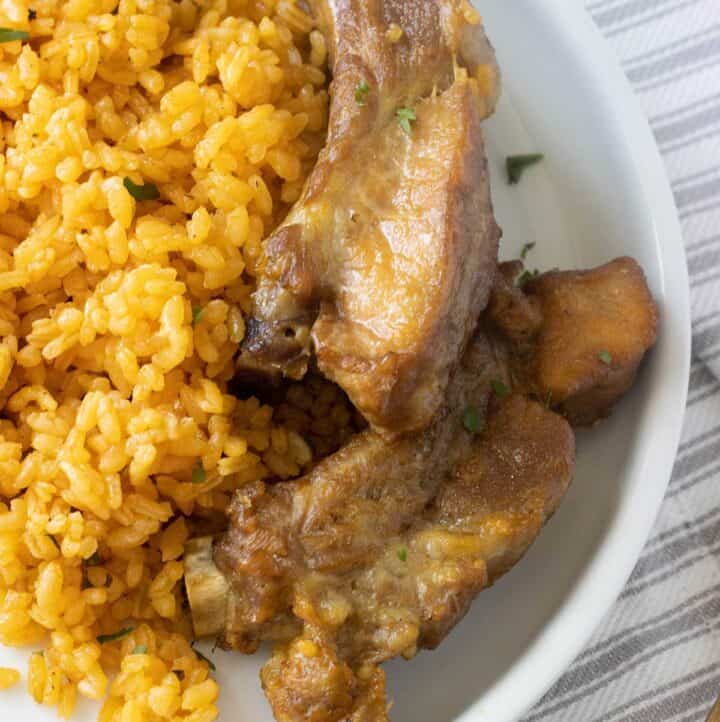 Pork Rib Rice
All you need is one pot and less than an hour to make fluffy delicious rice with ribs that you will love.
Ingredients
2

tablespoons

achiote oil

1

pound

pork ribs

2

tablespoons

sofrito

2

tablespoons

tomato sauce

½

teaspoon

salt

1 ½

teaspoon

sazón

or 1 packet

2

teaspoons

adobo

2

tablespoons

manzanilla olives

4

cups

water

2

cups

rice
Instructions
Remove the membrane from the back of the ribs. Cut the ribs into individual pieces, if you are using 1 pound of ribs you will get about 4-5 ribs. If you like, you can cut each rib in half for more bite-sized pieces.

In a large pot over medium-high heat, add your oil. Then add your ribs and salt. Sear the ribs for 3 minutes on each side.

Now add the sofrito, the tomato sauce, the seasoning, the adobo and the olives. Stir and cook for 1 minute.

Increase the heat to high and add the water. Once it starts to boil add the rice and stir. Cover and cook for 10 minutes or until the water has evaporated.

Once the rice is dry, stir and cover. Reduce the heat to medium and finish cooking for 20 minutes. Serve and enjoy.
Recipe Notes
1. Substitutions- You can use vegetable oil for achiote oil.
If you don't have any ribs but still want to make this rice I suggest you use 1 pound of cubed pork butt or shoulder. It will still give the rice a nice flavor.
2. Making– This recipe is made on the stovetop but it can be made in a rice cooker. First, you must sear the ribs. If your rice cooker gets hot enough sear the ribs in it if not use a pan. Then cook the rice following the recipe.
3. Storing- Store in an airtight container or a freezer bag. Keep in the freezer for 1 month and no more than 3 days in the fridge.
Note: The seasoning in this recipe is all to my liking. I have a trick for knowing whether the recipe is too salty for you. When making the recipe add half of the adobo, and mix it in. Once all the ingredients are in the pot make sure to taste your water. If you taste it and you know it still needs seasoning then add the rest.
Nutrition
Calories:
662
kcal
|
Carbohydrates:
96
g
|
Protein:
22
g
|
Fat:
17
g
|
Saturated Fat:
4
g
|
Polyunsaturated Fat:
2
g
|
Monounsaturated Fat:
6
g
|
Trans Fat:
0.1
g
|
Cholesterol:
49
mg
|
Sodium:
1025
mg
|
Potassium:
295
mg
|
Fiber:
4
g
|
Sugar:
1
g
|
Vitamin A:
69
IU
|
Vitamin C:
1
mg
|
Calcium:
39
mg
|
Iron:
6
mg
Keywords:
pork rib rice, rice and ribs
Don't miss another delicious recipe and sign up for our newsletter!