A blend of aromatic ingredients called Sofrito is the real secret behind the flavor of Puerto Rican dishes.
If you've ever been lucky to try Puerto Rican food, then you know it is so good. If you haven't then don't worry. With this Puerto Rican Sofrito recipe you'll have the base for many dishes. You'll be able to make from stews to delicious rice. This is a very easy recipe. You just need to cut ingredients and blend everything.
What is Sofrito?
In Puerto Rico, sofrito is similar to other Latin American and Caribbean countries like the Dominican Republic. The authentic Puerto Rican Sofrito base is made with onions, garlic, red and green bell peppers, cubanelle peppers, cilantro, ajies dulces, and recao also known as culantro. All of these ingredients are blended until you get a chunky mix. Then it is stored raw until is ready to use.
Many countries have their own version. In Brazil, Sofrito is called Tempero Verde and it has raw onion, garlic, peppers, parsley, and salt blended. While in Spain, Sofrito is cooked and made with onions, garlic, tomato, red pepper, olive oil, and salt.
What is the difference between Recaito and Sofrito?
This is a very good question because on the island what people think of Recaito is Sofrito. You sometimes can find some sofrito in stores that say with cilantro and others without. Some people make little variations with the quantity of the ingredients. Very few people will add salt. And almost no one will add tomatoes. It is just not part of it and for good reasons.
One of the reasons for not adding tomatoes is that it will decrease the time you can have it in your fridge. Secondly, is that In Puerto Rican cuisine tomatoes normally are added to the dishes in a paste form or sauce.
Can you buy sofrito already made?
First, let me say that I may be a little biased because I have always been blessed with homemade sofrito. Now can you buy a sofrito that was commercially made? of course, you can. So the question is why make it at home right? First, is that maybe in the part of the world where you live there's none available. Secondly, once you taste the fresh one you will never want to go back to the old one. The one you get at the store is not as tasteful as a fresh one and let me explain why. When you open the store bought jar it hardly has that aromatic smell that fills your entire kitchen that the one you can make has. Plus let's not mention all the additives and salt that it has.
Storing Options
You'll be happy to know that this recipe is freezer friendly. Do it once and enjoy the benefits possibly for months. After making this recipe you shouldn't keep it all in the fridge unless you plan on cooking like crazy. Sofrito will be good for a month in the fridge. If it smells funny or tastes differently then discard it.
To store sofrito in the freezer, what I do is pour it into an ice cube tray and for each cube I put in 2 tablespoons of the mixture. Whenever you want to use frozen sofrito just add it to cook with your recipe and watch it melt. This is so convenient because you won't have to wait for it to thaw. You can also store it in the freezer in an airtight container. Some people use freezer bags but I don't like these because if it has a hole or it wasn't sealed properly then even my ice cream will be smelling like sofrito. Once in the freezer it lasts up to six months.
Recao
To make Puerto Rican sofrito at home two ingredients are crucial for the recipe. The first ingredient is known in Puerto Rico as Recao. Outside of the island is more commonly known as Culantro. Do not confuse it with cilantro which is also used in the recipe. Make sure you read What is Recao(Culantro)? to learn more about it. But in its essence is a long leaf with a sawtooth like border. It is a very fragrant and powerful herb. As strong as it is it hardly ever overpowers your dish but on the contrary it always elevates it. In my opinion it is very underrated.
Ají Dulce
The second ingredient is called Ají Dulce. They have a sweet taste and are hardly spicy at all. Come in different shades of red, green, orange and yellow. They are small in size and very similar to other small peppers. So make sure you ask to see if you got the right one or else you'll end up like me. Once by mistake, I bought a bag of small habanero peppers thinking they were Ajices and ended up with what they call jalapeno hands. Ouch! These two ingredients mentioned above may be hard to find locally. But I guarantee you that they are worth the hunt.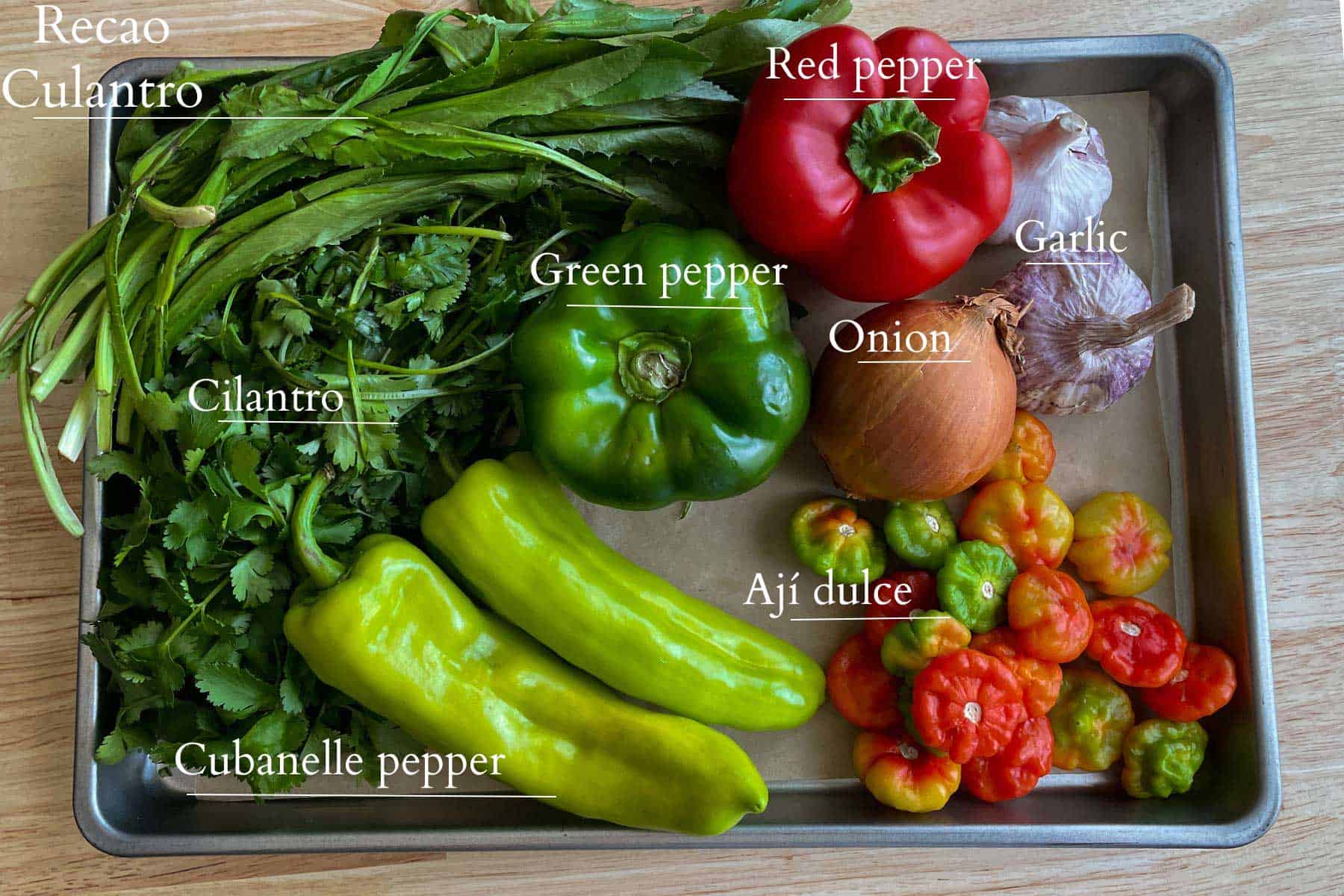 Ingredients
Recao (Culantro)- This one right here is the star ingredient of sofrito. While some people suggest substituting with cilantro I don't because it will no longer have the authentic Puerto Rican taste. But yes it will still be tasty, just not the same.
Cilantro- I used a bunch of cilantro. Just as it comes from the grocery store.
Ajices Dulces- This one may be hard to find and if you must substitute then use half a pound of mini sweet peppers.
Cubanelle peppers- are widely available but if you cant find just add another green bell pepper.
Green and Red Bell Peppers- I used one of each.
Yellow Onion- I used yellow onion and it can be a substitute for white onions.
Garlic- I used 12 cloves of garlic.
FREQUENTLY ASKED QUESTIONS
Can I use sofrito as a salsa?
Sofrito is used as a base for many dishes and it is always cooked. I my self dont know anyone that eats it as a raw salsa. You may want to try it but I must warn you that the taste will be very strong and in my opinion not very pleasant.
Is sofrito and mirepoix the same?
They are not the same. Classic mirepoix is a mixture of carrots, onion and celery cut into cubes. While sofrito is made of recao, ajices dulces, cilantro, onions, green and red bell peppers, garlic, and cubanelle peppers. We can say that sofrito is the Puerto Rican mirepoix.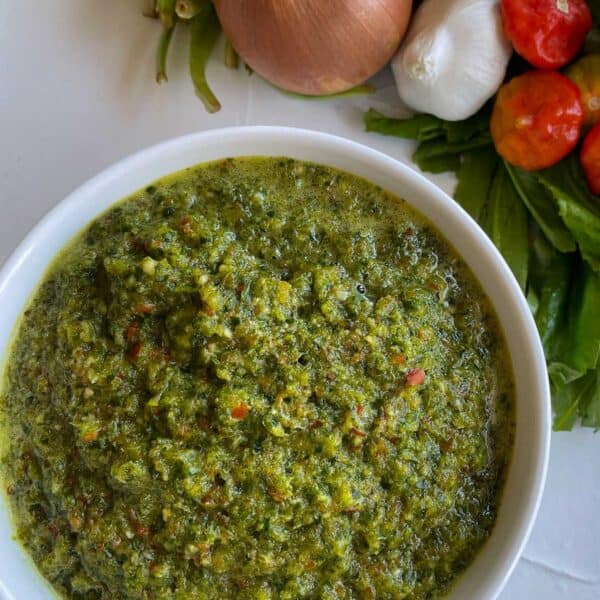 Puerto Rican Sofrito
A blend of aromatic ingredients called Sofrito is the real secret behind the flavor of Puerto Rican dishes. This recipe will be your base for cooking just like in the Caribbean.
Ingredients
1

bunch

recao

1

bunch

cilantro

1

cup

ají dulce

about 15-20 ajices

1

red bell pepper

1

green bell pepper

1

onion

2

cubanelle pepper

12

cloves

garlic

peeled

1/2

cup

water
Instructions
Wash all your ingredients and roughly chop.

Add your ingredients to a blender or food processor and mix. If big enough you can add them all together or you can do it in batches.

Mix well until everything is well incorporated but your mix still has some texture.
Notes
1. Is best to store sofrito in a glass jar.
2. Store a portion of sofrito to use in a couple of weeks in your fridge and freeze the rest.
NUTRITION
Calories:
6
kcal
|
Carbohydrates:
1
g
|
Protein:
1
g
|
Fat:
1
g
|
Saturated Fat:
1
g
|
Polyunsaturated Fat:
1
g
|
Monounsaturated Fat:
1
g
|
Sodium:
1
mg
|
Potassium:
37
mg
|
Fiber:
1
g
|
Sugar:
1
g
|
Vitamin A:
282
IU
|
Vitamin C:
16
mg
|
Calcium:
3
mg
|
Iron:
1
mg
Keywords:
Homade Sofrito, Puerto Rican Sofrito, Sofrito with recao