One of the pillars of Puerto Rican cuisine is the Puerto Rican Sofrito. Made with a blend of aromatic ingredients like garlic, onions, peppers, and recao. This is the real secret behind the flavor of Puerto Rican dishes.
Sofrito is the base of many Puerto Rican recipes like rice and beans or the holiday favorite arroz con gandules. It is also one of the most essential ingredients for stewed beans and a good beef stew.
What is Sofrito?
Sofrito is a flavor base made of aromatic vegetables to deepen the flavor of the food. It is used all over the Caribbean with different variations per country. A classic authentic Puerto Rican sofrito is made with blended raw onions, garlic, peppers, aji dulces, cilantro, and most important culantro. Very similar to the sofrito from the Dominican Republic.
Many countries have their own version of a sofrito base. In Spain, sofrito is made with onions, garlic, tomato, red pepper, olive oil, and salt. In France, there's the mirepoix which is a base made of chopped onions, carrots, and celery. Here in the US, we have the holy trinity which is the base of many Cajun dishes made with onion, celery, and green pepper.

Sofrito actually comes from Spain according to the Brittanica website. Then it was brought to the Caribbean after the Spanish colonization of the Americas. The word sofrito comes from the Spanish verb sofreir which means to sautee in a little bit of fat.
In Puerto Rico, everyone has their own family sofrito recipe so it can vary a little. Some people like it to look very green so they don't add red peppers. Some add water or oil when blending it.
The beauty of a sofrito is that is very forgiving, and even if you add a little bit more of any ingredient it will still taste amazing. You can make many Latin recipes with sofrito, sazon, and adobo as your base.
What is the difference between recaito and sofrito?
Depending on who you ask you'll get different answers. But where I come from which is Puerto Rico, recaito and sofrito are the same thing. This is because they both have to have onions, peppers, garlic, cilantro, and recao. So is essentially the same thing with a different name.
Recao is the essential ingredient
To make Puerto Rican sofrito at home there's an ingredient that is crucial for the recipe. In Puerto Rico, it is known as Recao. Outside of the island is more commonly known as culantro, but don't confuse it with cilantro which is also used in the sofrito.
Recao is a long leaf with a sawtooth-like border that is a very fragrant herb. It has a very strong smell and taste when raw, but when cooked it just adds a very pleasing flavor. Recao is underrated in my opinion.
Depending on where you live, your local supermarket may not carry the recao you need to make sofrito. If they do, it will be in the fresh herb section.
One of the places you are almost guaranteed to find recao is in a Latin supermarket or bodega. Asian stores usually sell it, where it is labeled as ngò gai. Although not ideal or fast, you can buy the seed online and grow it.
Aji Dulce
Another essential ingredient in sofrito is the ajies dulces. They have a sweet taste and are not spicy at all. Ajies dulces come in different shades of red, green, orange, and yellow. They are small in size and very similar to other small peppers. 
When in the hunt for ajies dulces, make sure you ask to see if you got the right one, or else you can end up like me. Once by mistake, I bought a bag of small habanero peppers thinking they were ajices, and ended up with what they call jalapeño hands.
When I can't find ajies in Latin or Asian supermarkets I buy them online here on Etsy. I have always received the ajices dulces very fresh.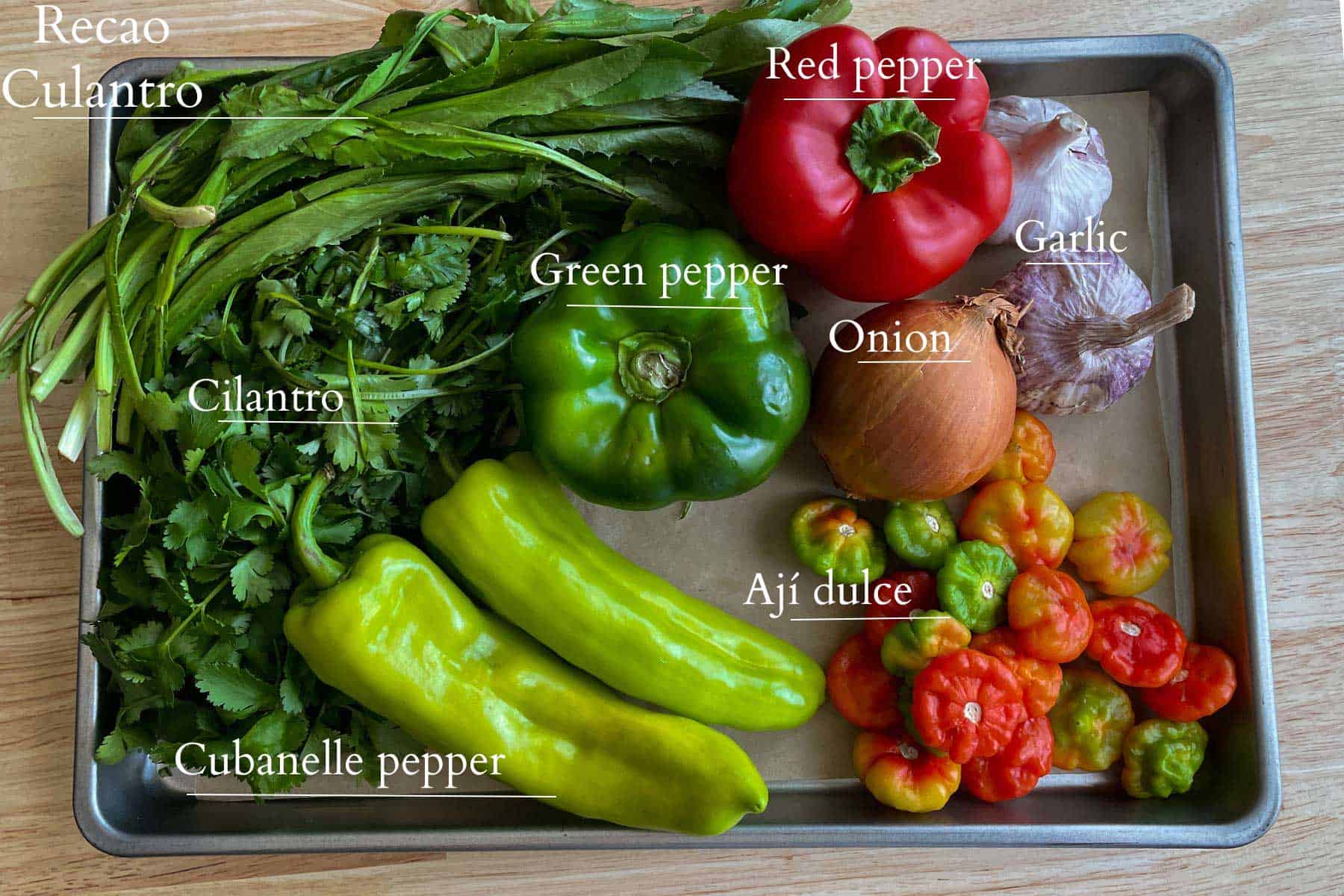 Puerto Rican Sofrito Ingredients and Substitution
Recao(Culantro)- This one right here is the star ingredient of sofrito. While some people suggest substituting with cilantro, I don't because it will no longer have the authentic Puerto Rican taste. 
Ajies Dulces- I used 1 cup of ajies which is about 15-20. You can get them in Asian or Latin markets. Substitute: You can use a half pound of mini sweet peppers of all colors. 
Cilantro- I used a bunch of cilantro. Just as it comes from the grocery store.
Cubanelle peppers-  These peppers are widely available, sometimes called Italian frying peppers. Most of the time, they're in the same area as the green peppers at grocery stores. Substitute: You can use 1 green bell pepper.
Green bell peppers and Red bell peppers- I used one of each.
Yellow Onion- I used 1 yellow onion. Substitute: Use white onions.
Garlic cloves- I used 12 cloves of garlic. Please don't use garlic paste, only fresh garlic.
---
How to make Puerto Rican Sofrito
1. First, you need to remove all the seeds from all of your peppers. This includes the aji dulce seeds. You should have no, or minimal seeds in your sofrito. Roughly chop all the vegetables. The only reason for chopping the veggies is to make it easier on your blender. But if you have one of those really good blenders, then there is no need for chopping.
2. Put a little bit of everything in your blender and mix. Do this until you have blended all of your vegetables. You can also use a food processor. Store preferably in a glass container.
Homemade Sofrito Variations
All of these variations are very commonly found in Puerto Rico but if you are in the US you only see basic sofrito. You can make sofrito and instead of water add achiote oil. This will give the sofrito and your food a beautiful orangy color.
Another great combination is sofrito and basil. Some people also add oregano.
Useful Tips
Best to store sofrito in a glass jar. You can use a plastic bowl, but keep in mind that it will be very hard to remove the sofrito smell from it. Also, avoid using freezer bags to store sofrito. This is because if the bag breaks, then your fridge or freezer will be smelly for a few days.
I saw a Puerto Rican chef named Edgardo Noel on YouTube say that vitamin C acts as an antioxidant. He adds half of the grated pill to his sofrito recipe to preserve it longer. I have never tried this because my sofrito always lasts fine but it's a good tip to know.
How to store Homemade Sofrito?
You'll be happy to know that this recipe is freezer-friendly. Do it once and enjoy the benefits possibly for months. After making this recipe you shouldn't keep it all in the fridge unless you plan on cooking like crazy. Sofrito will be good for a month in the fridge.
If you buy sofrito then it can last up to 2 months in your fridge but it is because of the preservatives. But for fresh, it's best to only keep it for up to a month.
To freeze sofrito it's best to use a plastic container with a lid. I don't suggest using glass because it can break once the sofrito freezes. Some people use freezer bags but I don't like these because if it has a hole or it wasn't sealed properly then even my ice cream will smell like sofrito.
Once in the freezer, it can last up to six months. I'm sure it can last more, but I have never had sofrito for that long. 
A good way, or probably the best way to store sofrito is by making sofrito ice cubes. Take an ice cube tray and fill each hole with 2 tablespoons of the mixture. Freeze for about 3-4 hours then remove from cube trays and store in a container.
This is so convenient because you won't have to wait for it to thaw. Just add it to your recipe and it will cook with the food.
What is sofrito used for?
Make all kinds of savory dishes with sofrito. You can make soups like my delicious shrimp soup. You can make amazing main meals like the easy corned beef. Sofrito is a base made with fresh vegetables that you most likely already use. So go ahead and add it to your meats and vegetables. You won't regret it!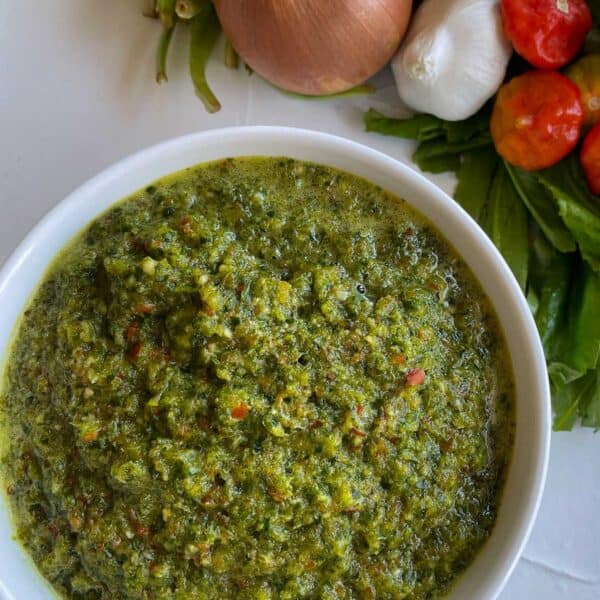 Puerto Rican Sofrito
A blend of aromatic ingredients called Sofrito is the real secret behind the flavor of Puerto Rican dishes. This recipe will be your base for cooking just like in the Caribbean.
Ingredients
1

bunch

recao

1

bunch

cilantro

1

cup

ají dulce

about 15-20 ajices

1

red bell pepper

1

green bell pepper

1

onion

2

cubanelle pepper

12

cloves

garlic

peeled

1/2

cup

water
Instructions
Wash all your ingredients and roughly chop.

Add your ingredients to a blender or food processor and mix. If big enough you can add them all together or you can do it in batches.

Mix well until everything is well incorporated but your mix still has some texture.
Notes
1. Is best to store sofrito in a glass jar.
2. Store a portion of sofrito to use in a couple of weeks in your fridge and freeze the rest.
NUTRITION
Calories:
6
kcal
|
Carbohydrates:
1
g
|
Protein:
1
g
|
Fat:
1
g
|
Saturated Fat:
1
g
|
Polyunsaturated Fat:
1
g
|
Monounsaturated Fat:
1
g
|
Sodium:
1
mg
|
Potassium:
37
mg
|
Fiber:
1
g
|
Sugar:
1
g
|
Vitamin A:
282
IU
|
Vitamin C:
16
mg
|
Calcium:
3
mg
|
Iron:
1
mg
Keywords:
Homade Sofrito, Puerto Rican Sofrito, Sofrito with recao
---
Did you like this Puerto Rican Sofrito Recipe? Try any of these Puerto Rican Rice Recipes!
---
Don't miss another delicious recipe and sign up for our newsletter!
---
Hi! I'm Stephenie and I love to make food and share it with everyone. I make everyday recipes that are easy to follow and most importantly delicious! I hope that my recipes inspire you to cook.