Mofongo is deliciously garlicky, buttery, and probably one of the best vegetable doughs you'll ever taste.
The best mofongo you can have will be in Puerto Rico no doubt about it. Ok, I get it you want to eat this now. You might think that it is best to search for the best mofongo near you and buy one. But that is not necessary at all or maybe even possible depending on what part of the world you are in. The best mofongo you can have outside of the Caribbean is not restaurant mofongo but the one you will make with the help of this recipe. Take it from someone who has made and eaten this their whole life. Mofongo is one of my top 3 favorite foods next to tostones and bacalaitos.
What is Mofongo?
This is one of the many traditional recipes that shape Puerto Rican cuisine. Mofongo is green plantains that are fried just enough to make it mashable to perfection. Some people like to add chicharrones which is pork cracklings. The mofongo is always mashed in a mortar with a pestle. You can also find a mofongo variation called tri-fongo. Which has a mofongo base but also ripped plantains and yuca(cassava) are added. No matter which mofongo you have you will know it is good when you put your fork in and is very tender.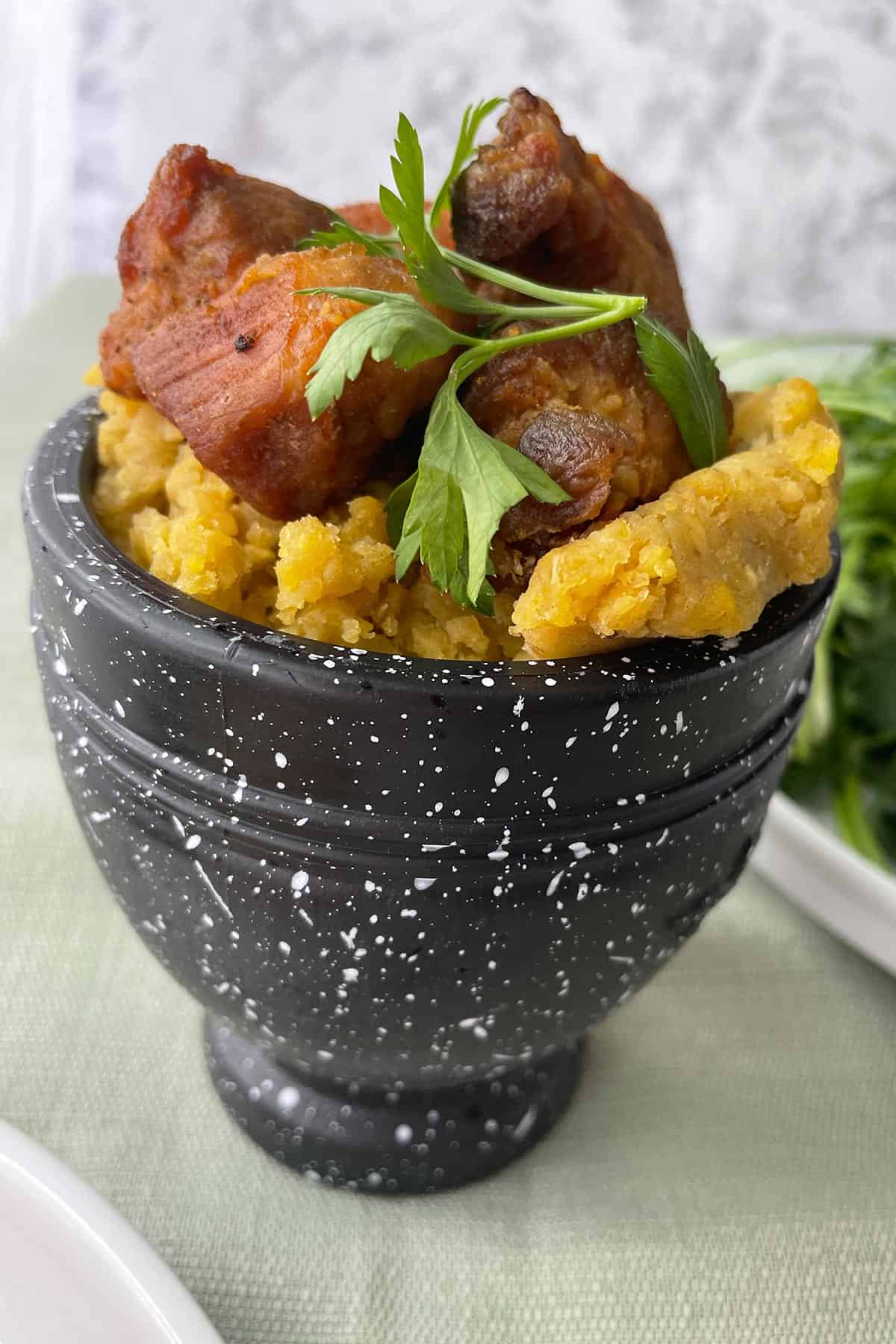 Secret ingredient to making Mofongo
There are many recipes online for mofongo so you're wondering why you should try this one. Simply because this is an authentic version where you get that true Caribbean taste. Most other recipes lack one very significant ingredient that you will find if you eat this in a Puerto Rican chinchorro, food truck, or at a neighbor's house.
This secret ingredient is one that not everyone knows but I will tell you this in my cookbook! Just kidding, I don't have a cookbook but I should make one right? The secret is butter. Which one aids in that delicious buttery taste. Two it helps with the smoothness of the finished product. Your mofongo at the end has to have a thick mash potato consistency without any chunks.
What to serve with?
Mofongo is an entrée but it can also be a side dish. You can have it with a big salad and some mayo ketchup. This way is vegetarian friendly. You can also have this with a side of Carne Frita (fried pork chunks). Another typical way of eating this besides with a side of protein is to eat it with a broth. You can put the mofongo inside the broth or have it on the side.
Are Mofongo, Mangu and Fufu the same?
These 3 are not the same. You can find that other countries do similar versions of mofongo. In the Dominican Republic, they make mofongo and also mangu which are similar but the plantains are boiled. In many parts of Africa, they make Fufu which also has plantains but they add yuca(cassava) and yams.
Can I make ahead?
Kind of and no. Mofongo is meant to be eaten fresh. Yes, you can reheat this and eat it but it won't be soft anymore or as pleasant to eat. But what you can do is take the leftover mofongo and shape it into balls. These balls you can save in the fridge in an airtight container for no more than 3 days or freeze for no more than a month. Then thaw enough that they are not frozen and simply fry this for some 3 minutes on medium high or until the outside forms a nice golden crust.
---
How to make
1. First you cut all the ends. Make a vertical line on opposite sides and peel the plantain. If peeling multiple plantains is best to wear gloves or put some oil in your hands to avoid the stickiness from the plantain skin.
2. Cut your plantains into circles about 1 ½ inch thick to ensure even cooking.
3. Fry your plantains for 7 minutes if deep frying or 3 ½ minutes on each side.
4. One of the most important steps is to mash. You have to mash your plantains until they are nice and soft. There should be no visible big pieces.
5. Here you add all your seasonings and mash it a little more. Then add your butter. The butter should be added after everything was mashed until smooth because the butter will make it slippery.
6. The last step is to serve. You can do this by leaving the mofongo in the mortar. Or you can get a round small bowl or even a cup to form a nice dome.
Ingredients
1. Plantains-the star of the show should be fir and green. If they are even a little yellow it will change the savory taste to one that is sweeter.
2. Garlic-garlic gives it a nice rich flavor.
3. Adobo-in this recipe I used adobo.
4. Butter-this recipe calls for butter but if you must then substitute with oil but I must warn you that it does not taste the same so is best to stick to butter.
5. Oil-this is to fry the plantain. I used vegetable oil but you can use the one you normally fry with.
Puerto Rican Mofongo
Mofongo is deliciously garlicky, buttery and probably one of the best vegetable doughs you'll ever taste. 
Ingredients
2

green plantain

1

teaspoons

adobo

1/2

teaspoon

garlic

or 1 small garlic clove

6

tablespoons

butter

at room temperature

1

cup

oil
Instructions
Cut the ends of the plantain and make a vertical line on opposite sides and peel. Cut into circles that are about 1 1/2 inch thick.

In a medium pan add your oil. Fry for 3 1/2 minutes on each side over medium heat.

Now add your fried plantains to your mortar and with the aid of the pestle start mashing. Do this for about 2 minutes and you will start seeing the plantain getting smooth.

Add your adobo and garlic and mash for another minute. Finally add your butter and mash for another minute. Serve right away and enjoy.
Notes
1. Your plantains should be green but if yours are starting to change color into a light yellow you can still make it but it will have a sweet taste it won't have that authentic flavor.
2. When frying your plantains you can use more or less oil just make sure that at least half of the rounds are covered by oil. This is to ensure that they cook evenly. If when mashing your plantains is very hard and they have a pink color on the inside then they are raw.
3. This recipe calls for 1 teaspoon of adobo because I always want to add salt moderately and taste and adjust accordingly. So after adding adobo mash and taste. If needed add 1/4 teaspoon more at a time. Remember that this happens because the size of the plantains always varies.
4. Make sure your butter is at room temperature. The reason for this is that if you use cold butter it will make your mofongo cold.
5. To serve you can leave the mofongo in the mortar or just flip it onto a plate. You can use a small bowl or dish to shape it.
NUTRITION
Calories:
651
kcal
|
Carbohydrates:
58
g
|
Protein:
3
g
|
Fat:
49
g
|
Saturated Fat:
23
g
|
Polyunsaturated Fat:
5
g
|
Monounsaturated Fat:
18
g
|
Trans Fat:
1
g
|
Cholesterol:
90
mg
|
Sodium:
706
mg
|
Potassium:
889
mg
|
Fiber:
3
g
|
Sugar:
31
g
|
Vitamin A:
3072
IU
|
Vitamin C:
33
mg
|
Calcium:
20
mg
|
Iron:
1
mg
Hi! I'm Stephenie and I love to make food and share it with everyone. I make everyday recipes that are easy to follow and most importantly delicious! I hope that my recipes inspire you to cook.