The easiest sauce you will make in less than 5 minutes is called Mayo Ketchup. A sauce that you can put in almost anything.
What is Mayo ketchup?
Mayo ketchup is simply a mix between mayonnaise and ketchup. The most popular sauce in the Caribbean and Latin America. Mayoketchup(Myoh-Ketchup) is the name given in Caribbean countries such as Cuba, Dominican Republic, and Puerto Rico. In Latin American countries such as Colombia, Uruguay, and Argentina it is known as salsa golf. In Brazil, it is simply known as molho rosé. But it is not exclusive to this part of the world. In Germany, you can find mayo ketchup by the brand name Thomy rot weiß and it comes in a tube with 55% ketchup and 45% mayonnaise. Or you can easily find mayo ketchup in any Belgium fry shop as one of the many sauces offered in any of their Belgian friterie.
Who invented Mayo Ketchup?
This answer to the origin will vary according to who you ask. If you ask Heinz the condiment brand, they did in 2018 calling it mayochup even though Goya brand already had the same product by the name of mayo ketchup since 2007. If you go around Utah state and ask, they will say it was invented by Don Carlos Edwards in the 1940s. But If you ask in Argentina the reply will be that it was invented by chemist Luis Federico Leloir in 1920. But if you go to Puerto Rico and ask, we will say that our Tainos ancestors invented mayo ketchup and we have been eating this for centuries.
What to serve Mayo Ketchup with?
Mayo ketchup is one of the most versatile sauces out there. You can pour this amazing sauce over your breakfast such as an egg and hash brown casserole. Or make a bacon, egg, and cheese in a nice warm potato bread and add a generous amount of sauce to it. Hey, you can even substitute the hollandaise sauce in eggs benedict for mayo ketchup. You can put it in any type of sandwich because it has 2 of the best condiments which are mayonnaise and ketchup. You can pour over a chicken salad if you like. A must have as your go-to fry sauce to dip or put in your burgers.
In Puerto Rico, it is a staple in every food joint. Every single time you visit any Puerto Rican chinchorro and ask for a mofongo con Carne frita you will receive a side of mayo ketchup to go over everything on your plate. We also put it inside our famous tripletas sandwiches. It is also the dipping sauce for tostones.
Can I make ahead?
You can make this ahead of time. Simply make it and store it in your fridge for no more than 1 week. If there are any funny smells discard it. To store it in the fridge, put it into an airtight container or any condiment bottle. Sadly this recipe is not suitable for freezing but the good thing is that it is a very quick recipe to whip up.
Ingredients
1. Mayonnaise- You can use any type of mayonnaise you like or even a vegan one. I used the regular kind.
2. Ketchup- You can use any brand as it won't affect the taste much.
Mayo Ketchup Variations
There are many ways to spice up your mayo ketchup. What I sometimes like to do is add fresh garlic when I have it or use garlic powder. Some people like to add Worcestershire but I find it too strong for my taste. To give it a nice kick to it you can add a pinch of cayenne pepper or some hot sauce. If you like more of a hereby taste you can add some sofrito. Some people like to add the sofrito in but I have never tried it this way so I am not sure about the taste.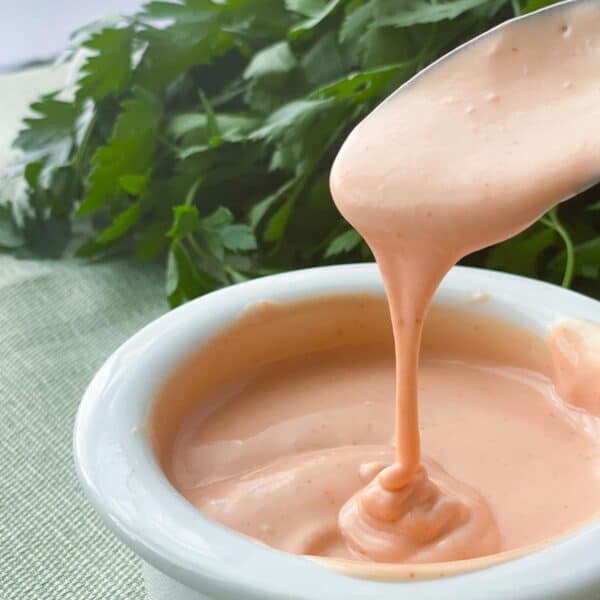 Mayo ketchup
The easiest sauce you will make in less than 5 minutes. A sauce you can put in almost anything.
Ingredients
1/2

cup

mayonnaise

1/4

cup

ketchup
Instructions
In a small bowl add your mayonnaise and ketchup. Stir well until no visible lumps. Serve and enjoy.
Notes
1. To make a smaller or bigger portion just use 2 parts mayonnaise and 1 part ketchup.
NUTRITION
Calories:
137
kcal
|
Carbohydrates:
3
g
|
Protein:
0.3
g
|
Fat:
14
g
|
Saturated Fat:
2
g
|
Polyunsaturated Fat:
8
g
|
Monounsaturated Fat:
3
g
|
Trans Fat:
0.03
g
|
Cholesterol:
8
mg
|
Sodium:
209
mg
|
Potassium:
32
mg
|
Fiber:
0.03
g
|
Sugar:
2
g
|
Vitamin A:
63
IU
|
Vitamin C:
0.4
mg
|
Calcium:
3
mg
|
Iron:
0.1
mg
Hi! I'm Stephenie and I love to make food and share it with everyone. I make everyday recipes that are easy to follow and most importantly delicious! I hope that my recipes inspire you to cook.