Tostones are a must have in the cuisine of Latin America and the Caribbean countries. They are fried until golden brown. Crispy on the outside and fluffy on the inside. So easy to make that it is done in 15 minutes or less.
What are Tostones
Depending on where you are, Tostones will also be called Patacones but there is no difference between the two. Tostones are green plantain that has been cut, fried, smashed into flat round disks, and then fried again. Some people cut them into circles or sometimes cut them diagonally. There's no difference in taste between the two, it's just an aesthetic preference.
Are Tostones Cuban, Dominican or Puerto Rican?
Many people wonder if Tostones are Cuban, Dominican or Puerto Rican but the truth is no one knows for certain. Even though in the Caribbean we like to claim we did. What we do know is that plantains are native to Asia. Plantains eventually made their way to the Caribbean and Latin America by European colonizers that brought ships full of slaves and plantains to feed them. So you see, maybe Tostones were created by Africans. We really don't know but I thank the person who did. Gracias!
Are they a side dish?
One of the reasons why I love fried green plantains is because of how versatile they are. While it is true that Tostones are indeed a side dish, they are eaten at all hours of the day. Tostones can be eaten as breakfast paired with two eggs and spam. They can be the main dish and be topped with some chicken or fried pork. Or they can simply be enjoyed like French fries with a little bit of salt and mayo ketchup.
Can I make ahead
One of the best things about this recipe is that it can be made ahead of time. You simply have to cut, peel, give them their first fry, smash them, and let them cool. After they are cool enough transfer them to an airtight container or a freezer bag to be stored. In the freezer, Tostones can last 3 months.
When you are ready to cook them there's no need to thaw. Just follow the recipe for the second fry. It is very important that if you are cooking from frozen you do it in batches. This is because you don't want the temperature of your oil to go too low.
How to pick the right plantain?
First, it is essential not to confuse bananas and plantains. The difference between the two is that plantains tend to be bigger with thicker skin. If you cut them you will notice that plantains are starchier than a regular bananas. To get the perfect Tostón your plantain should be green and firm to the touch.
If your plantains are slightly turning color don't panic. You can still use them but they will be a little sweet and less savory. On the other hand yellow plantains are sweet and will not work for this recipe.
---
How to make Tostones and Tips
1. Cut the ends.
2. Peel the plantain. Tip: If it is difficult for you to peel them try boiling the whole plantain for only one minute. They will turn black but don't worry this is because of the cooking. This can help to peel and with the stickiness while peeling.
3. Cut the plantains forming short cylinders. If you prefer you can cut them diagonally for a different style. The bigger you cut the plantain the bigger your Tostones when smashed.
4. Fry in medium heat. Tip: Make sure you have enough oil to cover half of the plantain pieces. This is to ensure cooking all the way thru. If this is your first time making fried green plantains and you are unsure whether your Tostones are cooked just take one and smash it. If it crumbles and doesn't hold its shape then they need to be fried a little longer. Try frying them for another minute.
5. Smash the plantains. I used a ceramic dish I have. Tip: You can use a Tostonera, which is specially made for smashing Tostones. If you don't have one you can simply use a small plate or even a small pan.
6. Fry for the last time to give your Tostones that nice golden color. Make sure your oil is hot enough to ensure crispiness.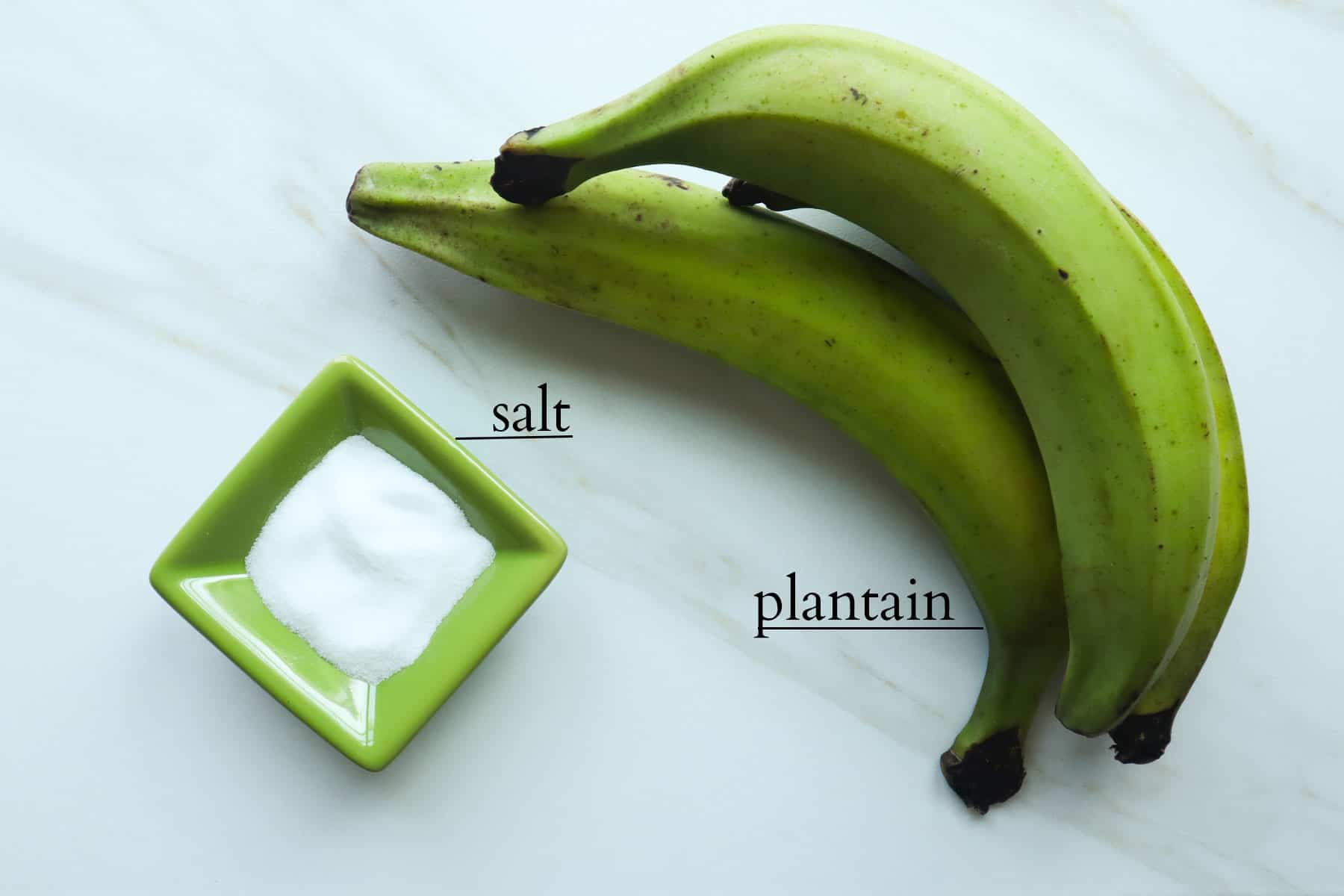 Ingredients
Plantains– I used 2 green plantains. Make sure they are unripe green plantains.
Salt– I used regular table salt but you can use any you like.
Oil– I used vegetable oil for this recipe. You can also use canola or peanut.
FAQ
Do I have to soak plantains in salt water before frying?
Some recipes suggest that this method helps them to get crispy but I assure you that is not needed. You also are saving yourself from the splatter of oil after that water touches the hot oil.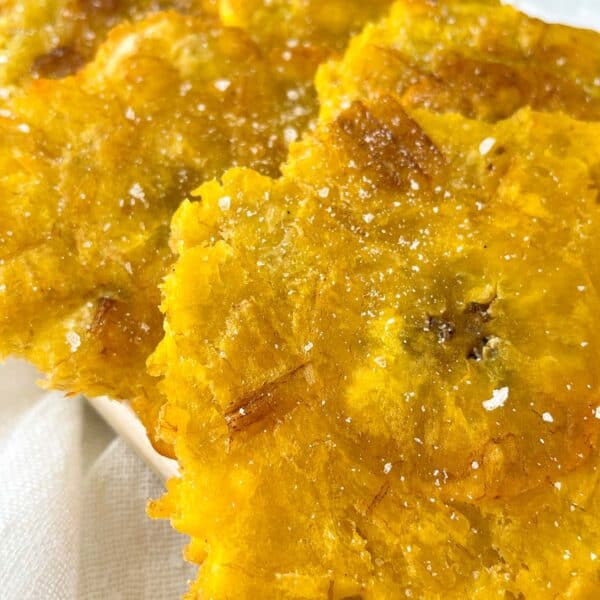 Tostones (Fried Green Plantains)
Tostones are a must have in the cuisine of Latin America and Caribbean countries. They are fried until golden brown. Crispy on the outside and fluffy on the inside. So easy to make that it is done in 15 minutes or less.
Ingredients
2

green plantain

1

cup

oil

1

pinch

salt
Instructions
Start by cutting the ends of your plantains. Then with your knife make a vertical line from top to bottom making sure the tip is thru the skin. Now start peeling from any top corner of the line you just made. If you have any skin left just remove it with your knife.

Cut your plantains into small cylinders of about 1 inch each.

Heat oil in a medium skillet or saucepan on medium heat. Add your Tostones and fry for 3 minutes on each side. Remove from oil into a small bowl with a paper towel to absorb excess oil.

Smash your plantains with a plate or any flat dish you have available. Smash until they are about 1/4 of an inch thick. Just enough so they look like a big flat circle.

Heat oil again but this time on medium high heat. Fry for about 2 minutes on each side. Remove from oil into a paper towel or wire rack to drain. Salt immediately. Enjoy right away.
Notes
Your plantain must be green so they come out savory. The yellow plantains are sweet ones and not the ones we need for this recipe.
If your plantain crumbles when smashing, it means is undercooked. Just give it an extra minute and then smash.
You can also add minced garlic on top of the Tostones right when they come out of the oil. This will give it a nice added flavor.
Nutrition: Oil nutrition facts for this recipe are based on retention of 10% of the total quantity used. These calculations are generated by an online API database. The precise amount will vary depending on the type of oil, the temperature of oil, and the time fried.  
NUTRITION
Calories:
97
kcal
|
Carbohydrates:
16
g
|
Protein:
1
g
|
Fat:
4
g
|
Saturated Fat:
1
g
|
Polyunsaturated Fat:
2
g
|
Monounsaturated Fat:
1
g
|
Trans Fat:
0.03
g
|
Sodium:
8
mg
|
Potassium:
249
mg
|
Fiber:
1
g
|
Sugar:
9
g
|
Vitamin A:
576
IU
|
Vitamin C:
9
mg
|
Calcium:
2
mg
|
Iron:
0.3
mg
Keywords:
fried green plantains, puerto rican tostones, Tostones
Thank You For Stopping By!
Hi! I'm Stephenie and I love to make food and share it with everyone. I make everyday recipes that are easy to follow and most importantly delicious! I hope that my recipes inspire you to cook.