Tostones para rellenar are fried green plantains made into cups that can hold anything from meats to vegetables.
Tostones para rellenar is like the upgraded version of regular tostones because they can hold food and sauces inside them. You will love how convenient these plantain cups are. Good to eat any day of the week, any time of the day even at breakfast. Try making a steak and egg scramble on top of it and see how good of a breakfast they make. They are a must have as party foods because they can be made ahead of time and then served to your guest with their favorite topping.
What are Tostones Rellenos?
Tostones rellenos are green fried plantains that are shaped into small cups. These are first fried then smashed into plantain cups and fried again to give them a crispy outside. They are very popular in the Caribbean where they go by the name of toston relleno or tostones para rellenar. Typically filled with different types of meats. Equally as popular in Latin America but known as patacón relleno.
What do I need to make Tostones rellenos?
There are many tools you can use to make tostones rellenos. First, we have a tostonera which in translation is a plantain smasher. My grandma used to make tostones rellenos when I was little with a tostonera. So this is how I learned to make them. They are a great way of making plantain cups but they give you a specific shape. When you use a tostonera your cup will come out with a thick bottom and small walls. For me, these are very good to stuff with cheese.
Another tool that you can use to make a toston relleno is a citrus squeezer. They come in different sizes to use for limes or big oranges. Depending on which size you buy you will have big or small cups. The idea of the small cups is great for when you have guests over. When you use a squeezer as your tostonera it will give you a very round dome that is very deep and thin. This is great to hold any toppings with sauces. But I'll tell you that you only need a little creativity. Once I had to use a cupcake tray and the pestle of my mortar because I was not in my kitchen.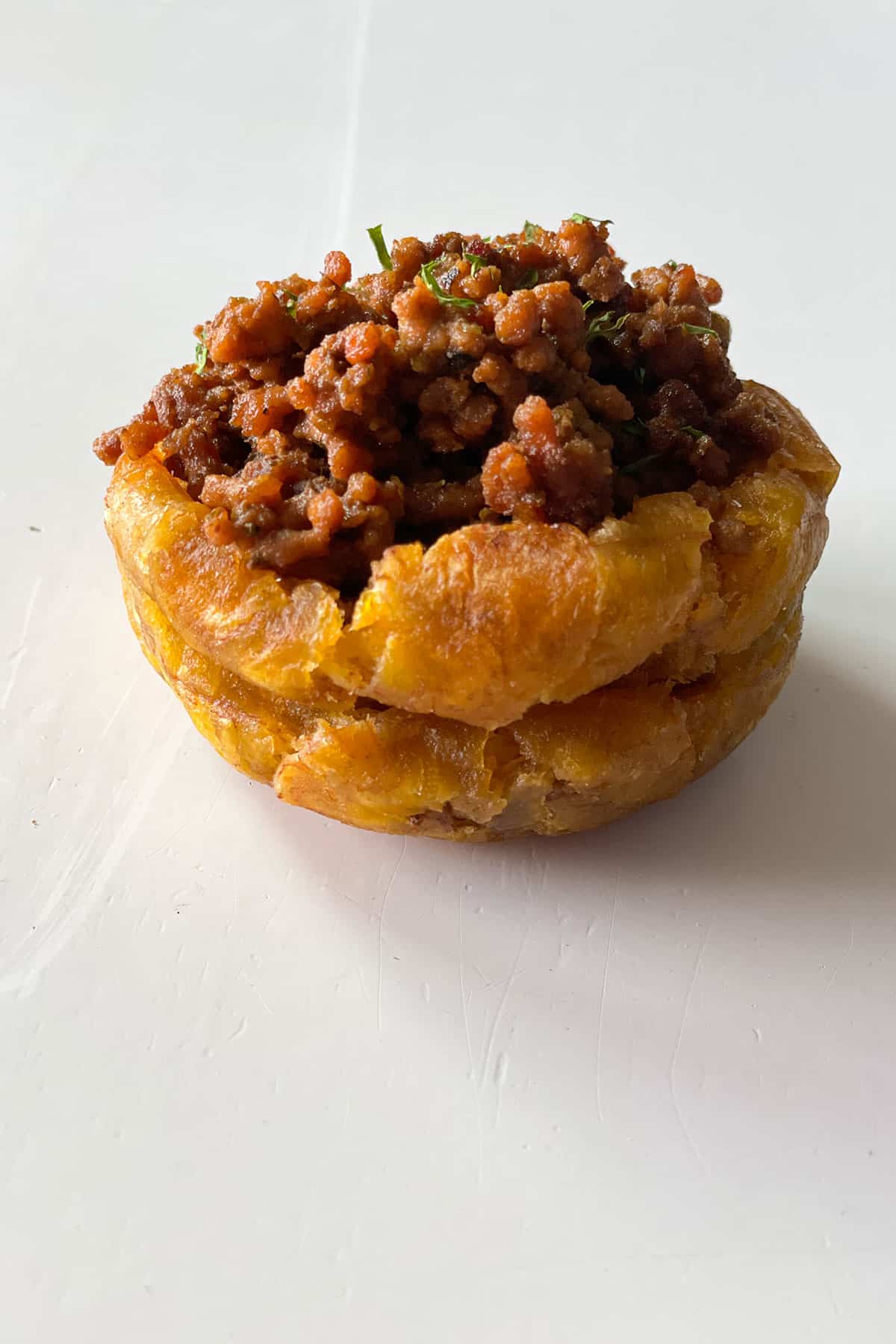 What to serve with plantain cups?
One of my favorite ways of serving plantain cups is with Puerto Rican-style ground beef which has a little bit of sofrito, sazón and tomato paste. You can top it off with a delicious mayo ketchup. You can also stuff your cups with a crab salad and add a little lime juice on top. Don't be afraid to try different toppings because I bet they will all taste good.
Can I make ahead?
Don't you love food you can make ahead? I know I do and this recipe is one that you can make ahead and save some time. You just have to peel, fry and smash your plantain cups but do not give them their second fry. Store in an airtight container in your freezer for up to 3 months. To store in your fridge keep them in an airtight container for no longer than 5 days.
---
How to make tostones para rellenar
1. First cut the ends of your plantains, make a vertical line going down and peel. Remove any small pieces left with a knife.
2. Cut your plantains into 4 pieces.
3. Fry for 3 minutes on each side or 6 minutes in total if deep frying.
4. Place a small piece of plastic film over your tostonera or lemon squeezer. This is to be able to remove the plantain cup better.
5. Depending on how thick your plantains are you will want to add 2 pieces and smash. If you see it needs more you can add an extra piece until you get the cup shape.
6. Fry one last time for 1 minute on each side.
Ingredients needed to make Tostones Rellenos
Plantains- This recipe calls for 2 green plantains.
Oil- I used vegetable oil but you can use whichever oil you use for frying.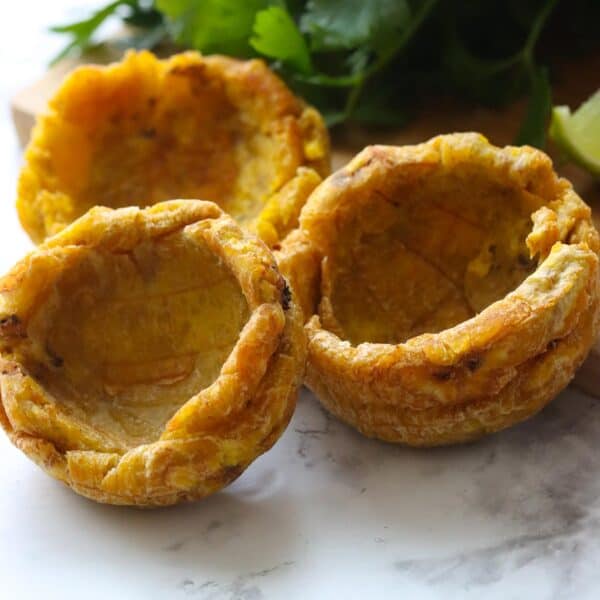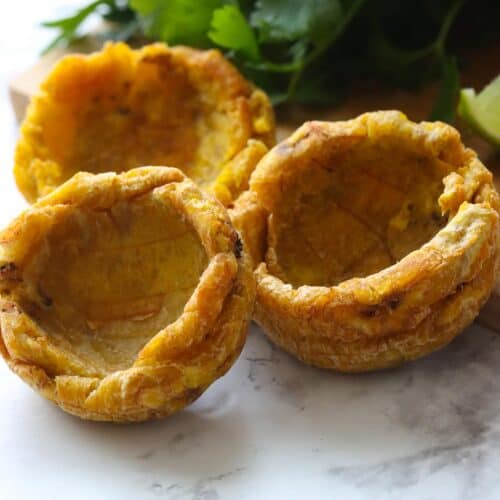 Tostones para Rellenar (Plantain Cups)
Tostones para rellenar are delicious plantains cups you can fill with your favorite meat, vegetable or cheese. A great finger food recipe.
Ingredients
2

green plantain

1

cup

oil
Instructions
Start by cutting the ends of your plantains and make a vertical line going down the plantain deep enough to go thru the skin. Peel your plantain. Any pieces of skin left you may remove with a knife. Cut each plantain into 4 pieces.

In a medium pot add your oil over medium heat. Fry for 3 minutes on each side and remove from oil. Wait about 1 minute for pieces to cool off before handling.

Take a piece of plastic wrap and put it over your tostonera or lemon squeezer. Take 2 fried plantain pieces and place them over your plastic film and squeeze them.

Now set your frying oil to medium-high heat. Fry for about 1 minute on each side. Serve right away and enjoy.
Notes
Tips:
1. If peeling more than 2 plantains you may notice plantains leak a milky opaque gluey substance. This stuff is super sticky and will get to your hands and even your knife. To avoid this when peeling multiple plantains take about 3 drops of oil and rub it on your hands. You can also use gloves.
2. The recipe calls for 2 pieces of plantain to make 1 plantain cup but this may change depending on the size of the plantain. If you have a nice thick plantain you probably will only need one piece for 1 cup. On the other hand, if plantains are skinny you may have to use the 2 pieces.
NUTRITION
Calories:
171
kcal
|
Carbohydrates:
29
g
|
Protein:
1
g
|
Fat:
7
g
|
Saturated Fat:
1
g
|
Polyunsaturated Fat:
2
g
|
Monounsaturated Fat:
4
g
|
Trans Fat:
0.03
g
|
Sodium:
4
mg
|
Potassium:
436
mg
|
Fiber:
2
g
|
Sugar:
16
g
|
Vitamin A:
1009
IU
|
Vitamin C:
16
mg
|
Calcium:
3
mg
|
Iron:
0.5
mg
Keywords:
plantain cups, tostones rellenos
Hi! I'm Stephenie and I love to make food and share it with everyone. I make everyday recipes that are easy to follow and most importantly delicious! I hope that my recipes inspire you to cook.