Fast, simple and easy to make. Those are the reasons why you should try this tasty Arañitas recipe.
I am on a mission to show how versatile plantains are. With this recipe, you will learn how to make Arañitas. They are so simple to make that you only need 15 minutes or less. They are good as a snack and perfect for gatherings. You can make them as big or small as you like. I like to make mine flat like a tostón but I've seen some people make them into puffy plantain balls.
What are Arañitas?
Arañitas is a Puerto Rican invention made out of green plantains. These plantains are peeled and grated. Then packed together and formed into the desired shape. Then they are fried until they have a perfect golden brown color. Did you know that Arañitas translation into English is "little spiders"? Spiders because of the plantains pieces sticking out resemble spider legs. Little because we Puerto Ricans tend to say words in their smaller form.
What do I need to make Arañitas
The most important thing you need is plantains. Plantains need to be green and firm to the touch. This recipe won't work with yellow plantains because they'll get mushy and will be sweet. You will also need a grater. You will need to use the coarse side of the grater. The coarse side is used because this makes the pieces the right size to stick out and get crunchy.
What to serve with?
Arañitas are great to be served with just a side of mayo ketchup as a tasty snack. They are perfect as a party snack to scoop up your dips. You can also make this as a side to some delicious carne frita, fried fish, or any meat you like. Also, it can be served as your side to a king crab salad.
---
How to make Arañitas
1. First, you must cut the ends to your plantains, make a cut in the middle going down and peel. Then cut your plantains in half. This is so the plantains are easier to handle when grating.
2. Now you want to grate your plantain on the coarse side of your grader. When reaching the end of the plantain you have to be careful not to cut your hand.
3. Now we shape our arañitas. What I like to do is take all the plantain and divide it into halves until I make 8 arañitas. After dividing, I make a small ball with the grated plantain and this is so the shape can be fairly even or at least similar. Then I flatten them with my spatula.
4. Lastly, I fry. The most important part is making sure your oil is hot because if not your arañitas will start falling apart. Make sure your oil is hot by throwing in the oil a piece of grated plantain and see if it quickly bubbles. After frying, you can season with a little bit of salt.
Ingredients
1. Plantain- I used 2 green plantains. Make sure your plantains are firm to the touch.
2. Oil – I used vegetable oil but you can use the oil your regularly use for frying.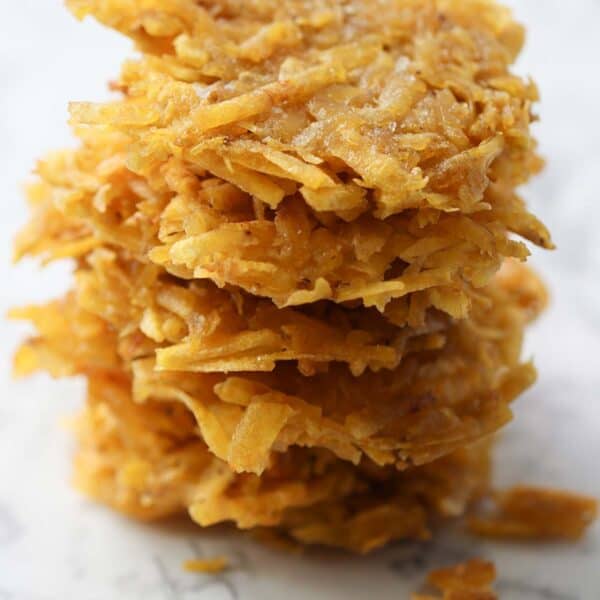 Arañitas
Fast, simple and easy to make. Those are the reasons why you should try this tasty Arañitas recipe.
Ingredients
2

green plantains

1

cup

oil
Instructions
First, cut the ends of your plantains. Make a line going down your plantain and peel. Cut your plantain in half for better handling.

With the aid of a grater, shred your plantain. Do this on the coarse side of the grater.

Now divide your plantain into 8 equal balls. Once divided flatten your balls with a spatula or a plate. Make sure you press down hard so the plantain can stick better together.

The last step is to fry. Over high heat place a large pan and add your oil. Once your oil is hot add your arañitas and fry for 2 minutes on each side or until they get a golden brown color. Serve and if you like you can sprinkle some salt and enjoy.
Notes
Make sure your plantains are green for this recipe because if they are slightly yellow the flavor will change. Also, the texture can change.
To avoid breaking your arañitas when putting them in the oil, use a spatula.  Lift the arañita with the spatula and submerge the spatula in the oil and slowly place it in your hot oil.
You can season your arañitas with some salt and garlic powder right after you take them out of the oil. 
NUTRITION
Calories:
86
kcal
|
Carbohydrates:
14
g
|
Protein:
1
g
|
Fat:
4
g
|
Saturated Fat:
0.3
g
|
Polyunsaturated Fat:
1
g
|
Monounsaturated Fat:
2
g
|
Trans Fat:
0.01
g
|
Sodium:
2
mg
|
Potassium:
218
mg
|
Fiber:
1
g
|
Sugar:
8
g
|
Vitamin A:
504
IU
|
Vitamin C:
8
mg
|
Calcium:
1
mg
|
Iron:
0.2
mg
Keywords:
arañitas, arañitas de platano, shredded fried plantain
Hi! I'm Stephenie and I love to make food and share it with everyone. I make everyday recipes that are easy to follow and most importantly delicious! I hope that my recipes inspire you to cook.