The best recipe you can make at dinner time is a big pot of Puerto Rican Rice and Beans. It checks all the boxes. Is super easy to make in one pot, done in less than an hour and delicious.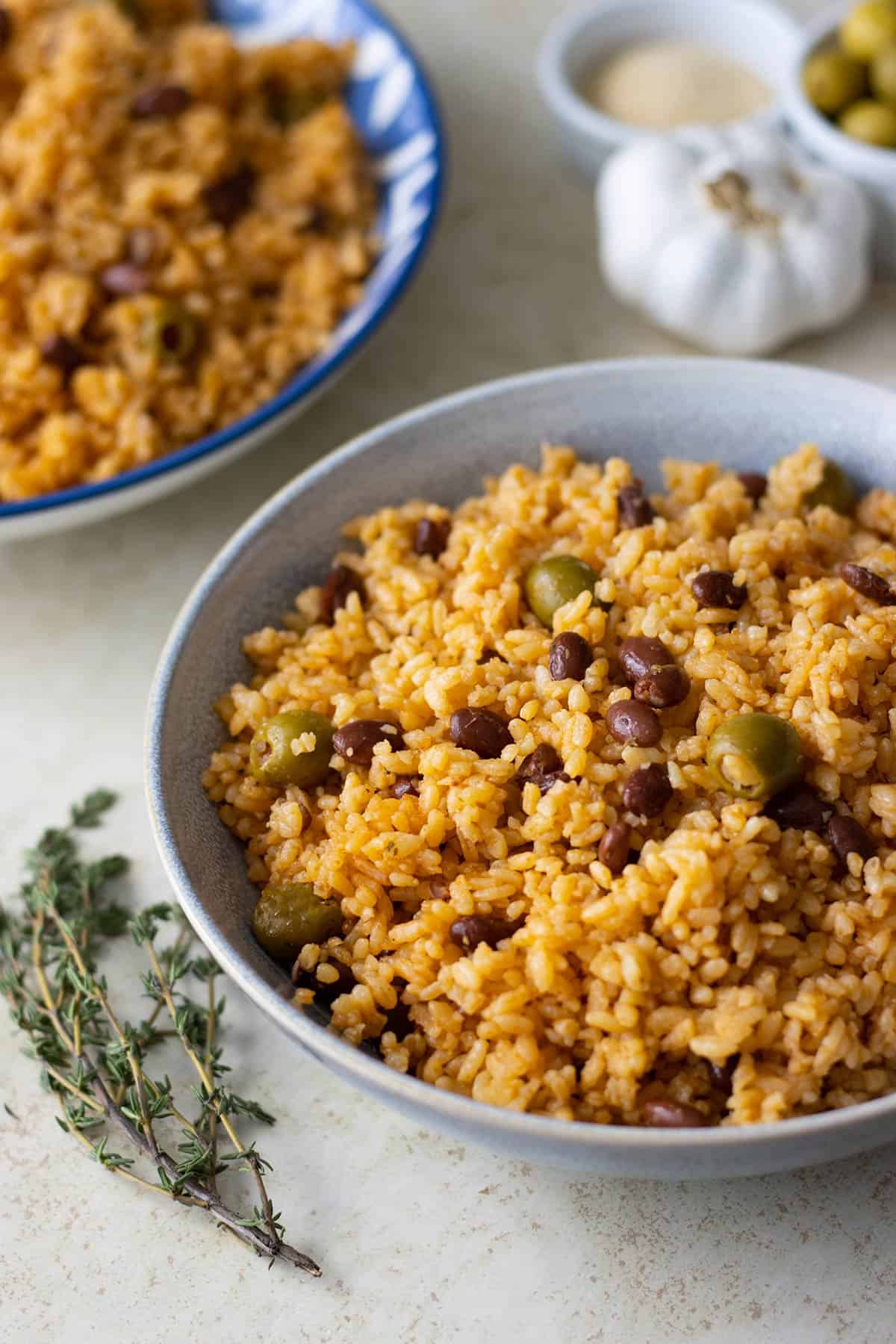 Puerto Rican Rice and Beans
This recipe is one that after you make it once or twice you will make it to perfection every single time. Puerto Rican Rice and Beans is made with white rice, beans, sofrito, tomato sauce, sazón, and adobo. You can use vegetable or even achiote oil to enhance the color of your rice. Once cooked the rice has a yellow color, and it is loose and fluffy.
This rice and beans are usually made in a caldero but it can be done in any pot as long as it has a lid. It is a very simple dish and yet very flavorful. Make half of this recipe and you got enough for two plus some leftovers for meal prepping. Double this recipe and you got enough to make for a family gathering.
In Puerto Rico, rice and beans is called arroz guisado con habichuelas while in the Dominican republic and Cuba it is called moro. In the Caribbean, this rice and beans are eaten just as much as white rice.
In other parts of the world rice with beans is treated as a side dish but for Latinos, it is the main dish. This is so because in the past meat and other things were very expensive. There was only enough for the rice and the beans because of how inexpensive it was and still is. Sometimes a hot bowl of rice is all you will need to keep you full.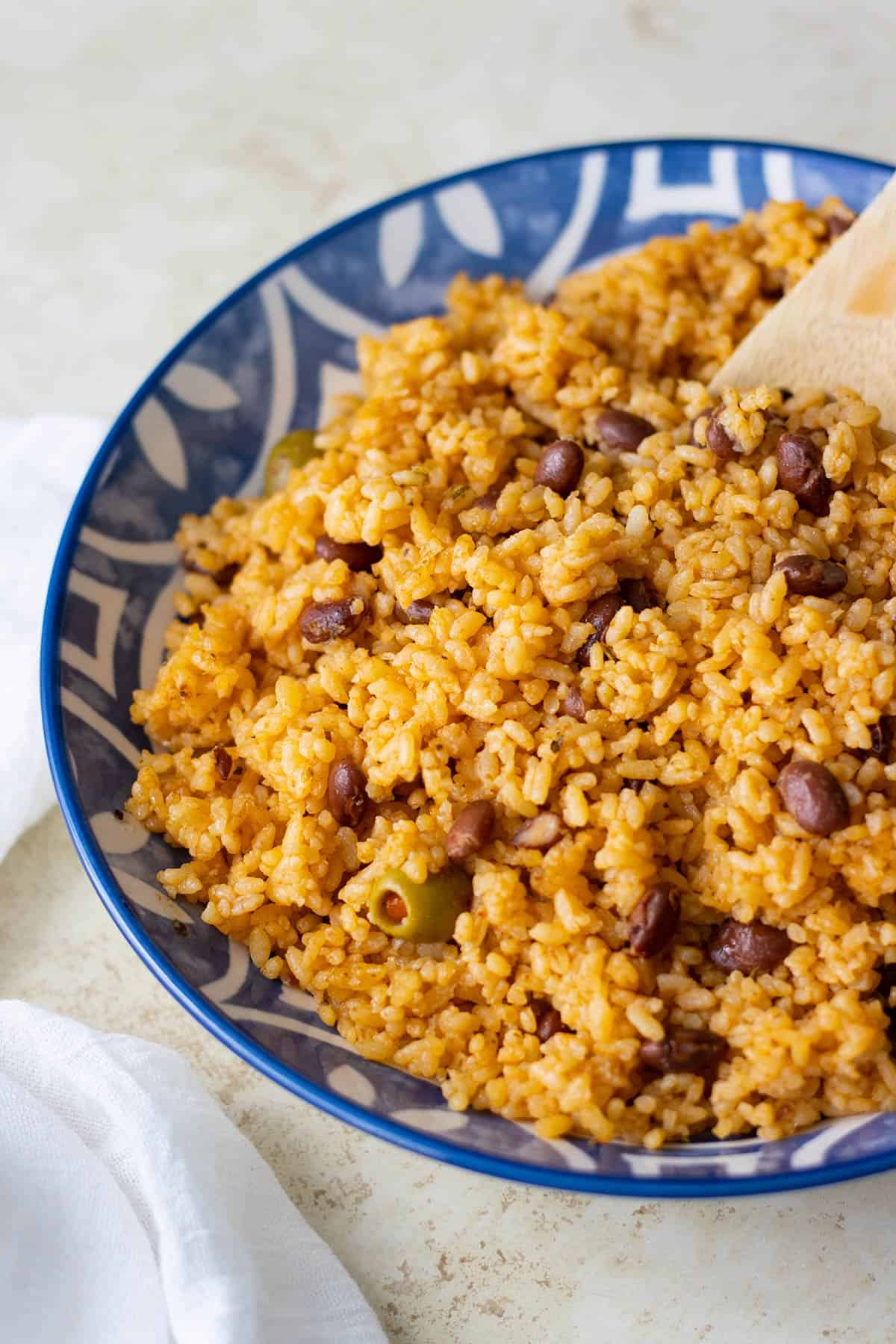 Is Puerto Rican Rice and Beans the same as yellow rice?
The short answer is no. While Puerto Rican rice and beans are sometimes referred to as yellow rice or even Spanish rice to some people, it is not the same. Yellow rice is made with turmeric which is the ingredient responsible for its color. It also has a nice touch of sweetness because it has raisins and brown sugar. While Puerto Rican yellow rice is completely savory. Made with tomato sauce and sazón which are the ingredients responsible for that yellowish, kind of orangy color.
What type of rice to use?
I have always used medium grain rice. This is the most popular type of rice in Puerto Rican recipes. But a lot of people like to use long grain rice like jasmine or basmati. It really doesn't matter much the type of rice that you use as long as it is not a sticky rice type. The important thing is the flavor you add to your seasonings.
What types of beans can I use?
The type of bean I always use is savory canned beans. The reason for this is really out of convenience because dry beans take a little longer. You have to leave them in water to soften. In this recipe, pink beans are used but you can use any type of beans you like. You can use white, black, pink, white and pinto beans.
What can I add to rice and beans?
There are many ways to take this recipe to another level. You can add smoked sausage to it. Just add it right after your oil and sauté it along with the sofrito and other ingredients. You can also add ham and treat it just the same. You can also add veggies like carrots and corn, and it is so delicious.
What can I do with leftover rice and beans?
One of the reasons why you'll love this recipe is that you can do many different dishes with leftover rice and beans.
Stir Fry- You can make a very tasty stir fry. Just add a little bit of spam or ham and a few veggies.
Egg Rolls- Use rice with beans in addition to cabbage and vegetables. You'll be surprised how good it is.
Fried rice balls- Take a scoop of rice, bread it and fry for the ultimate crispy rice balls.
Rice Burrito- In a nice soft tortilla put some rice, cheese, refried beans and enjoy.
Copycat chipotle bowl- Use this rice as the bed for other ingredients such as veggies and meats. You will make a bowl in a Latino style.
Tips on making the perfect Rice and Beans
1. The pan- You need a pan with a lid to make this recipe. If you don't have a pan with a lid just cover the pan with foil. The important thing is to keep the vapor inside the pan.
2. Hard rice- If your rice is still a little hard you can always salvage it. But if it is mushy then there's no salvation. If your rice is hard then add 3 tablespoons of water and cook for another 5 minutes. The water will create more vapor to help cook your rice.
3. Burn rice flavor- You might be surprised to know that you can salvage rice with a burnt, smokey flavor. The trick to removing the burnt flavor in rice is to add a whole onion chopped in half. Add the onion and cook for an extra 5-8 minutes and the onion will absorb the bad flavors. This is a very useful tip because when you start making large batches of rice, this will happen a lot depending on many things like the pan you use.
How to store and reheat?
To store in the fridge use an airtight container and keep no more than 4 days in the fridge. Use an airtight container to freeze and keep no longer than 3 months. When you are ready to eat you can reheat it in the microwave or stovetop. If reheating from the freezer just make sure you thaw the rice before. If not, your rice will be wet and it will stick to the pan you use.
What to serve with Puerto Rican Rice and Beans?
---
How to make Puerto Rican Rice and Beans
1. In a large pan over high heat add the oil, tomato sauce, sofrito, beans, and all the seasonings and sauté for 2 minutes.
2. Then add your water and bring it to a boil.
3. Once the water is boiling you want to add your rice, stir and cover until all water has evaporated.
4. When the water evaporates, lower the heat to medium high. Fluff your rice. Cover and cook for another 20 minutes.
Ingredients
1. Water
2. White rice- I used medium grain but you can also use long.
3. Beans- For this recipe, I added pink beans but you can change it up and use a different one like white or pinto.
4. Oil- I use vegetable oil but you can use your preferred cooking oil.
5. Spanish olives- While olives are optional they bring a lot of flavors.
6. Sofrito- I use homemade sofrito. You can use homemade or premade. Both are good.
7. Tomato sauce- I used tomato sauce but you can use tomato paste.
8. Seasonings- This recipe uses sazón, adobo, and ham flavoring concentrate.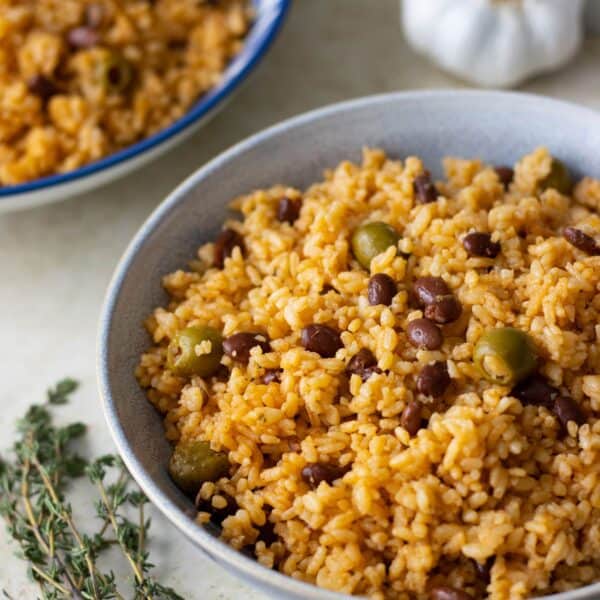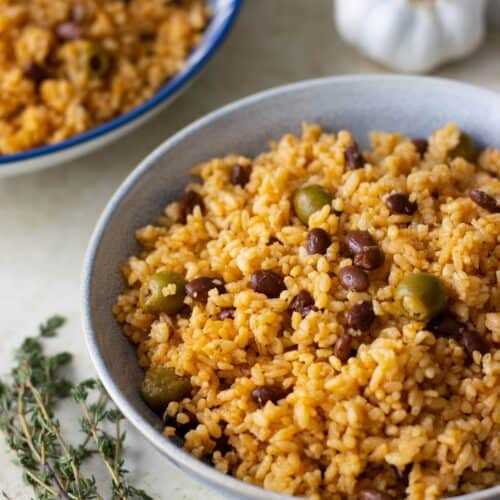 Puerto Rican Rice and Beans
One of the best meals to make on any dinner night. It is easy to make a packed with flavors.
Ingredients
3 1/2

cups

water

4

cups

white rice

1/4

cup

oil

1

can

pink beans

15.5 oz can

1/2

cup

tomato sauce

1/2

cup

sofrito

1

teaspoon

ham flavor concentrate

1 1/2

teaspoons

sazón

1 1/2

tablespoons

adobo

1/4

cup

manzanilla olives

about 12
Instructions
In a large pot over high heat add the oil, tomato sauce, sofrito, olives, beans, ham flavoring, sazón and adobo. Mix it well and let this cook for about 2 minutes.

Then add the water, stir and wait for it to boil. Rinse your rice and add it to the pot once the water is starting to boil. Cover the pot and let all the water dry. This can take about 8 minutes so it is best to keep an eye on it.

Once all your water is evaporated you want to lower your heat to medium. Now you want to stir your rice. Cover with your lid and cook for 20 minutes. Serve and Enjoy.
Notes
1. Traditionally this rice is made in a caldero but you can use any pot as long as you have a lid.
2. This recipe uses pink beans but you can use pinto, white, or any canned bean as long as it is savory. 
3. Even if you don't eat olives it is a good idea to add them because they add a very nice flavor. Once your rice is cooked you can take them out.
Note: The seasoning in this recipe is all to my liking. I have a trick for knowing whether the recipe is too salty for you. When making the recipe add half of the adobo, and mix it in. Once all the ingredients are in the pot make sure to taste your water. If you taste it and you know it still needs seasoning then add the rest.
NUTRITION
Calories:
417
kcal
|
Carbohydrates:
76
g
|
Protein:
7
g
|
Fat:
9
g
|
Saturated Fat:
1
g
|
Polyunsaturated Fat:
4
g
|
Monounsaturated Fat:
3
g
|
Trans Fat:
0.05
g
|
Sodium:
910
mg
|
Potassium:
160
mg
|
Fiber:
2
g
|
Sugar:
1
g
|
Vitamin A:
90
IU
|
Vitamin C:
1
mg
|
Calcium:
38
mg
|
Iron:
1
mg
Keywords:
arroz con habichuelas, rice and beans, rice with beans
Hi! I'm Stephenie and I love to make food and share it with everyone. I make everyday recipes that are easy to follow and most importantly delicious! I hope that my recipes inspire you to cook.