Arroz con Gandules is the one Puerto Rican rice that almost everyone on the island makes for the holidays or on special occasions as a side dish.
When I say special occasions I really mean all occasions like Thanksgiving, Three Kings Days, birthdays, weddings, and any activity with the word party next to it. It is also an easy side for a weeknight dinner.
Arroz Con Gandules
When we talk about arroz con gandules, we have to talk about the Christmas season. Especially, Noche Buena which is celebrated on the 24th of December. This is because this is the day when Puerto Ricans make their holiday traditional meal.
A plate of food this day wil consist of arroz con gandules, pernil, and a pastel de masa or yuca. On top of that, you will either have guineitos en escabeche, ensalada de papa, coditos, or a little bit of all the above!
Arroz con Gandules is a popular recipe in the Caribbean. In Puerto Rico, pigeon peas and rice are made with the traditional Puerto Rican base. It has sofrito, sazon, and adobo. Every family makes it a little different. Some people avoid the sazon and use achiote oil instead. Some people like to add ham, pork, bacon, or even ribs like in my rib rice.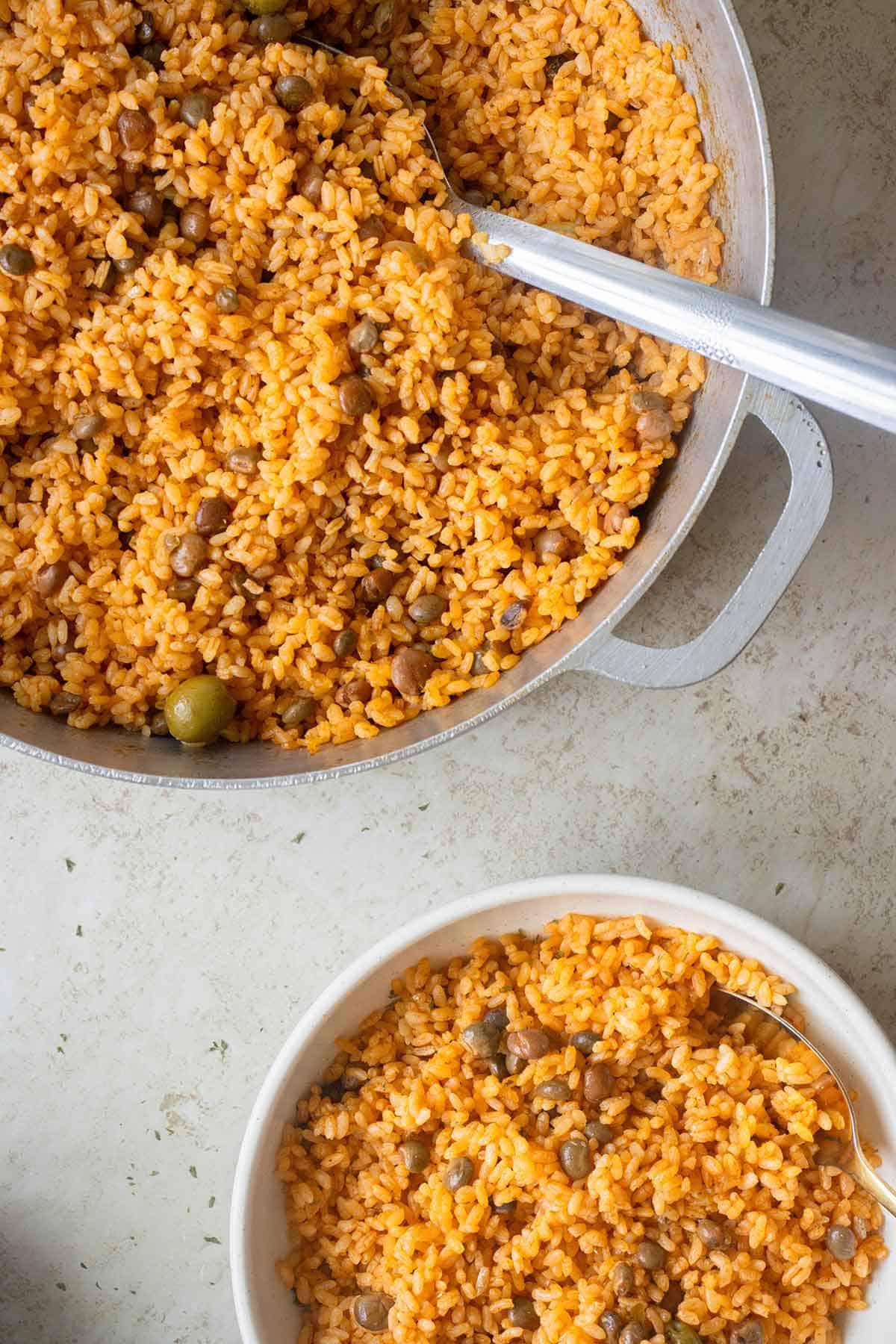 What Are Gandules?
Gandules are the Spanish term for pigeon peas. They are native to India and then spread across the globe. Gandules are a very typical ingredient in soups and rice recipes. They grow in small green pods. The gandules come in shades from bright light green to dark green when fresh. They are also very nutritious according to the website footprint.
When cooked, gandules tend to have a beige-brown color. You will be surprised at how easy gandules are to find. You can usually find them in the beans section, or the international or Hispanic area of big brand supermarkets. The most popular gandules brand that will be widely available is Goya.
Arroz Con Gandules Ingredients and Substitution
1. Oil- I use vegetable oil. You can use bacon fat, lard, or your preferred cooking oil.
2. Sofrito- The sofrito is the base of this rice and it will give the gandules and rice a great flavor.
3. Tomato sauce- ½ cup of tomato sauce is what you need for this recipe but you can substitute it with ¼ cup of tomato paste.
4. Ham flavoring- I use ham flavoring because it gives the rice a really good taste.
5. Sazon- This helps with the color of the rice but achiote oil will do the same function and it will also add flavor to the dish.
6. Adobo- I use adobo 5 teaspoons of adobo.
7. Gandules- I used canned gandules but if you happened to have fresh gandules, even better. To me, fresh gandules are softer and creamier than the canned version. You can taste the difference. But it may be hard for you to find fresh pigeon peas.
8. Manzanilla olives- I always say that even if you don't like olives, please add them. The flavors of the manzanilla olives go well with this rice.
9. Rice- I used medium-grain rice. This is the grain that is most used in Puerto Rico. It is widely available in all supermarkets.
10. Water- For this recipe, I use water, no need for stock.
Optional
This is totally optional but highly recommended. If you are lucky enough to find banana leaves in your supermarket, you can use them to give your rice an amazing flavor. What you do is clean the banana leaf with a wet paper towel. Place the banana leaf on top of your rice in the last 20 minutes of cooking and cover.
---
How To Make Arroz Con Gandules
1. First, in a large pot add the oil, tomato sauce, sofrito, olives, pigeon peas, and seasonings. You are going to sofreir which means to saute for 2 minutes. This step of frying in a little bit of oil adds a lot of flavor to the rice.
2. Add the water and wait for to water to come to a boil. This part should take 3-5 minutes depending on how hot was the water you just added.
3. Once the water boils, add the rice and stir. This is the step where you want to taste the water to make sure it has a good flavor. You are going to cover the rice and let the water evaporate. This should take about 10 minutes.
Tip: Since I don't like to uncover the rice until all the water is evaporated, what I do is use a spoon to know if is ready. Place your spoon on top of the lid, and you will feel it is boiling. This works for me because I use a caldero to cook the rice so it's easy to feel the vibration.
4. Once there is no water left or only a little, fluff the rice. I like to move all my rice to the middle and make a dome shape. Finish cooking for 20 minutes, no peeking, and enjoy.
Do I Need A Special Pot To Make Gandules And Rice?
No, you don't need a special pot to make. The only thing that is a must is a lid. But even if you don't have a lid you can use foil. I, as most of the Puerto Ricans use a caldero to make rice. A caldero is a cast aluminum pot. Very multipurpose pot. The best to make rice, soups, and stews. It is great to sear meats. I even use my caldero in the oven!
How To Make Pegao?
Pegao is not something you purposefully make but it happens naturally as you cook the rice in. To make pegao you need to use a caldero and that little bit of oil used to cook your rice. While cooking, your rice will stick to the bottom of the pan. Once the rice is fully cooked, you will get fluffy rice on top. But in the bottom of the pan will be a layer of rice stuck to it. You then scrape all of this out and you get arroz pegao. So remember that you won't be able to make pegao on a nonstick pan.
How To Store?
To store rice in the fridge, use an airtight container for no more than 5 days. Or you can do as I do and store the rice in the same caldero that you made it in. I only do this if I am going to eat the rice the next day. You can freeze your rice for 3 months. I won't leave it longer because it can get freezer burn. Make sure that your rice has cooled down before storing it.
How To Reheat?
The easiest way to reheat rice is by using the microwave. You can also use a caldero to heat it. What I like to do is add 1 tablespoon of water to moisture. Heat it on medium heat for 10-12 minutes. Make sure to stir a couple of times.
What to serve with Arroz con Gandules?
To tell you the truth, arroz con gandules goes well with almost any side. You can go light with a simple green salad, some crispy tostones, or a delicious yuca. You can make chuleta frita or pollo frito as your main meal to accompany the rice. Or you can make this with any of the Puerto Rican holiday's traditional meals.
Arroz con Gandules
Arroz con Gandules is the popular choice to make for every Puerto Rican Holiday. It is fluffy and very flavorful.
Ingredients
1/4

cup

oil

1/2

cup

sofrito

1/2

cup

tomato sauce

1/4

cup

manzanilla olives

1

teaspoon

ham flavoring concentrate

1 1/2

teaspoon

sazon

5

teaspoons

adobo

15

ounces

pigeon peas (15 oz can)

4 1/2

cups

water

4

cups

medium grain rice
Instructions
In a large pot over high heat add the oil, sofrito, tomato sauce, sazon, adobo, ham flavoring, manzanilla olives, and pigeon peas. Cook for 2 minutes.

Add the water, stir and wait for it to boil. Rinse the rice and once the water starts boiling, add it in. Stir and cover. Let it cook for 10 minutes or until all the water on the surface has evaporated.

Lower your heat to medium. Stir your rice and cover. Finish cooking for 20 minutes. Serve and enjoy.
Notes
Storing- 
Let the rice cool and store it in an airtight container. Keep it in the fridge for no more than 5 days. Freeze for up to 3 months.
NUTRITION
Calories:
481
kcal
|
Carbohydrates:
88
g
|
Protein:
11
g
|
Fat:
9
g
|
Saturated Fat:
1
g
|
Polyunsaturated Fat:
4
g
|
Monounsaturated Fat:
3
g
|
Trans Fat:
0.05
g
|
Cholesterol:
0.03
mg
|
Sodium:
821
mg
|
Potassium:
365
mg
|
Fiber:
5
g
|
Sugar:
1
g
|
Vitamin A:
91
IU
|
Vitamin C:
1
mg
|
Calcium:
61
mg
|
Iron:
2
mg
Keywords:
arroz con gandules, gandules and rice, puerto rican rice with pigeon peas
---
Did you like this Arroz con gandules Recipe? Here are more Puerto Rican Rice Recipes.
---
Don't miss another delicious recipe and sign up for our newsletter!
---
Hi! I'm Stephenie and I love to make food and share it with everyone. I make everyday recipes that are easy to follow and most importantly delicious! I hope that my recipes inspire you to cook.