Sancocho is one of the most popular soups in the Caribbean and Latin America a must try to see why.
Sancocho is one of those soups that are delicious to eat even on a hot day because of how filling it is. But it is even better to eat in those cold months because it warms you up. Eat it alone, with a piece of avocado on the side, with some crispy tostones.
What is Sancocho?
Sancocho is a soup with many vegetables like carrots, potatoes and onions. But what is special about this soup is that the finished product ends up looking more like a stew. The reason for this is because of all the root vegetables that it contains. It also has beef in it but depending on who's making it can have several kinds of meat. It also has achiote oil and sofrito that gives it that Latin delicious favor.
Where does it come from?
This amazing soup comes from all over Latin America and the Caribbean. There is no one true recipe because every country has its delicious recipe. Even in each country, there are many variations depending on the region. But they all have the same base which is meat and root vegetables.
What to serve Sancocho with?
The best thing to serve with Sancocho definitely has to be white rice, no doubt about it. You can put the rice in the soup to absorb those delicious flavors and it is just great. You will have a complete meal. Another way to serve this is with a piece of potato bread. It is so good to use it as a scoop for your soup. Try it and you will see that soup and bread are a perfect match.
How to store?
To store this soup I suggest you do it in portion sizes. This is because you don't want to defrost a big batch and then freeze it again. To portion and store in an airtight container. It can be a bowl or a glass jar with a lid. Store it in your fridge for no more than 4 days. Freeze it for up to 3 months.
How to reheat?
To reheat I suggest thawing completely or almost. This is because if you reheat from frozen your vegetables will end in a puree because of too much heat. To heat it you can do it in a microwave or on the stove. The trick is to put in a little bit more water because stews tend to get drier when cooled down.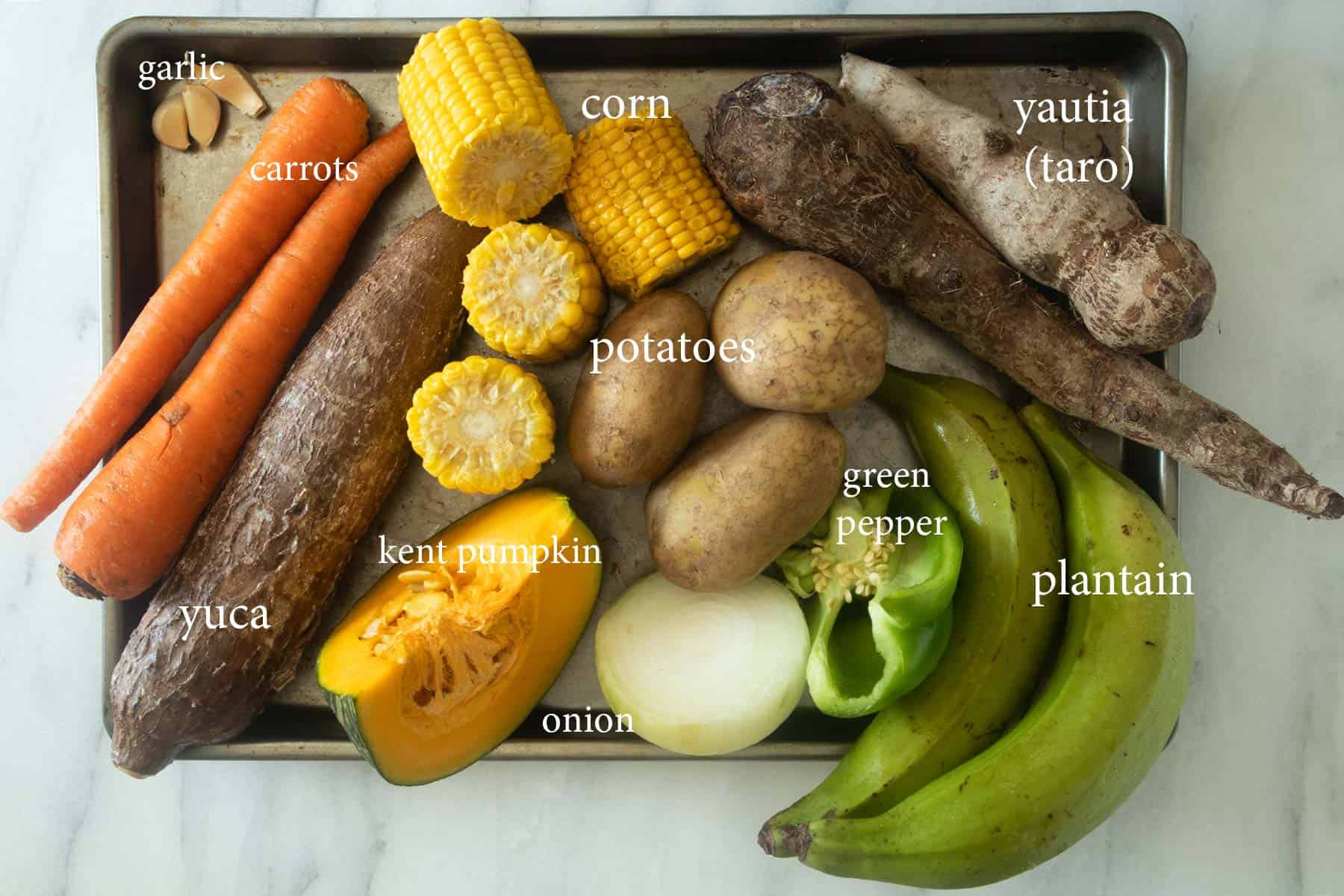 To find some of the ingredients for sancocho like the root vegetables can be harder. Look for them in your local supermarket in the fresh and frozen area which most of the time they have. You can also go to a Latin or Asian market where you most likely will find them.
---
Vegetables need it for Sancocho
Garlic, Onion and Green Pepper- are the first vegetables that go in and serve as your base. They are there to add flavor because you won't feel them at the end of the soup.
Yuca, Kent pumpkin, Potatoes and Plantains- all of these vegetables are put in because they are starchy vegetables that need it to thicken our soup. All of these vegetables are a must have.
Yautia- is another starchy vegetable that goes great in soup. If you can't find it you can substitute it with any of the starchy vegetables mentioned above. This is because sancocho was usually made with the vegetables available at the time so it won't affect it too much to be left out.
Carrots and corn- great for flavor and color.
Other ingredients need it
Achiote Oil- this recipe uses achiote oil because it adds a nutty smokey flavor to it and also it is one of the ingredients used for color. But if you don't have any you can use the oil you normally use for cooking.
Beef Stew Meat- you can use round cuts, chuck or brisket cuts for this recipe.
Sofrito- this is one of the bases used in this dish for maximum flavor.
Tomato sauce- I used tomato sauce but you can use tomato paste. If using tomato paste just use ¼ of a cup.
Bay leaves- these are a must because of all the flavors they release.
Seasonings- In this recipe, you use ground thyme, adobo, sazón and salt.
Water- I use 10 cups of water because sancocho shouldn't be watery. Is meant as a thick stew. If you want it with more stock wait until the last 5-10 minutes to add water so you can see the consistency before adding too much.
Sancocho
Nothing better than a steamy bowl of Sancocho. Made with root vegetables that make a hearty stew.
Ingredients
3

tablespoons

achiote oil

1

pound

beef stew meat

1/2

onion

1/4

green pepper

3

bay leafs

1/2

cup

sofrito

1/2

tomato sauce

1/4

cup

recao

about 3 whole leaves

1 1/2

teaspoon

sazón

1

teaspoon

adobo

1 1/2

teaspoon

salt

1/4

teaspoon

ground thyme

3

garlic cloves

2

green plantain

1

pound

yuca (cassava)

about 2 pieces

1

pound

yautia (taro)

2

corn cobs

1/2

pound

Kent pumpkin

1

pound

potato

1/2

pound

carrots

10

cups

water
Instructions
Cooking the meat
In a large Dutch oven over high heat add your achiote oil. Add your meat and brown for 6 minutes while stirring occasionally. Add the onion, garlic, green pepper and cook for about 2 minutes.

Now add the tomato sauce, sofrito, recao, sazón, adobo, salt, ground thyme. Stir and cook for another 2 minutes. Add 6 cups of water, stir and cover. Cook for 30 minutes.
Cooking the vegetables
To save time, cut your vegetables while the meat is cooking. Peel the plantains, yuca, yautia, pumpkin, potatoes and carrots. Roughly cut the vegetables into 1 inch cubes. Cut the corn into 6 pieces each or less if you want bigger pieces of corn.

Last, add your chopped vegetables and the 6 cups of water left. Stir and cook for 30 minutes. Stir occasionally to avoid the vegetables sticking to the bottom of your pan. Serve and enjoy right away.
NUTRITION
Calories:
301
kcal
|
Carbohydrates:
47
g
|
Protein:
14
g
|
Fat:
7
g
|
Saturated Fat:
1
g
|
Polyunsaturated Fat:
0.4
g
|
Monounsaturated Fat:
4
g
|
Trans Fat:
0.001
g
|
Cholesterol:
28
mg
|
Sodium:
568
mg
|
Potassium:
983
mg
|
Fiber:
5
g
|
Sugar:
5
g
|
Vitamin A:
5839
IU
|
Vitamin C:
28
mg
|
Calcium:
69
mg
|
Iron:
4
mg
Keywords:
sacocho puertorriqueno, sancocho
Hi! I'm Stephenie and I love to make food and share it with everyone. I make everyday recipes that are easy to follow and most importantly delicious! I hope that my recipes inspire you to cook.