Recao is a herb that is not very well known but it is one of the essential herbs in Latin and Caribbean food.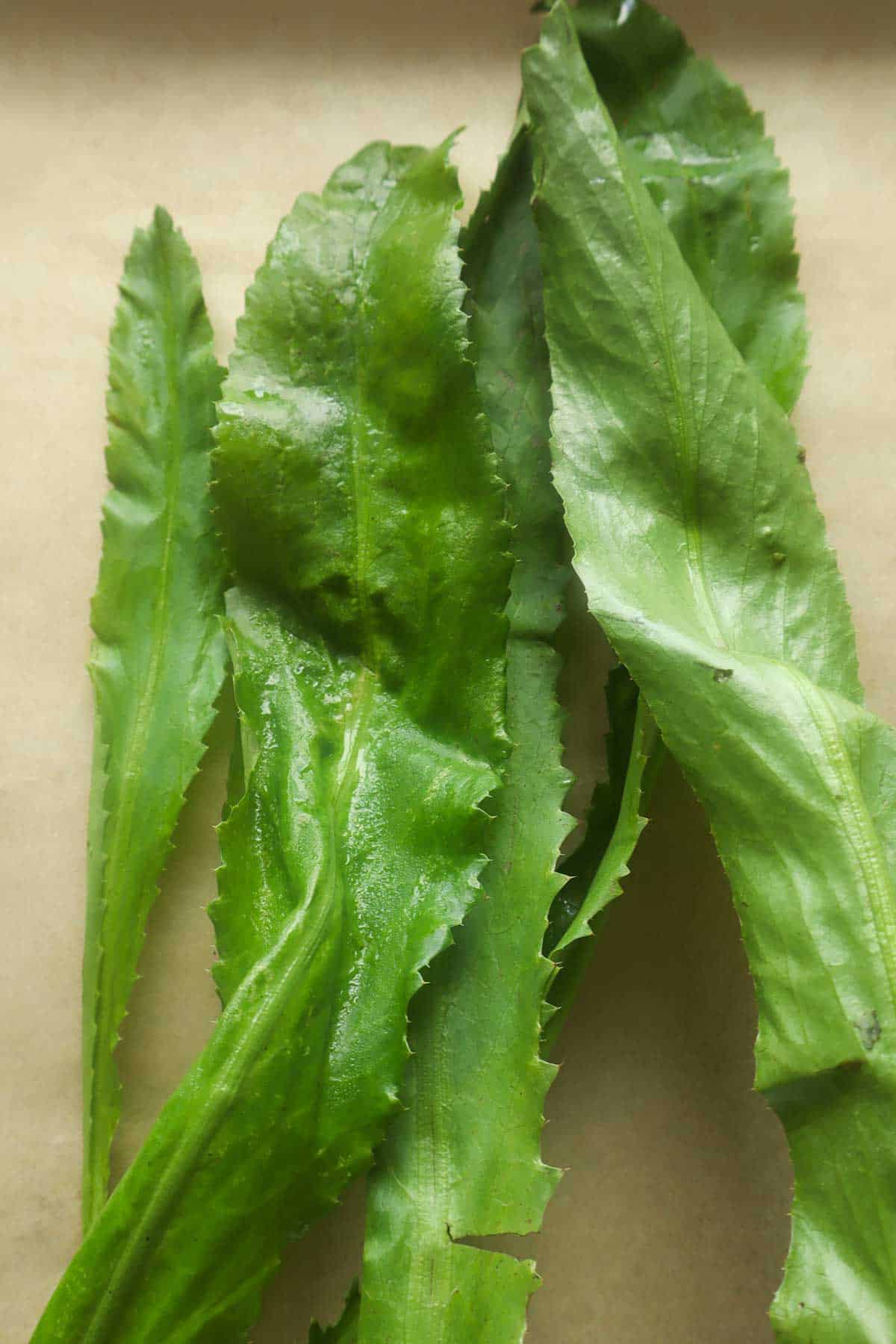 Native to Central and Latin America it is scientifically known as Eryngium foetidum. This Herb is a long skinny leaf that has a serrated border. Green in color and very strong in flavor. While in the United States you might find it by the name Culantro or long leaf coriander, in Brazil it is known as chicória do Pará. Since it is native to that region it is widely available and used in many of their recipes. In Latin America it is also called Culantro. In the Caribbean depending on the country it can have different names. In Trinidad and Tobago it is known as Chado Beni while in Puerto Rico it is named Recao.
It might be hard getting your hands on a bunch of Recao depending on where you live. If you can't easily find it and are looking for where to buy culantro then you can go to any Latin grocery store. It can also be found in Asian markets. If you find any then buy a bunch or two. Trust me when I say that you won't regret it. Another way to get fresh Recao is to grow it. Unlike the fresh herb, the seeds are widely available online and at decent prices.
How to use it?
Recao can be used in so many ways. In the Caribbean it is used daily. In Puerto Rico it is usually used as a base so it will always be cooked. You can make Puerto Rican Sofrito in which recao is one of the main ingredients. You can also add it to your rice, soups, stews and even to your bacalaitos. And to really take your stewed beans to another level the secret is to put in one leaf of Recao. In Trinidad and Tobago they make a sauce with it and it can be used to put on top of meats and even mix in with mayonnaise for sandwiches.
I must warn you that the taste of Recao (Culantro) is very aromatic and very strong. So whenever you are ready to give it a try in its raw form go little by little. If you are wondering how Recao tastes, I read that some people get a soapy taste from it. For me, when you try the raw leaf it is like when you add too much garlic to something. You know that spicy or burning sensation you get from too much garlic. On the other hand, when cooked is a herby, almost lemony taste that just adds to your dish making it better. For me that will be the best explanation.
Is Recao (Culantro) the same as Cilantro?
The short answer is simply no. First let's talk about how different they look. Recao is one whole long green leaf while Cilantro looks like 3 little leaves in one plus it will have multiple clusters of leaves in one stem. In taste they are different in that Cilantro has a milder taste when raw and it will be more commonly seen as a food garnish than Recao. Cilantro will be very easy to find in any grocery or market but for Recao you will need a little hustling.
Even though they are different, surprisingly there are times depending on the dish that they can substitute each other. But you must remember that Recao is stronger so when you substitute you must do it prudently. You will use way less Recao so the flavor won't be so pungent.
How to store?
There are many ways in which you can store it. First, If you want to use it within two weeks then simply put it in a jar with water, cover it with a bag, and put it in your fridge. To store it for longer then I have two options. First you wash the leaves, dry them, and store them in a freezer bag in your freezer for no more than 1 month. They tend to lose potency the more you leave them there. That's why I don't recommend a longer freezing time. The way I have stored them for the longest has been in ice cubes.
Storing Recao in ice cubes might be the best way. To do this you simply chop your Recao into small pieces. Then you add a tablespoon of Recao into your ice cube tray and on top you add one tablespoon of your preferred oil. This can be olive, peanut, or vegetable oil. You put this into your freezer and when frozen transfer them into a freezer bag or airtight container. I store these for 3 months.
Thank You For Stopping By!