Nothing smells better than freshly baked bread. These Yellow Potato Bread Rolls are soft, fluffy, and super delicious.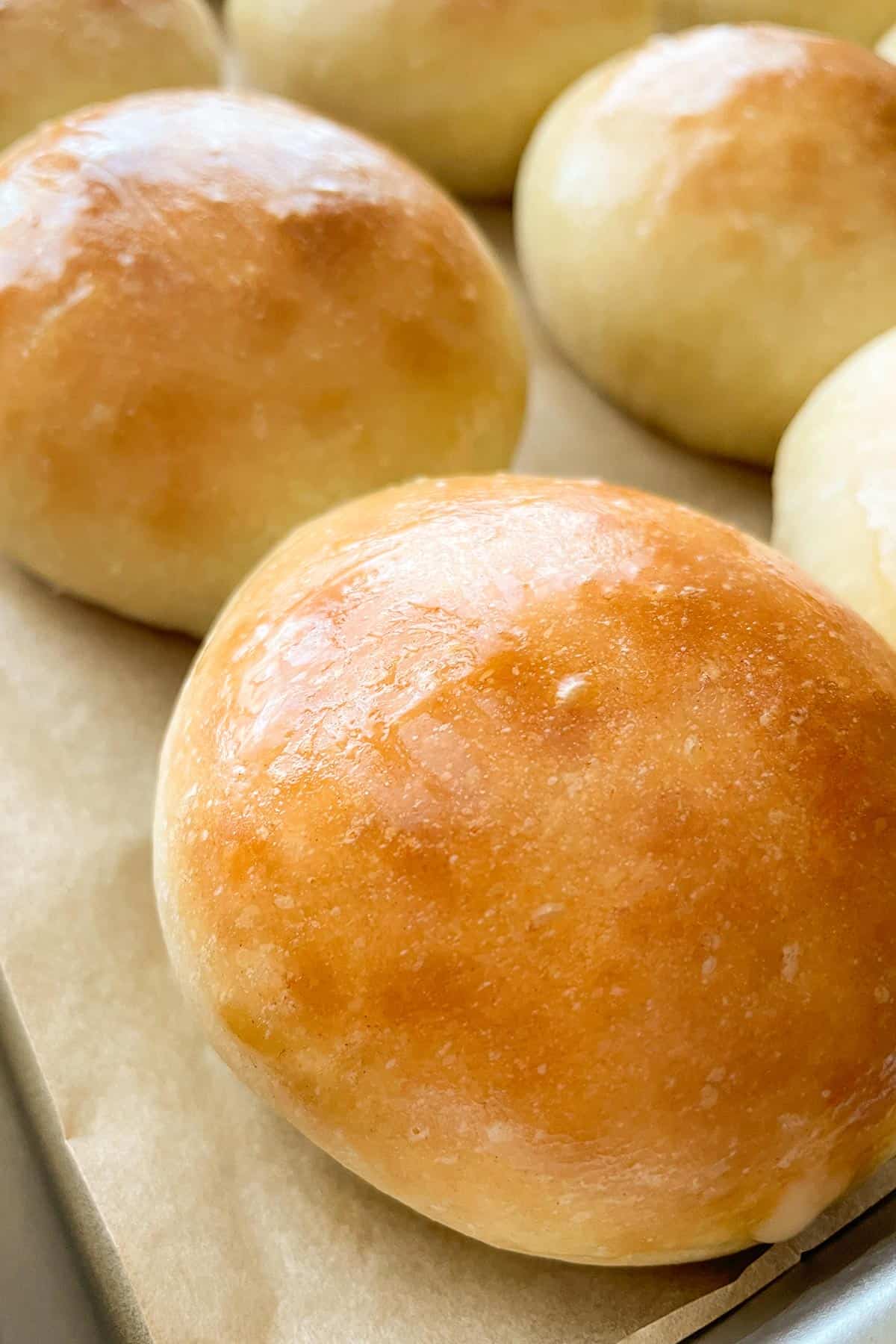 This is the perfect recipe to make Potato Bread Rolls. Great for a Picnic in the Spring or to make sliders for your next Barbeque in the Summer. A must have on your Thanksgiving dinner table. They are also the ultimate creamy potato soup scooper. But in reality, the best thing about this recipe is that you don't need a mixer. No fancy equipment is needed just your hands and simple ingredients.
Did you know that the invention of potato bread is attributed to a man named Antoine Augustin Parmentier? He invented the recipe because he wanted to convince French people that potatoes were safe to consume. At the time it was assumed that they were poisonous and caused leprosy.
What makes Potato Bread Rolls different
Potato Bread Rolls are made with potatoes that replace a portion of the flour used in regular Bread Rolls. This makes these potato rolls moist and soft. The potato helps give it a very tasty distinct flavor and lasts a little more than regular rolls.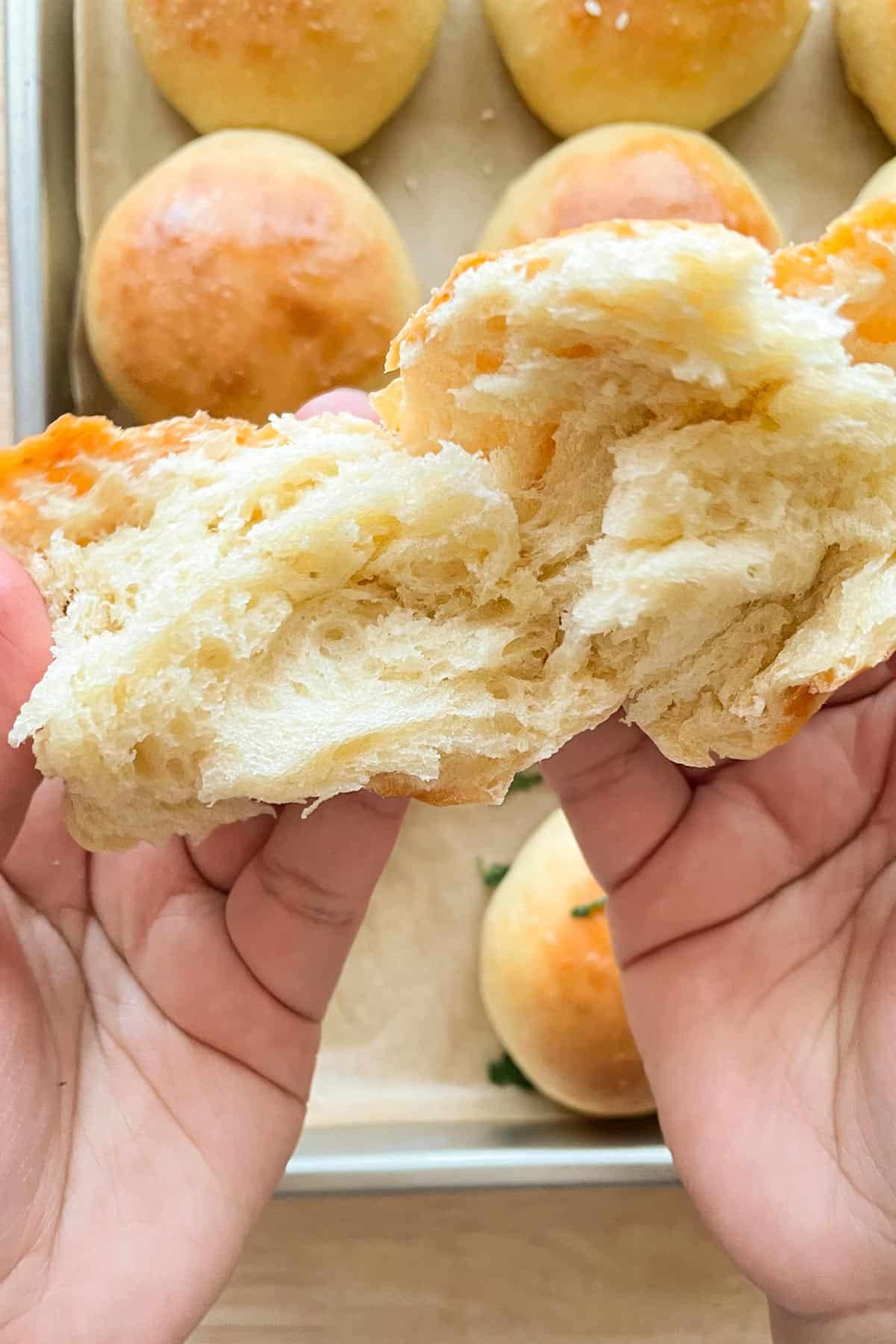 Tips to Rise Your Dough
The key to rise your bread to perfection is temperature. This can be tricky, especially in colder months. What I usually do unless it is summertime is put the dough in the oven. First, turn on your oven light right before you start making the dough so the oven can get warm. Then place your bowl with the dough in the lowest rack of your oven. Make sure to cover your bread with a lid if your bowl has one or with plastic wrap. The plastic helps to lock in the moisture. You can do this for both your first and second rise.
Making Ahead and Storing Your Potato Bread Rolls
Can you make this ahead of time? Yes, you can. Make your rolls all the way but don't bake them. First, freeze them in the tray where they were rising. Once frozen the best way to store in an airtight container or a plastic freezer bag. You can also freeze them cooked just make sure to cool them off before placing them in a freezer bag or airtight container.
Main Ingredients and variations
Yellow Potatoes– I used yellow potatoes that were freshly mashed, but a day old potatoes can also be used. Just make sure your potatoes are at room temperature before adding them to your mix. You can use russet potatoes if you have no yellow ones.
Potato Water– I always add potato water to my rolls because is full of starch and helps the bread retain moisture. If you happen to forget then substitute the same amount with milk.
Instant Yeast– I used one packet of instant yeast. I also have tried this recipe with active dry yeast. I will take 1/4 of my milk and get it slightly warn add 1 teaspoon of my sugar add the yeast and stir. Wait about 5-10 minutes. Then added to the rest of my ingredients.
Flour– I used all purpose flour.
Sugar– Besides the hint of sweetness it provides it aids with the rise of the yeast.
Salt– I added 2 teaspoons of salt which enhances the flavor.
Milk– I use regular milk at room temperature.
Egg– I used one egg that will provide moisture and helps with the rising of the bread rolls.
Unsalted butter– I use unsalted butter at room temperature so it can mix well with the flour and other ingredients.
Frequently Asked Questions
How to reheat
If you are reheating from frozen let these thaw completely. Then preheat your oven to 375 F degrees and bake for about 5-8 minutes or until warm. You can also pop these in the microwave and cover them with a damp paper towel for about 1 minute.
How long does Potato bread rolls last
These potato bread rolls can last you up to 5 days. Just make sure they are stored in an airtight container or a sealable plastic bag.
What can I serve with
These yellow potato bread rolls make the perfect side for a Simple Shepherd's Pie.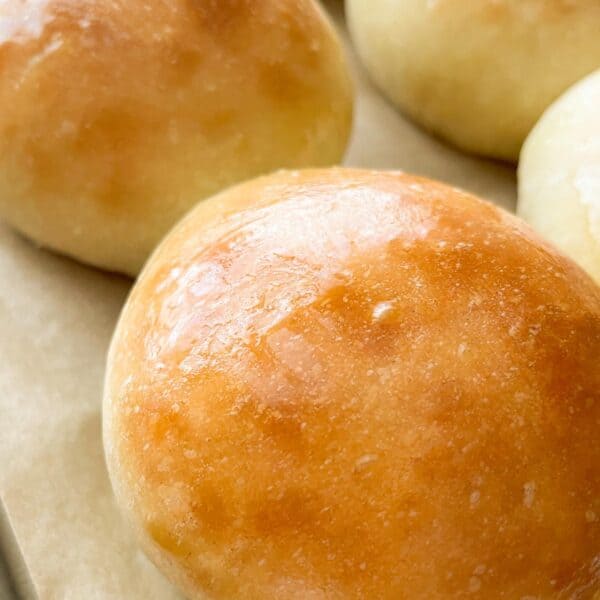 Yellow Potato Bread Rolls
These soft potato bread rolls perfect as a side, a soup scooper or a bun for a slider.
Ingredients
4 1/4

cups

all purpose flour

1/4

cup

sugar

2

teaspoon

salt

2 1/4

teaspoon

instant yeast

3/4

cup

milk

at room temperature

1/4

cup

potato water

1

large egg

4

tablespoons

unsalted butter

at room temperature

1/2

cup

yellow potatoes cooked

about one small potato raw
Instructions
Preheat your oven – First thing is to preheat your oven to 375 F degrees.

Prep your potato – Wash, peel, and cut your potato into small pieces. Boil for 10 minutes and before draining save 1/4 cup of the potato water. Then drain, mash and set aside to cool.

Mix all your ingredients – In a medium bowl mix your flour, sugar, salt, yeast, milk, potato water, unsalted butter, egg, and potato. Keep mixing until all the ingredients are well incorporated. Transfer all your contents to a flat surface and knead for about 5 minutes. Transfer into a medium bowl.

The first rise – Now cover your bowl with plastic wrap or a towel. Let the bread rise for about 1 1/2 hours or until the dough has doubled in size.

Divide your dough – Now divide your dough into 16 equal pieces. I do this with the aid of a kitchen scale and each piece weighs around 69 grams. Now shape each piece by flattening the top and then folding all the pieces in. After, take your dough ball and roll it inside your hand against your counter to form a round shape.

The second rise – Place your dough balls into a baking pan lined with parchment paper. I used a 10.5 x 15.5 baking pan. Now rise your bread for 1 hour or until your potato bread rolls have doubled in size.

Bake – For 25 minutes bake your rolls at 375 F. After 15 minutes of baking rotate your baking pan so the rolls brown evenly.

Serve – Remove from the oven and if you like you can butter them and serve.
Notes
1. Have all your ingredients at room temperature before preparing.
2. I usually rise my dough in my oven with the light on.
NUTRITION
Calories:
179
kcal
|
Carbohydrates:
31
g
|
Protein:
5
g
|
Fat:
4
g
|
Saturated Fat:
2
g
|
Polyunsaturated Fat:
1
g
|
Monounsaturated Fat:
1
g
|
Trans Fat:
1
g
|
Cholesterol:
19
mg
|
Sodium:
301
mg
|
Potassium:
92
mg
|
Fiber:
1
g
|
Sugar:
4
g
|
Vitamin A:
121
IU
|
Vitamin C:
1
mg
|
Calcium:
22
mg
|
Iron:
2
mg
Keywords:
potato bread, rolls, soft
Thank you for stopping by!
Hi! I'm Stephenie and I love to make food and share it with everyone. I make everyday recipes that are easy to follow and most importantly delicious! I hope that my recipes inspire you to cook.