Puerto Rican Fried Chicken is one of the easiest chicken dishes to make. You only need a few simple ingredients like chicken and a few spices. But those spices are what make this a very flavorful recipe.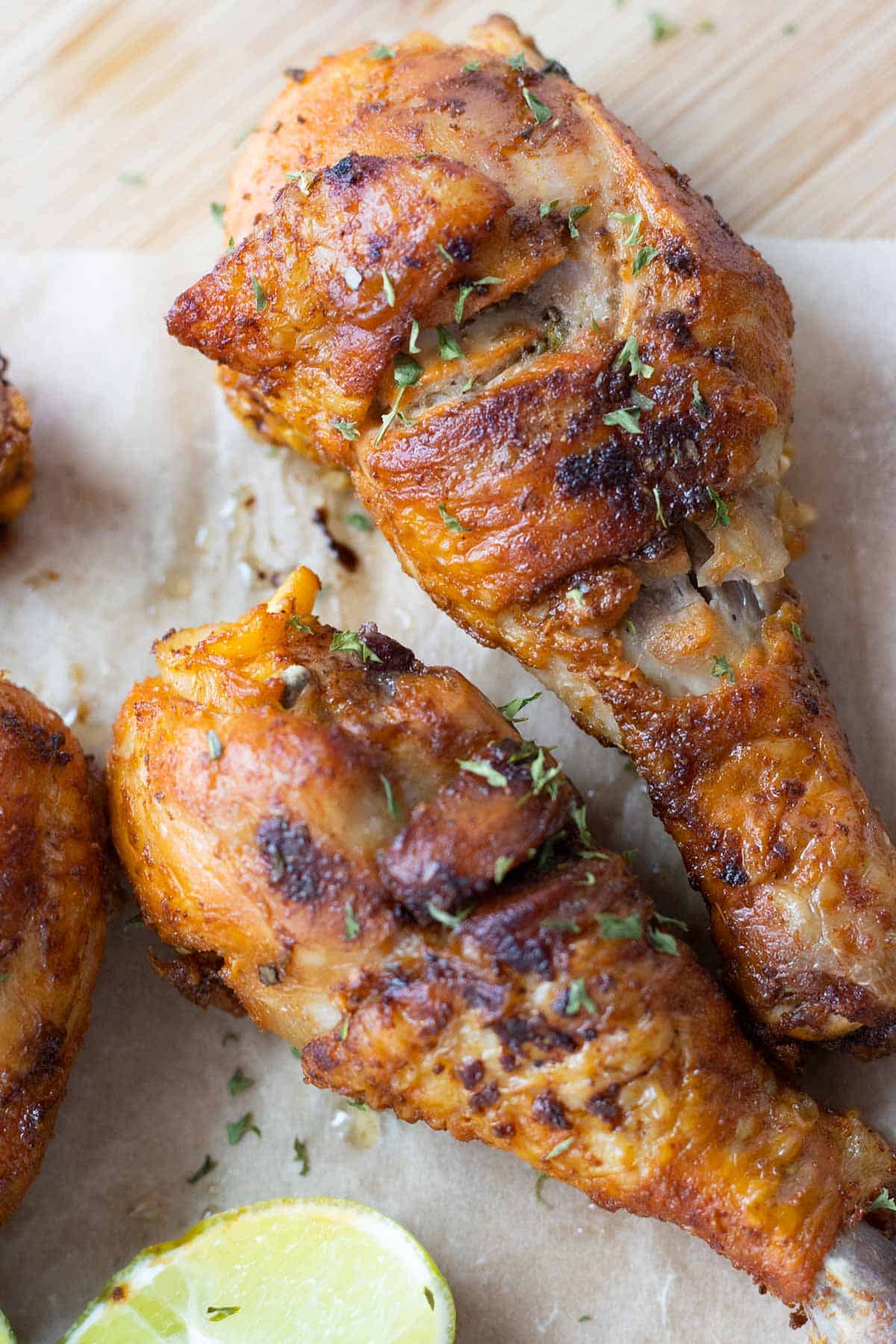 Puerto Rican Fried Chicken Recipe
In Puerto Rico, we call this recipe Pollo Frito which means fried chicken. It is slowly fried for 20-22 minutes. It is surprisingly juicy on the inside with a nice soft crunch on the outside. A crunch that you get just by frying. This recipe needs no breading like chicharron de pollo to get a nice crispy skin. I use chicken drumsticks in this recipe, but in reality, you can use any part of the chicken you like. You can use chicken thighs or chicken wings. Because you see, the important part of this dish is the seasoning.
How to Season Puerto Rican Fried Chicken?
Seasoning Puerto Rican chicken is very simple but it can vary a little bit depending on who you ask. We use oregano and some form of acid like lemons or vinegar. But there are always 2 ingredients that almost every recipe will have. The first one is adobo which is made with onion powder, garlic powder, black pepper and a few other ingredients that give any dish that Latino flavor. The second ingredient is sazón which is responsible for giving the meat a nice color. Almost like paprika but with much more flavor.
What is the secret to crispy chicken?
You might think that the secret to crispy chicken is flour but that is not always the case. In this fried chicken recipe we don't use flour and yet you will get a nice crisp crust. The way that this is done is by first frying the chicken slowly. Then you turn your heat up and flip your chicken a couple of times. The hot oil will do the trick in getting every part of your chicken perfectly crispy.
Should drumsticks be boiled before frying?
In Puerto Rico, it's not common to boil chicken and then put it to fry. It is not necessary to boil your drumsticks because they will cook all the way through in the oil. But in some countries like the Dominican Republic, chicken is often boiled before frying.
How long does it take to fry chicken drumsticks?
If you are making chicken drumsticks, 20 to 22 minutes will do. This always depends on what pieces of chicken you are making. For chicken wings, it will take 12 minutes. To make sure your fried chicken is cooked you just have to poke it and see if the juices run clear. If not, you must cook your chicken for a little longer.
Can I make ahead?
You can make this Puerto Rican fried chicken ahead of time. You just have to cook it for about 18 minutes. Make sure you poke it and the juices run clear. Then you can use an airtight container and store it in your freezer for up to 3 months. You can also store it in your fridge for no more than 4 days. When ready to cook, thaw for about 30 minutes. Then cook for 4 minutes to get it nice and crispy.
What to serve with?
I always love serving fried chicken with tostones or mofongo. For sauces, I like to go with some mayo ketchup or a garlic cilantro sauce but there are many other options to make this a complete meal. Serve it with white rice and stewed beans or yellow rice with beans. Also, an easy potato salad will be a very delicious side.
---
How to Make Puerto Rican Fried Chicken
1. The first thing I always like to do to the chicken is to clean it. I like to remove anything that was left like feather pieces and rinse it. Then I always slit the chicken. The reason for this is to ensure that all that good seasoning gets inside the chicken as much as possible. I also do this to ensure the thicker parts of the drumsticks cook through.
2. I like to add some acidity to my chicken. I do this with half a lemon.
3. Then I mix all the seasonings and pour them over the chicken drumsticks. I toss it around and rub the seasoning into every little crack.
4. The Last step is to fry the chicken. First, you fry on medium heat for 5 minutes on each side and then you turn that heat up to medium high to finish off your chicken.
Ingredients
1. Chicken drumsticks– In this recipe, I used 2 pounds of drumsticks.
2. Lemon– I added half of the lemon. If you like to have more of a lemony flavor than you can add the whole lemon.
3. Seasonings– For the seasonings, I used dried oregano, onion powder, adobo and sazón. If you like to add some spiciness you can do this by adding ¼ of a teaspoon of red pepper chili flakes.
4. Oil– I used vegetable oil but you can use your preferred frying oil.
Other Delicious Mains
Delicious sides to have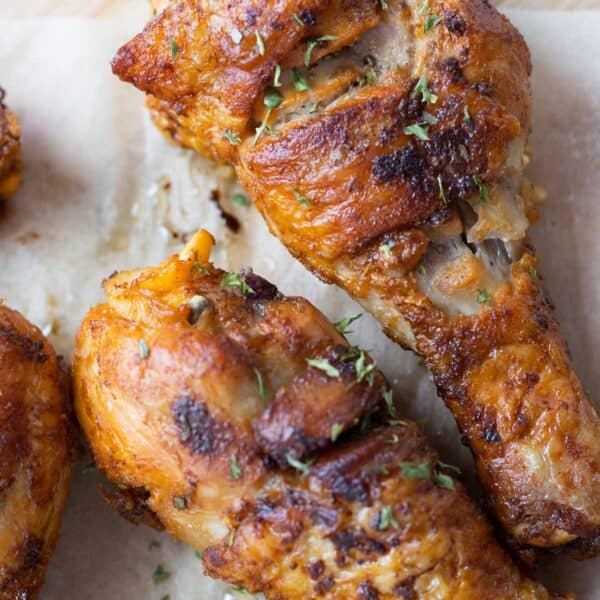 Puerto Rican Fried Chicken
Delicious Puerto Rican Fried chicken that is crispy without flour. Seasoned in a Caribbean style that gives your chicken that unique Puerto Rican taste.
Ingredients
2

pounds

chicken drumsticks

2

cups

oil

2 1/2

teaspoons

adobo

1 1/2

teaspoon

sazón

1

teaspoon

onion powder

1

teaspoon

dried oregano

1/2

lemon
Instructions
In a small bowl, combine 2 tablespoons of oil with adobo, sazón, onion powder and oregano. Mix it until it is well combined and set aside.

Score your chicken drumsticks. Make two slits on the biggest side of the chicken and one slit on the smaller side.

Add all the drumsticks to a large bowl. Squeeze the half of lemon over it. Pour the seasoning mix over the chicken and combine well until all the pieces are covered.

Add the oil to a large pan over medium heat. Fry the chicken for 5 minutes on each side. Turn up the heat to medium high and fry for 6 minutes on each side. Remove from oil. Serve and enjoy.
NUTRITION
Calories:
218
kcal
|
Carbohydrates:
1
g
|
Protein:
22
g
|
Fat:
14
g
|
Saturated Fat:
3
g
|
Polyunsaturated Fat:
3
g
|
Monounsaturated Fat:
5
g
|
Trans Fat:
0.1
g
|
Cholesterol:
112
mg
|
Sodium:
664
mg
|
Potassium:
285
mg
|
Fiber:
0.3
g
|
Sugar:
0.1
g
|
Vitamin A:
68
IU
|
Vitamin C:
0.3
mg
|
Calcium:
23
mg
|
Iron:
1
mg
Keywords:
Puerto Rican fried chicken
Hi! I'm Stephenie and I love to make food and share it with everyone. I make everyday recipes that are easy to follow and most importantly delicious! I hope that my recipes inspire you to cook.