Pan de Manteca is a sweet bread that is deliciously soft and chewy, perfect for making sandwiches and good with soups.
What is Pan de Manteca?
Pan de Manteca is a delicious sweet bread. It has a very soft crust and is very chewy inside. In Puerto Rico, it is sold everywhere from bakeries to gas stations. There's always a debate as to which bakery has the best pan sobao. A lot of Puerto Ricans believe that "Lemy's Bakery" has the best bread on the island.
The best bread you'll ever taste is called Pan de Manteca. Of course, I am a little biased because I grew up eating this bread. This is because pan de manteca is deeply rooted in the Puerto Rican food culture. It is just as popular as a pernil, mofongo, or the almighty sofrito. This is the bread you will see stacked on top of a chicken pincho. It is as popular as the pan de agua which is similar to Cuban bread.
You will hear many people refer to this bread as pan de manteca or pan sobao but both are referring to the same thing. An authentic Puerto Rican Pan sobao is made with very basic ingredients such as flour, salt, water, and yeast. But what makes this bread special is that it also has fat and sugar. You will see many pan de manteca recipes with eggs and milk added but that's a Portuguese sweet bread recipe, not pan sobao.
Can I use butter to make Pan Sobao?
Yes, You can make pan sobao with butter but is best to use lard or shortening. You should use stick butter, not the butter that comes in a tub. The reason for this is that tub butter usually has a high water content.
What is The Best Flour to Make Pan Sobao?
The best flour to make pan sobao is bread flour because of its protein content. I use King Arthur bread flour because of its consistency but you can use any brand. I have used all-purpose flour too but it doesn't make as big of a bread loaf.
Can I make pan sobao without a stand mixer?
You can definitely make pan sobao without a stand mixer. In fact, this recipe is made by hand without the need for any type of mixer.
Ingredients
Water- In this recipe, we use water that is 110°F to help the yeast stay warm and to dissolve the sugar.
Shortening- In pan de manteca, lard used to be used as the fat but nowadays bakers tend to substitute it with shortening, butter, and even oil.
Yeast- We use instant yeast in this recipe so no need to proof the yeast.
Sugar- We use sugar which will be responsible for giving it that delicious taste pan sobao should have.
Salt- We use a little bit of salt in this recipe just to balance the sugar.
Flour- Bread flour is the best flour to use in this recipe.
---
How to Make Pan de Manteca
1. First, mix the water, sugar, yeast, and shortening together. You have to mix until you see that the sugar and the yeast have dissolved.
2. Mix the salt and flour. This is to make sure the salt is well distributed.
3. Add the dry mix to your wet ingredients.
4. Mix everything until you see no more liquid.
5. Now knead your dough for 15 minutes. This is a very important step to ensure you form all the necessary gluten.
6. Roll your dough into a rectangular shape that is about 10 inches long and 6 inches wide.
7. Roll the dough to make a cylinder. Place on a baking sheet lined with parchment paper.
8. Proof your dough for 1 ½ hours and bake.
Useful Tips
I suggest you weigh all the ingredients for better precision and to make sure you get a great final recipe. If you don't have a scale then I suggest you use the spoon method for measuring the flour. Which consists of filling your measuring cup with spoonful of flour and then removing any excess from the top with a butter knife.
The best way to proof your pan de manteca is in the oven. Make sure your oven is off but with the light on and place your bread in the oven. Make sure not to open the oven door too much so you can maintain a steady temperature and humidity inside your oven.
What Can I Make With Pan Sobao?
With pan sobao, you can make all types of food. You can make a nice egg and cheese breakfast sandwich or just simply have a piece of pan sobao with your coffee. You can make all types of sandwiches. You can make a tripleta sandwich, a Cuban sandwich, or a grilled cheese. Pan sobao is also great to have along with shrimp soup or any soup to dip it in.
How to Store?
The best way to store pan de manteca is in a plastic wrap, freezer bag, or an airtight container. I usually just leave it in the microwave without covering it and it stays the same. This bread unfortunately won't last more than 4-5 days because it has no preservatives or bread enhancers. You can store it in your fridge if you like and then heat it up when ready to eat. As far as freezing it, I really don't know how it holds. I have never had the chance to freeze pan sobao because it is gone too soon.
How to Reheat?
You can reheat this bread in the microwave and, depending on how you want to eat it, in a pan. You can also heat it in your oven for 4 minutes at 300°F but keep an eye on it so it won't burn.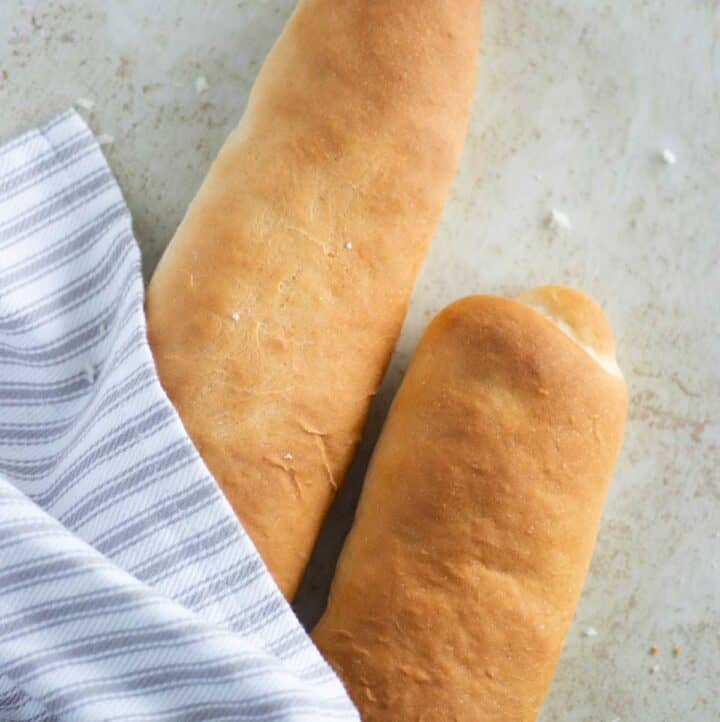 Pan de Manteca (Sweet Bread)
Soft, chewy, and delicious is this sweet bread. Great for sandwiches and perfect to have with your morning coffee.
Ingredients
1 1/2

tablespoon

shortening

21g

6

ounces

water (110°F)

170g

3 1/2

tablespoons

sugar

52g

1 1/2

teaspoon

instant yeast

6g

2

cups

bread flour

280g

1/2

teaspoon

salt

4g
Instructions
In a large bowl add the shortening, water, sugar, and yeast. Mix until you see that all the sugar has dissolved.

Mix the salt into the flour. Add all the flour to your wet mixture and mix until there is no more water visible. This should take about 3-5 minutes.

Transfer the dough to a flat surface and knead for 15 minutes. At first, the dough will be sticky but do not add flour. Keep on kneading.

Cut the dough into 2 pieces. With the help of a rolling pin, flatten each piece into a rectangular shape of about 10 inches long and 6 inches wide. Roll each dough piece into a skinny cylinder. Place each roll into a baking sheet lined with parchment paper.

Place your bread to proof in the middle rack of your oven with the light on for 1 1/2 hours. Once the bread has been proofed, remove it from the oven. Preheat your oven to 350°F. Bake your bread for 22 minutes. Remove from oven and enjoy.
Notes
Important:
Measuring–
I suggest you use a scale to measure all your ingredients for precision. If you don't have a scale, make sure you measure your flour using the spoon method. You want to fill your measuring cup with a spoon and then level the flour with the back of a butter knife.
The water temperature should be around 110°F. If you don't have a thermometer don't worry just use your hand to check how it feels. The water should feel hot but not enough to burn your hand.
Proofing-
How fast or slow your bread proof depends on many factors but one of the most important is temperature. If you make this recipe in a very hot environment, your bread will rise faster. But on the other hand, if is very cold it will take longer.
Substitutions–
The most common question I get is if you can use butter instead of shortening.  The answer is yes but you must use the right kind of butter. I suggest using stick butter and not the spread that comes in a tub because that one has a very high water content. It is important that if you are using butter, have it at room temperature before adding it to the mix.
Dough–
Once you transfer the dough to a surface to knead, you will notice that it will be sticky. This is how it is supposed to be, don't panic. You don't have to add more flour because, after about 3 minutes of kneading, you will notice that the stickiness will be gone. If you have been kneading that long and you see no change in the stickiness then go ahead and add 1 teaspoon of flour. 
Storing–
To store pan sobao is best to keep it in a freezer bag, an airtight container, or your oven.
Yield-
The recipe yields 2 long rolls, each being a little more than a half pound. But you can make other shapes with this pan sobao dough. You can make pan sobao hoagie rolls, burger buns, or just smaller loaves. You just have to bake at the same temperature and keep an eye on what you are making. Once you start seeing that nice golden brown crust then your recipe is done.
NUTRITION
Calories:
162
kcal
|
Carbohydrates:
29
g
|
Protein:
5
g
|
Fat:
3
g
|
Saturated Fat:
1
g
|
Polyunsaturated Fat:
1
g
|
Monounsaturated Fat:
1
g
|
Trans Fat:
0.3
g
|
Sodium:
148
mg
|
Potassium:
53
mg
|
Fiber:
1
g
|
Sugar:
5
g
|
Vitamin A:
1
IU
|
Vitamin C:
0.01
mg
|
Calcium:
6
mg
|
Iron:
0.3
mg
Keywords:
pan de manteca, pan sobao, sweet bread
---
Did you like this Pan de Manteca Recipe? Have a question? Comment below!
---
Don't miss another delicious recipe and sign up for our newsletter!
Hi! I'm Stephenie and I love to make food and share it with everyone. I make everyday recipes that are easy to follow and most importantly delicious! I hope that my recipes inspire you to cook.