Pinchos de pollo are juicy chicken skewers seasoned to perfection in a puerto rican style that are an easy and fun way to eat chicken.
Pinchos de Pollo are Chicken on a Stick
Pinchos de Pollo is the Spanish name for chicken kabobs. Depending on where you are they are called different names. In the east side of the USA, they can be called chicken pinchos, shish kebabs, or brochetas de pollo. They are a big part of the Puerto Rican street food scene.
These Puerto Rican chicken pinchos are made with juicy chicken thighs. Seasoned with that classic boricua flavor of the adobo, sazon, and grilled. Then they are drenched in delicious bbq sauce and topped with a piece of soft pan sobao. They can be found literally anywhere in PR from parks to beaches or in states where there's a big Latino community.
Nowadays pinchos tend to be expensive. They can go anywhere from $4.00 to $8.00 which is well worth it but not cheap. But with this recipe, you can make authentic pinchos at home without even going out of your house. I can guarantee you that this will be a hit to make on your next cookout or a family gathering because it is the perfect party food for any occasion, especially on game nights.
What are Pinchos Made of?
You can make pinchos with almost any type of meat. You can make chicken pinchos, pork pinchos, and even shrimp pinchos. There are also Spanish pinchos but are not the same as the pinchos made in Latin America. They are more of a small aperitive made on top of a small piece of bread usually poke in the middle with a toothpick.
Pinchos Are A Convenience Food
Pinchos is the Puerto Rican version of fast food but way better. They are easy and inexpensive to make. You just need chicken thighs, a few seasonings, and bamboo sticks that only cost you a fraction of what they are sold for. The biggest convenience is that these are perfect to prep ahead. That is why they are great for a meal.
Do I Need A Grill to Cook Pinchos?
While authentic pinchos are made on a grill, you do not need one. You can still make this using a grill pan and it kind of gets that distinct charcoal flavor for the little bits and pieces that get slightly burned. You can also make this in the oven but it won't be as tasty as a grill but still an option.
What I Need to Make Chicken Skewers
Chicken thighs- In this recipe, chicken thighs are always used because they will give you the juiciest chicken pinchos. You can use chicken breast but they will be more on the dry side.
Seasonings- You only need adobo, sazon, black pepper, and onion powder.
Oil- I used vegetable oil in this recipe. Some people like to use olive oil instead but I like neutral flavor oils so you can get the taste of the grill pincho.
Garlic- The garlic is used in conjunction with the oil to baste the skewers while cooking.
BBQ sauce- I used G Huges sweet & spicy bbq sauce because I like the flavor but any bbq sauce will be just fine.
---
How To Make Chicken Pinchos
1. The first step is to remove any big chunks of excess fat but only where there is a lot. This is because you still need some fat that will melt away while cooking and give the pinchos a delicious flavor.
2. Then, you season your chicken and make sure every little piece is covered. There is no need to marinate this.
3. In each stick you'll want to put 3 pieces of chicken. This will make a pincho with 6 inches of meat which in my opinion is perfect because is not too big or too little.
4. In medium heat, grill your chicken skewers for 16 minutes. You want to turn the chicken every 4 minutes because the fat will drip around the chicken helping it not to get hard and dried.
5. Brush the garlic oil on top of each pincho every time you turn it around. This will help the chicken not stick to the grill, it will help the chicken lock in moisture and it will add an amazing garlic flavor.
6. In the last 4 minutes, brush the pinchos with bbq sauce and flip them after 2 minutes, and brush the sauce again.
Useful Tips
It is best to wait until the very end to add the BBQ sauce to your pincho. If you add it before, all the sugar in the sauce will burn and it won't taste as good.
Make sure to leave a space between the top and the bottom part of your wooden stick. You want a lot of space in the bottom to be able to hold it better. The top is so you can stack all the bread you can.
Variations
Seasoning- You can add red chili flakes to add some spiciness to your chicken. Some people like to add sofrito to chicken pinchos but I have never done it. But you can try it to see if you like it.
Additions- You can add veggies like peppers, onions, or cherry tomatoes in between the pieces of meat. They will have a very tasty flavor.
What to Serve With?
To have that authentic feel of having a pincho in Puerto Rico, the best side for a pincho is a few delicious tostones. Don't forget to make an authentic Puerto Rican piña colada or a mojito.
How to Store?
To store in the freezer, place in a freezer bag or wrap all of your pinchos in the freezer for up to 3 months. Store in your fridge by wrapping in plastic, foil, or place in an airtight container for no more than 4 days.
How to Reheat?
You can reheat in your grill at medium heat for about 6 minutes and make sure the pincho is at room temperature before heating up. You can also reheat the chicken pinchos in your microwave for 30 seconds at a time.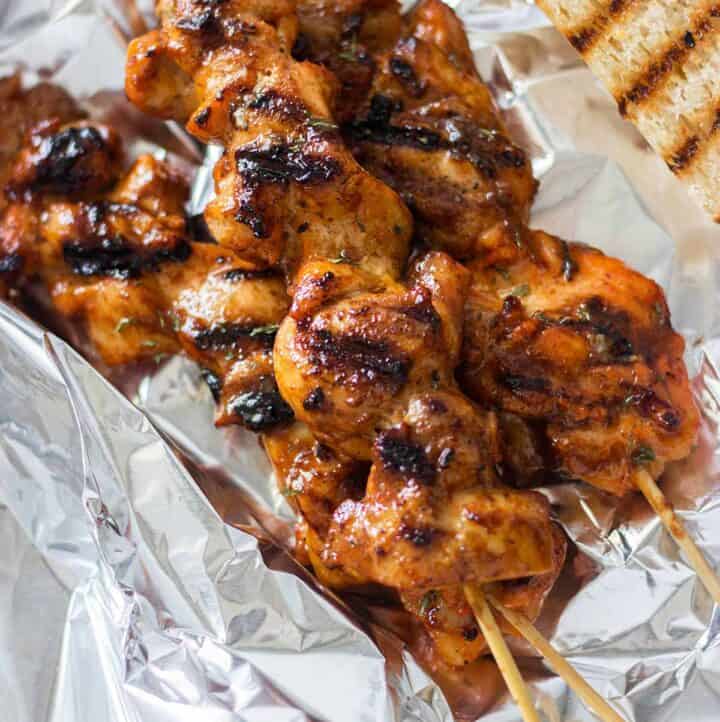 Chicken Pinchos
Chicken pinchos are the perfect quick meal that is easy to make and delicious.
Ingredients
1 1/2

pounds

chicken thighs

1 1/2

teaspoon

adobo

1 1/2

teaspoon

sazon

1/4

teaspoon

black pepper

1/4

teaspoon

onion powder

2

tablespoon

oil

1

teaspoon

minced garlic

1/2

cup

barbecue sauce

1/2

pound

bread

optional
Instructions
Remove any excess fat from the chicken and cut each thigh into 4 pieces.

In a large bowl add the chicken, adobo, sazon, black pepper, and onion powder. Mix until all the chicken pieces are covered with the seasonings.

Take the skewers and poke 3 pieces of meat per stick. Do this until you have done all the chicken.

Put your garlic into the oil and mix. Brush every piece of bread with this oil on both sides and set aside. Brush all the chicken skewers with the garlic oil on both sides.

Cook the pinchos over medium-high heat in a grill or pan for 16 minutes. Turn the chicken skewers every 4 minutes and brush with the oil each time.

Brush all the pinchos with barbeque sauce and cook for 2 minutes. Brush the pinchos again with sauce and cook for another 2 minutes. Serve and enjoy.
Notes
1. Substitutions- I only suggest making pinchos with boneless chicken thighs with no skin because this part of the chicken tends to be the juiciest. You can use chicken breast but your pinchos will be drier than usual. 2. Skewers- You can use metal skewers or bamboo skewers. I used wood ones that I cut to about 9 inches. 3. Making- The best way to cook your pinchos is in a grill or grill pan because it will give you the best flavor. But you can make this in the oven and even in the air fryer. Will it taste the same? not exactly but it will still be damn good! 4. Storing- You can store in your freezer for 3 months and up to 4 days in your fridge. 5. Yield- The recipe yields 8 6-inch long chicken pinchos, but you can get more or less depending on how much meat you put in each stick.
NUTRITION
Calories:
251
kcal
|
Carbohydrates:
10
g
|
Protein:
15
g
|
Fat:
17
g
|
Saturated Fat:
4
g
|
Polyunsaturated Fat:
5
g
|
Monounsaturated Fat:
6
g
|
Trans Fat:
0.1
g
|
Cholesterol:
58
mg
|
Sodium:
604
mg
|
Potassium:
207
mg
|
Fiber:
0.3
g
|
Sugar:
8
g
|
Vitamin A:
165
IU
|
Vitamin C:
2
mg
|
Calcium:
19
mg
|
Iron:
1
mg
Keywords:
chicken pinchos, chicken skewers
Don't miss another delicious recipe and sign up for our newsletter!
Hi! I'm Stephenie and I love to make food and share it with everyone. I make everyday recipes that are easy to follow and most importantly delicious! I hope that my recipes inspire you to cook.