This is really a recipe worthy of your time. Puerto Rican Pernil is delicious extra tender pork with a nice touch of crackling skin on top.
What is a Puerto Rican Pernil?
Pernil is the name given in Spanish to a pork roast. This is one of the most emblematic recipes in Puerto Rico. Pernil is made with a pork shoulder with the skin on. It is seasoned with typical Caribbean seasonings like adobo and sazón. It is usually cooked slowly to get very tender pork and then at the end is cooked on high heat to get that nice crunchy Cuero (pork skin). It is usually the meat of choice not only for Puerto Ricans but for Cubans and Dominicans.

This is a recipe that is made for every holiday Puerto Ricans celebrate. Especially on Thanksgiving day, Noche Buena (Christmas Eve), New Year's Eve, and El dia de Los Reyes (Three Kings Day). But in reality, we make pernil for birthdays, weddings, cookouts, and even on the 4th of July. It is usually seasoned the day before and then put in the oven very early in the morning so it can be ready at noon. The best part of making roast pork is the leftovers that you can use to make burritos, and sandwiches or eat with the leftover rice.
Pernil Seasonings
The seasonings in a Pernil can have small variations depending on their family traditions. Some people use sofrito to season the pork with but it is not traditional and I have never done it. But one thing that is a must is making a mojo or a mojito. Not like this passion fruit mojito that you can drink but a garlic one. It is essentially making a garlic paste and mixing it with oil and all the herbs and seasonings you will use. This combination of garlic, seasonings, and herbs will give your roast a very tasty flavor.
How long to cook a roast pork per pound?
This depends on what you intend to achieve. If you want meat that falls off the bone then you must cook each pound for 1 hour. You can of course cook this in less time. The meat will be nice and juicy, it just won't fall off the bone. The important part is to make sure your pork is cooked. It should have an internal temperature of 180° to 195°F/82C° to 91°C.
Tips on getting pork tender
The key to getting your pork tender is a combination of 3 elements. They all work together to achieve not only very tender pork but one that is still moist and delicious. If you follow the 3 suggestions below, your pork will fall off the bone.
Low heat- the low heat helps break down the connective tissue in pork.
Slow cooking- slow cooking gives the pork enough time so the melting of the connective tissues can occur.
Cover the meat- By covering the meat at the beginning stage of cooking, you aid this process by retaining moisture.
What to serve with?
There are many combinations to serve a good pork roast with. If you are making pernil for a holiday or a gathering then a rice dish is a must. It can be Arroz con gandules(rice with pigeon peas), or rice with beans. As for sides to accompany the rice and meat, you can make some yuca(cassava), macaroni salad, potato salad, and even a simple green salad. All of this can be washed down with a delicious piña colada.
How to store and reheat Pernil?
To store your pernil you can use an airtight container and even a freezer bag. Store in the fridge for up to 4 days and 6 months in the freezer. You can heat pernil on the stovetop. The only part that you must reheat in the oven is the skin. This is the only way to crisp up the skin again.
Ingredients
Pork shoulder- for this recipe I used skin on pork shoulder.
Oil- I used vegetable oil but you can use olive oil or coconut.
Garlic- It is always best to use fresh garlic because the flavor will be more intense.
Seasonings- in this recipe we use adobo, sazón, salt, and thyme.
Herbs- I used dried oregano.
---
How to make Puerto Rican Pernil
1. Make some holes in your meat. This allows the seasonings to penetrate better.
2. Make your mojito and season the pork and make sure to put some seasoning in the cuts you made.
3. Transfer the meat to a pan and you want to cover it to seal the moisture in. Then cook for 4 hours on a 200°F oven.
4. After the 4 hours have passed you want to remove the cover from the pernil and cook for 3 more hours at 350°F, plus more if the skin is not very crunchy.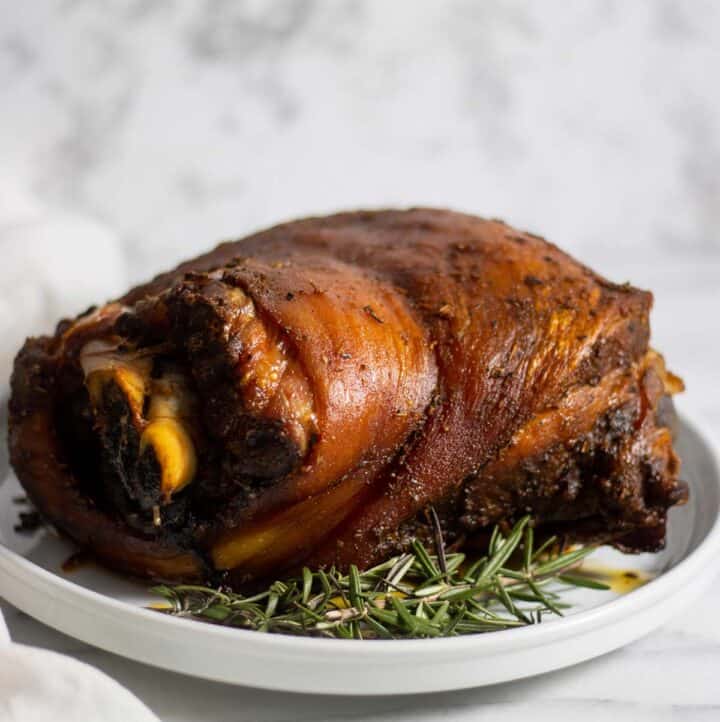 Puerto Rican Pernil
Puerto Rican Pernil is tender pork meat that melts in your mouth. Deliciously good that you can be eaten by it self.
Ingredients
7

pounds

pork shoulder

1/4

cup

oil

2

tablespoons

salt

2

tablespoons

adobo

3

teaspoons

sazon

or 2 packets

3

garlic cloves

1

teaspoons

ground thyme

1

tablespoon

dried oregano
Instructions
Preheat the oven to 200°F/100°C.

Mince the garlic and place it in a small bowl. Add the oil, salt, adobo, sazón, thyme, oregano and mix it all together.

Turn the pork skin down and poke the other side about 4-6 times. Make the cuts deep, where at least half of your finger can fit. Season all the pork with the oil mix. Making sure to introduce some seasoning in all of the cuts made. Transfer the pork to a oven safe dish with a lid. Cover and cook for 4 hours.

After the 4 hours have passed, turn the oven temperature to 350°F/180°C. Uncover and cook for 3 hours. Serve and Enjoy.
Notes
1. In this recipe I did not marinate the pork. I have marinated it before and I don't feel like there's a difference in taste. So feel free to marinate if you like.
2. For this recipe I used a Dutch oven with a lid. You can use a ceramic dish or any dish that is oven safe. The important part is that you have a lid. If you don't have a lid you can use aluminon foil but you must spray it with a little bit of nonstick cooking spray. This will avoid the foil from getting stuck to the pork skin.
3. I calculated the serving size to be about 1/3 of a pound per person.
4. If you will like the pork skin a little more crispy, give it about 5-10 minutes in the oven at 450°F/230°C. Make sure you keep an eye on it so it won't burn.
5. The drippings of the pork will be super flavorful. This is great to pour over the meat to add even more flavor. 
NUTRITION
Calories:
348
kcal
|
Carbohydrates:
1
g
|
Protein:
38
g
|
Fat:
20
g
|
Saturated Fat:
6
g
|
Polyunsaturated Fat:
5
g
|
Monounsaturated Fat:
8
g
|
Trans Fat:
0.04
g
|
Cholesterol:
130
mg
|
Sodium:
2268
mg
|
Potassium:
678
mg
|
Fiber:
0.3
g
|
Sugar:
0.1
g
|
Vitamin A:
32
IU
|
Vitamin C:
2
mg
|
Calcium:
44
mg
|
Iron:
3
mg
Keywords:
pernil, puerto rican pernil
Hi! I'm Stephenie and I love to make food and share it with everyone. I make everyday recipes that are easy to follow and most importantly delicious! I hope that my recipes inspire you to cook.