Quesitos are one of the many delicious varieties of desserts served in Puerto Rican bakeries. These sweet cheese pastries are pure perfection!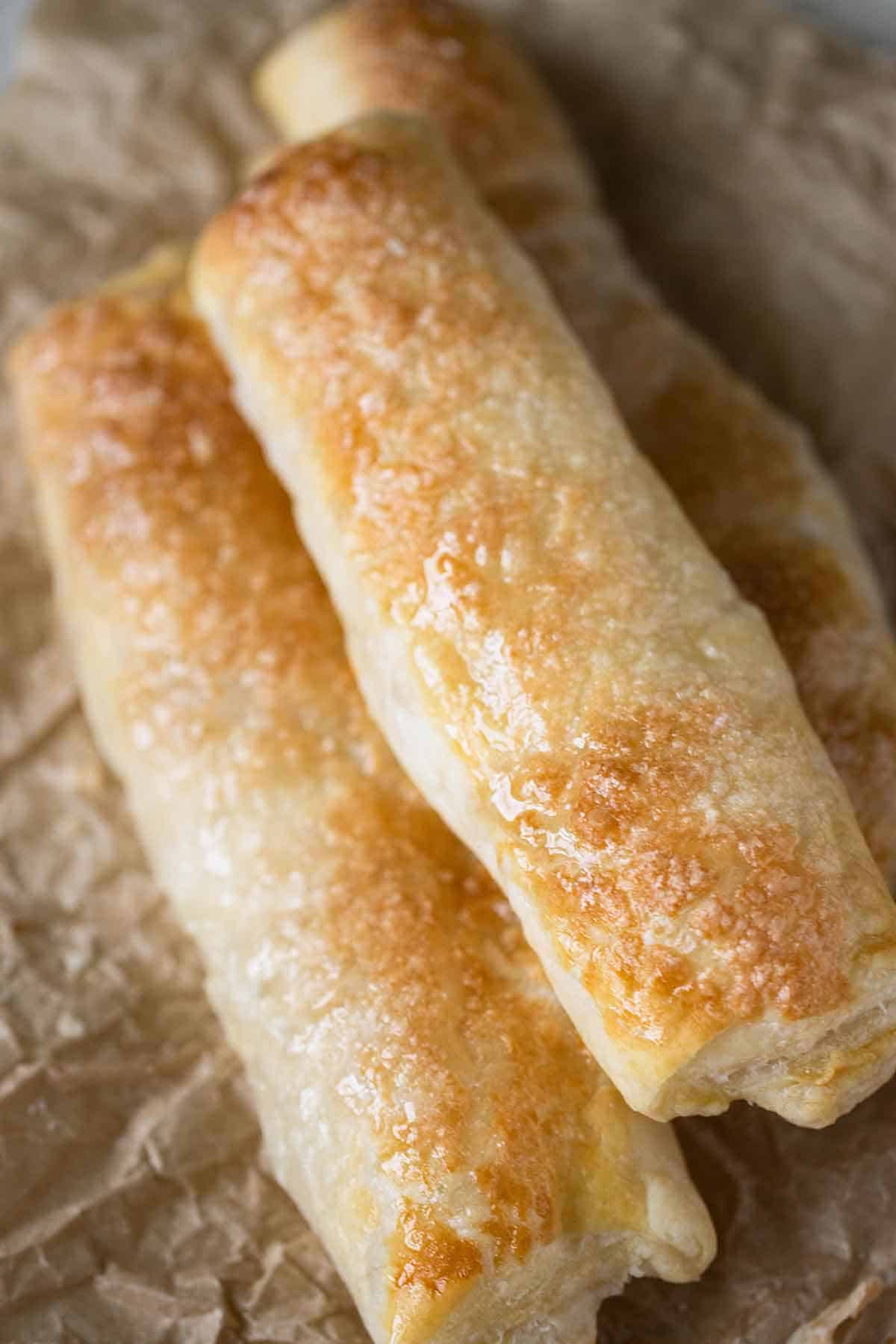 What are Quesitos
Quesitos are long puff pastry rolls that are stuffed with the perfect mixture of sugar and cream cheese. They are then baked until they have a nice golden brown color and have doubled their size. Once out of the oven, they are brushed in a very light syrup. Quesitos are the Puerto Rican version of a cheese danish.
My absolute favorite dulce from the bakery right behind a pastelillo de guayaba is a quesito. I love the flakiness of the puff pastry and the sweet cream cheese filling. I like them super stuffed or preñaos as we say in Puerto Rico. Trust me when I tell you that you'll love quesitos too once you taste one.
Quesitos translate to English as "little cheeses" even though they're not little. Why not just call it cheeses instead? Because we Puerto Ricans tend to call everything in their small form. Quesitos are sold in many places in Puerto Rico the best being the panaderia (bakery). But thanks to this recipe you can make them at home!
Can I Make Quesitos in Advance?
You can prepare quesitos ahead of time. First, stuff and shape the quesitos. Don't brush the eggwash or sprinkle any sugar on top. This you will do right before baking. The most important part is to cover your baking tray tight so the puff pastry doesn't dry out. Then bake straight from the fridge. Don't let them sit at room temperature. Puff pastry rises better from the cold.
What Can I Use To Glaze Quesitos?
I typically use a simple syrup for quesitos which is just equal parts sugar and water. Honey is also a really good glazing option. You can also use corn syrup. The most popular corn syrup brand to use is Karo but any off-brand will do. A note on the corn syrup is that is a stickier option. That's why I prefer to use a simple syrup that I can quickly make at home.
Ingredients For Quesitos
Cream cheese- The filling always used in quesitos is cream cheese. It is best to use good quality cheese for a better taste. While traditionally only cream cheese is used, ricotta cheese is a great substitute.
Sugar- I used white granulated sugar both in the cheese mixture and as a topping You can also use the same amount of brown sugar or powdered sugar. A note on the powder sugar is that it will be less sweet than the other options.
Vanilla Extract- I use vanilla extract to enhance the flavor of the cheese. I have also used almond extract but this is not commonly used in quesitos but is still very delicious.
Puff pastry- You can make your puff pastry or use frozen as I do. I like using the frozen puff pastry because is super convenient and very easy to work with.
Egg and Water- The egg and the water are needed to make an egg wash to brush over the quesitos. While the eggwash is not a must I highly suggest it. It helps give the quesito a nice color and it makes it crunchier which is good when you're making anything with a puff pastry.
Ingredients For The Glaze
Sugar and water- You only need equal amounts of sugar and water to make a really good simple syrup to go over the quesitos.
---
How To Make Quesitos Bakery Style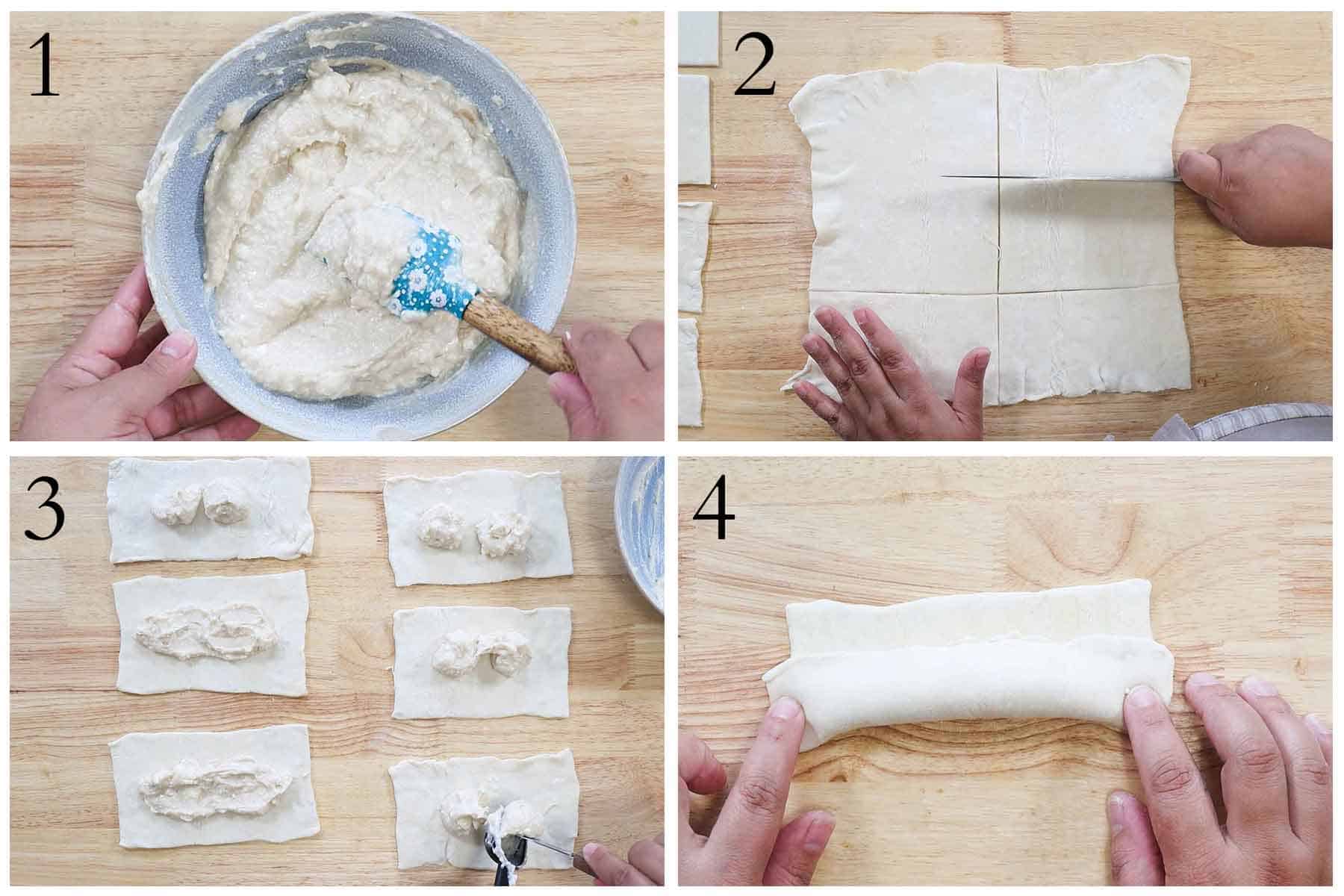 1. Make the cheese filling by first mixing the sugar and cheese. You need your cheese to be at room temperature or at least warm enough to be able to work with it. Then add the vanilla extract and mix it in. Mix it by hand long enough for all the ingredients to come together but don't over-mix. The more you move it around the softer and warmer it will get.
2. Cut the puff pastry dough. For this recipe, I have 2 sheets of puff pastry and I will cut each one into 6 equal rectangular pieces.
3. Scoop 2 tablespoons of the sweetened cream cheese and try to spread it along the rectangular shape.
4. Roll the quesitos, gently pinch the corners, and very gently press on the seam to make sure it doesn't open during the baking process.
How to Fold Quesitos?
Traditionally quesitos are folded into long rolls. You can also fold quesitos by bringing 2 opposite corners to the middle and tucking one under the other end. This method leaves the cheese exposed on both ends. They look very pretty when folded this way. For this technique, it is best to cut each puff pastry sheet into 6 equal squares. The easiest way to fold a quesito is to fold it in half and make a square.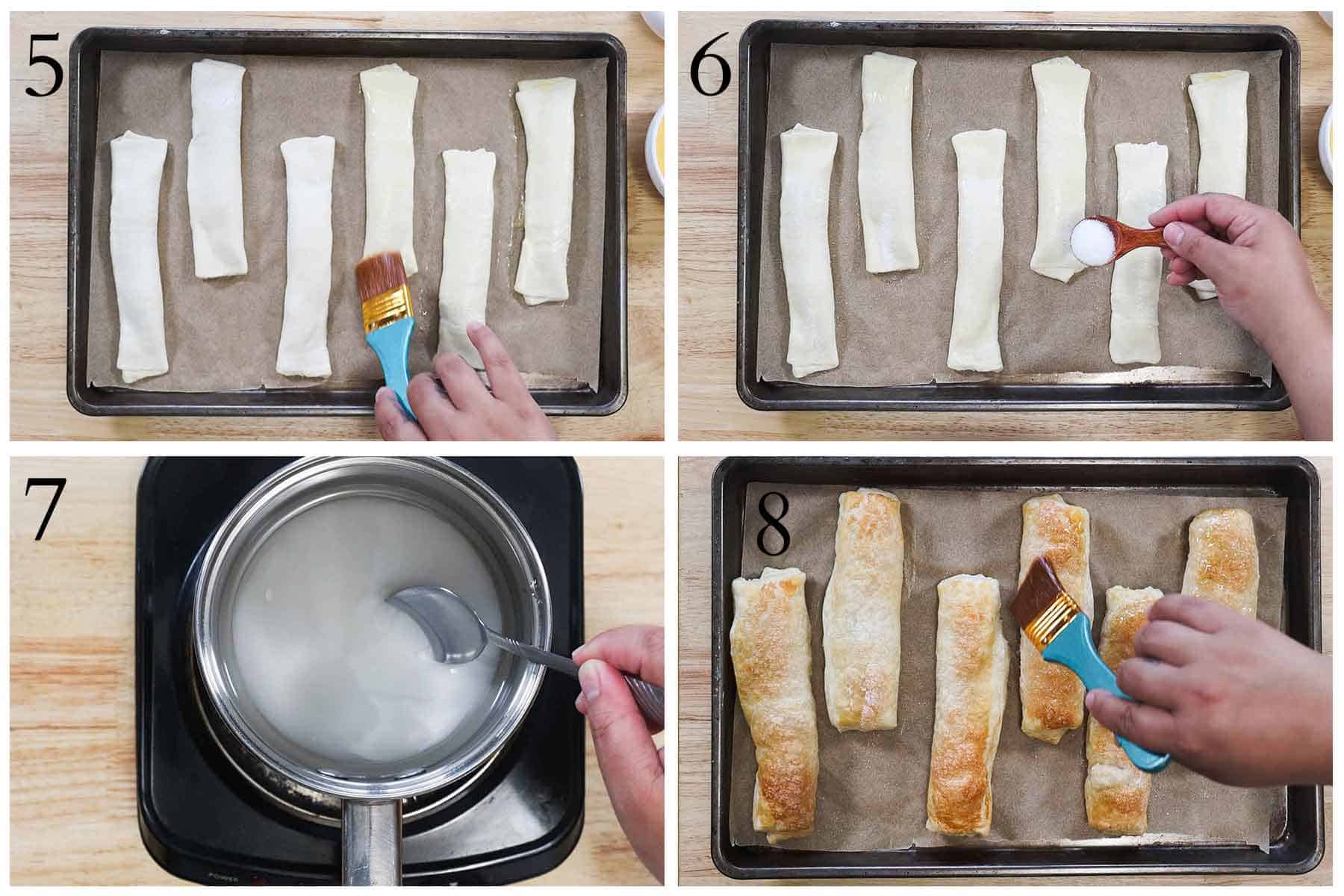 5. Place your quesitos on a baking sheet spaced out at least half of an inch apart. You may need to use a couple of trays to bake depending on how many quesitos you make. Mix the egg and the water and brush them on the quesitos.
6. Sprinkle some sugar along each quesitos. You can skip this step but it adds flavor, color, and crunch to the quesitos.
7. While the oven preheats make the glaze. In a small pan add the sugar and water. Cook and let it chill until your quesitos are done.
8. Brush each quesito generously with the glaze.
Why did The Cheese In The Questios Come Out?
There are 3 common reasons why this happens. First, it can be that it had way too much filling so naturally it came out while baking. The second, the quesito wasn't sealed. The third and most common reason is that the cream cheese is too warm before baking so it oozes out.
Variations
There are a lot of people who like to add guava paste to quesitos.
Some people also like to dust the quesitos with powdered sugar instead of glazing them.
Useful Tips
To avoid getting your puff pastry stuck to your surface is best to flour the surface you'll be working on.
Keep your cream cheese mixture cold until you're ready to use. This is to avoid the cheese from coming out of the quesitos while baking.
How To Store?
I like storing the quesitos in the oven or microwave because I always know I will eat them the same day. But to save them for more than a day I suggest storing them in the fridge for no more than 3 days. After that, the quesitos will feel soggy and won't taste the same. Use an airtight container to store.
How To Reheat?
To reheat a quesito just pop them in the oven for 12 seconds at a time. Or heat in the oven for about 6 minutes at 350° F.
How To Serve?
A lot of people love having a quesito with their morning cafe con leche (coffee with milk) but I never do. The reason for this because I don't tend to eat sweet things in the morning. For breakfast, I rather eat a tripleta or some tostones with fried eggs 😅. I eat quesitos at any time of the day but without anything else.
Recipe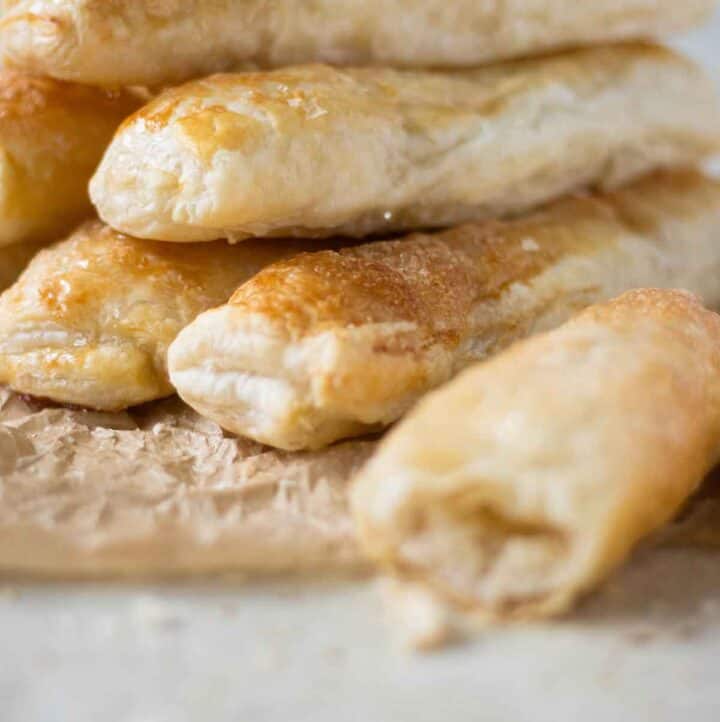 Quesitos (Sweet Cheese Pastries)
Quesitos are delicious pastries filled with creamy sweet cheese. Perfect to indulge for dessert or a a mini-party food.
Ingredients
Quesitos
12

ounces

cream cheese

soften

6

tablespoons

sugar

½

teaspoon

sugar

for sprinkling

1 ½

tablespoons

vanilla extract

1

pound

puff pastry

1

egg

1

tablespoon

water
Instructions
Preheat oven to 400°F. Line a tray with baking paper. Beat the egg with a tablespoon of water. Set it aside for later.

In a large bowl add the cream cheese and 6 tablespoons of sugar. Mix until almost all the sugar is incorporated. Add vanilla and mix until smooth. Set aside.

Cut each sheet of puff pastry into 6 equal pieces.

Place 2 tablespoons of the cheese mixture on each of the puff pastry pieces. Spread the beaten egg around the edges of each piece. Roll the dough into a cylinder and lightly pinch the edges.

Place the quesitos on your tray with the line facing down. Leave at least ½ inch of space between them. Spread a thin layer of egg wash on all the quesitos. Sprinkle sugar on top of all of them. Bake for 25 minutes.

In a small pot over high heat add ½ cup water and ½ cup sugar. Cook for 8 minutes. Let it cool while the quesitos bake.

Generously spread your quesitos with the glaze. Enjoy!
Recipe Notes
1. Making- You can make quesitos bigger or smaller and make different shapes. To make mini quesitos in their traditional shape just cut each pastry sheet into 9 pieces. Place only 1 tablespoon of cheese on each. Then follow the rest of the steps. 2. Puff Pastry- Flour your surface to avoid the puff pastry from sticking. 3. Cream cheese mixture- Keep the cheese mixture cold until ready to use. This is to prevent the cheese from oozing out while baking. 4. Storing- Store the quesitos in an airtight container. Keep for no more than 3 days. I don't recommend freezing them because the texture of the cheese will change and the pastry can get soggy while defrosting. Remember: If you have any questions about this recipe, ask me anything in the comments below the recipe. As soon as I see the comment I will answer and try to help you out.
Nutrition
Calories:
378
kcal
|
Carbohydrates:
34
g
|
Protein:
5
g
|
Fat:
25
g
|
Saturated Fat:
9
g
|
Polyunsaturated Fat:
2
g
|
Monounsaturated Fat:
11
g
|
Trans Fat:
0.002
g
|
Cholesterol:
42
mg
|
Sodium:
189
mg
|
Potassium:
69
mg
|
Fiber:
1
g
|
Sugar:
17
g
|
Vitamin A:
401
IU
|
Calcium:
34
mg
|
Iron:
1
mg
Keywords:
como hacer quesitos, puerto rican quesitos, sweet cheese pastries
---
Did you like this Puerto Rican Quesitos Recipe? If you love a sweet snack try these!
---
Don't miss another delicious recipe and sign up for our newsletter!
---