Sorullitos de Maiz are delicious and part of the Puerto Rican Street food scene. Sorullos are slightly crispy, sweet, stuffed with melty cheese, and almost always accompanied by a good mayo ketchup.
What is Sorullitos de Maiz?
Sorullitos de Maiz are a simple mix of cornmeal, water, sugar, butter, and vanilla that is cooked together to form a soft dough. This dough is then shaped into small sometimes skinny and sometimes chunky cylinders that are stuffed with cheese in the middle. These Sorullos are very popular in Puerto Rico where you can find them sweet, savory, with or without cheese.
Sorullitos de maiz are very tasty. They are usually crispy on the outside but on the inside, they are very creamy and buttery. Usually eaten as breakfast and more commonly as a fried snack. They are very simple to make but the trick is in making sure the cornmeal is cooked. If not, the dough will feel grainy and not creamy at all.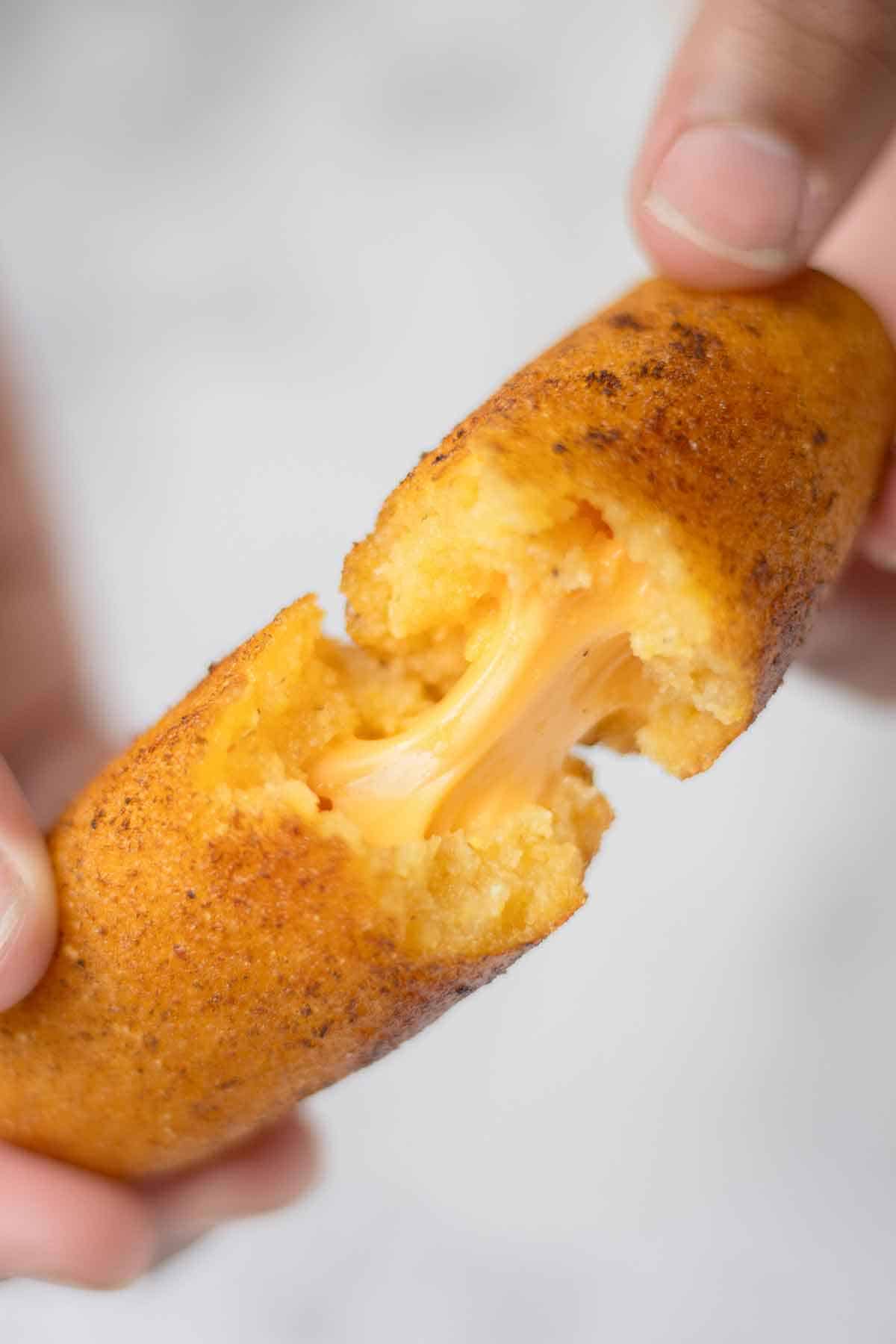 These are Puerto Rican Sorullitos de maiz just like I used to make them for my grandmother. I made them with a little variation of changing the white granulated sugar. I used Splenda sweetener because she was diabetic. So there you have a little tip if you have to monitor your sugar intake.
Sorullitos de maiz are very similar to what other countries make. In the Dominican Republic, they make something called arepitas de maiz. Instead of making them in a cylinder shape, they are made round like an arepa. The only difference in ingredients is that they add 1 teaspoon of aniseed to the mix, change the water for milk, and add an egg.
Ingredients and Substitution
1. Water- For this recipe, we use 2 cups of water.
2. Sugar- I used white granulated sugar but you can substitute it with brown sugar. I have also used Splenda sweetener. Good for people trying to watch their sugar levels.
3. Butter- The butter helps the cornmeal have a softer texture but also adds saltiness to balance out the sweetness.
4. Vanilla extract- I always add 1 teaspoon of vanilla extract.
5. Cornmeal- I use regular yellow cornmeal.
6. Cheese slices- For sorullitos, I always use American cheese slices. This type of cheese gets gooey like a cheese sauce. You can use any type of cheese you like. Some good cheeses to use are shredded mozzarella and cheddar. These types of cheeses won't be gooey but they will give you a nice cheese pull.
7. Oil- I use vegetable oil but you can use your preferred frying oil.
---
How to Make Sorullitos de Maiz
1. The first step is to add the water, vanilla, sugar, and butter together. Then you add the cornmeal little by little. But in this step, it's very important to whisk constantly. This will help you avoid any lumps in your finished dough.
2. Then with the aid of a spatula or a spoon, mix the dough while is cooking. The mix must completely cook because if not you will have a grainy unpleasant texture.
3. Time to cool the dough. I let it cool for 10 minutes. If you are in a hurry you can cool it only for 5 minutes but it will be hot to the touch. Now while it is important to cool the dough, if you leave it to cool for a long time it will dry out.
4. Cut your cheese slices in half.
5. Shape your sorullos. The easiest way is to form a ball and then flatten it on your hand. Add the cheese and close it up. If you see any little crack, wet your finger and smooth it out.
6. Fry your sorullitos de maiz in very hot oil.
Variations
Savory Sorullitos- To make them you just have to leave out the sugar and vanilla.
Useful Tips
Let the dough cook completely. The dough starts to take shape quickly and sometimes it seems that you don't need to cook it more. If the dough is left raw, the sorullitos will have a grainy texture.
The faster you work on shaping the sorullos the better. The dough tends to dry out fast and once dry you won't be able to shape them.
Keep Sorullitos Warm
This is a super tip on how to keep your sorullitos warm. The method used here mimics how they are kept warm in Puerto Rican food joints. Turn your oven with the light on to 200 Degrees F for 10 minutes. Turn it off but keep the light on. Now store your sorullitos in the oven for no more than 15 minutes.
Can I make Sorullos de Maiz ahead of time?
Yes, you can! The best part about making sorullitos de maiz is that they can be made ahead. You don't have to do any special steps for this. You just have to make them but not fry them. Then just store them in your freezer or your fridge. Sorullitos make the perfect food for game day or for parties where you need to prep foods ahead of time.
How to Store?
Store sorullitos in an airtight container or a freezer bag. Keep in your fridge for about 1 week and no more than 1 month in your freezer.
What to serve with?
Sorullitos are usually eaten by themselves or with a cup of coffee if you are enjoying them in the morning. If you happen to be on the road you will usually get a sorullito and something to drink like a piña colada or a mojito.
Sorullitos de Maiz
These are crispy corn fritters that are soft and cheesy on the inside.
Ingredients
2

cups

water

1/2

cup

sugar

2

tablespoons

butter

1

teaspoon

vanilla extract

1 1/2

cups

cornmeal

4 1/2

slices

cheese

2

cups

oil
Instructions
In a large pot over high heat add water, sugar, butter, and vanilla extract. Add the cornmeal a little bit at a time. Stir the mix while adding the cornmeal with a whisk or fork to break any lumps. Cook for 5 minutes.

Transfer the cornmeal paste to a bowl and cover with a towel. Let it cool for 10 minutes.

With your hands wet, take 1/3 cup of mix and make a big leaf shape on your hand. Gently press down on the mix to make it bigger. Place half of a cheese slice in the center and close up the dough. Repeat until done.

In a large pot over high heat, add 2 cups of oil. Once the oil is hot, cook the sorullitos for 3 minutes or until the get a golden brown color. Serve hot and enjoy.
Notes
1. Substitutions:
You can use brown sugar or any artificial sweetener instead of white sugar.
2. Cooking:
Cornmeal mix- Make sure you cook the cornmeal dough all the way to avoid a grainy texture.
Frying- Make sure your oil is very hot before putting the sorullitos in. If the oil is cold, the fritters will stick to the bottom of the pan and start losing cheese from being in the heat for too long.
3. Yield:
This recipe yields 9 chunky sorullitos de maiz. You can get way more if you make them skinnier.
4. Storing:
Place in an airtight container and keep in your fridge for no more than 7 days. Store in your freezer for up to a month. You can leave it longer but I find that it starts to lose quality the longer you freeze it.
NUTRITION
Calories:
239
kcal
|
Carbohydrates:
31
g
|
Protein:
6
g
|
Fat:
10
g
|
Saturated Fat:
5
g
|
Polyunsaturated Fat:
2
g
|
Monounsaturated Fat:
3
g
|
Trans Fat:
0.1
g
|
Cholesterol:
21
mg
|
Sodium:
115
mg
|
Potassium:
98
mg
|
Fiber:
2
g
|
Sugar:
12
g
|
Vitamin A:
218
IU
|
Calcium:
103
mg
|
Iron:
1
mg
Keywords:
sorullitos de maiz, sorullos
---
Did you like this Sorullitos de Maiz Recipe? Looking for more finger foods?
Try these!
---
Don't miss another delicious recipe and sign up for our newsletter!
---
Hi! I'm Stephenie and I love to make food and share it with everyone. I make everyday recipes that are easy to follow and most importantly delicious! I hope that my recipes inspire you to cook.