This delicious Coconut Sorbet Recipe checks all the boxes. It is super refreshing, perfect to survive those summer heat waves or to indulge at dessert time. It is sweet, rich and very easy to make. Best of all is that you don't need an ice cream maker to make.
Coconut Sorbet
You will love this irresistible Coconut Sorbet. It is very creamy and smooth just like an ice cream but without the heavy feeling. It is a dessert made with canned coconut milk for the sake of simplicity.
But if you have fresh coconut milk, go ahead and use it. This recipe works because it solves all the issues you get when making a sorbet like being icy, hard, not thick enough and too runny.
This tropical treat is inspired by the sorbet you typically will have in Puerto Rico. It is a popular Puerto Rican Street Food and it can usually be found being sold by the beach and is called "helado de coco".
The coconut and passion fruit sorbet are the most popular flavors. So if you are from the island, this recipe will taste just like home. If you never had this then be prepared to transport your taste buds to the Caribbean without ever leaving your home.
The Secret to making a good Coconut Sorbet
The secret to making a good sorbet is in having enough sugar and adding a thickening agent. The sugar in the fruit or the one you add will help you to avoid getting a hard and icy sorbet. As far as the thickening agent what it does is helps you to avoid getting a sorbet that is runny or crumbly. You can use cornstarch, xanthan gum or apple pectin powder.
Do I need Special Equipment to make a sorbet?
You don't need any special equipment like an ice cream maker to make a sorbet. You can make it simply by putting it in your freezer for 6 to 8 hours. Of course you can use an ice cream machine if you have one. It helps if you use a glass or metal container rather than plastic. This is because it will get colder faster and retain the cold better.
Ingredients
Water- I use plain old water. Some people like to use coconut water but plain water is perfect for this recipe.
Cream of coconut- The cream of coconut is essential because it deepens the coconut flavor and adds sugar to the recipe.
Canned Coconut milk- For this recipe it is best to use coconut milk that is good quality. I use either the brands Goya or Thai Kitchen. I have used other brands but they are too watery and not enough fat content. I don't use carton coconut milk because it is very watery and not that rich in flavor like the canned version.
Sugar- I use regular white granulated sugar. Feel free to also use brown sugar.
Vanilla extract- The vanilla extract helps to enhance the coconut flavor and balance sugar flavor.
Corn starch- The corn starch is basically the secret ingredient which makes the recipe come together. It is a must have item you can't leave out but you can substitute. You can also use xanthan gum, just use half of the cornstarch needed.
---
How to make a Coconut Sorbet Without Ice Cream Maker
1. The first step is to mix the sugar with the cornstarch. We do this to avoid getting any lumps in the coconut mixture.
2. Make your simple syrup by dissolving the water and sugar together over high heat. Then set it aside to cool.
3. Mix all your ingredients in a big bowl. Do this until there are no lumps in the mixture.
4. Pour into your container to freeze anywhere from 6 to 8 hours or until it is hard.
Useful Tips
To get a smooth mixture it is best to mix the cream of coconut with the water first until it is fully combined. This is because if you dump everything together, sometimes it is hard to combine everything together. Some people like to heat up the cream of coconut to dissolve the sugars. I don't do this because then you'll have to wait for it to cool.
For faster results use a metal container. This will help you get the mixture colder while freezing. It also helps to maintain the cold temperature longer when you have it at room temperature.
How to store?
If you plan to store your sorbet for a long time, it is best to store it covered. This is to avoid it from getting any freezer taste transferred to it. I keep it no longer than a month frozen because after that it can start getting those ice particles on top.
Did I mention that this coconut sorbet recipe is vegan, gluten free, and dairy free? So almost anyone can enjoy this.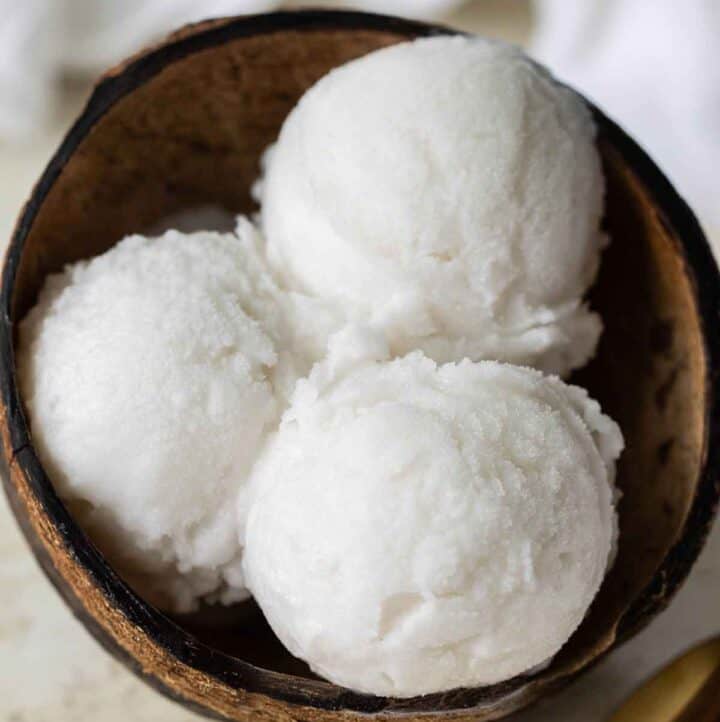 Coconut Sorbet
Easy and delicious Coconut Sorbet. Perfect for those hot summer days or as a sweet frozen treat.
Ingredients
1/2

teaspoon

corn starch

3/4

cup

sugar

1

cup

water

15

ounces

cream of coconut

1 can

13.5

ounces

coconut milk

1 can

1/8

teaspoon

vanilla extract
Instructions
In a small bowl mix the sugar and cornstarch.

In a small pan over high heat, add the water and sugar. Mix and cook for 2 minutes. Set aside to cool.

In a large bowl add the sugar water and cream of coconut. Mix until there are no visible pieces of the cream of coconut left. Mix in the coconut milk and vanilla extract until everything is combined.

Pour in a container and freeze for 8 hours.
Notes
1. Freezing- The Coconut Sorbet can take anywhere from 6-8 hours to make. This can depend on how cold your freezer gets.
2. Ice Cream Maker-  This recipe can be made in a ice cream maker. Just make the recipe, follow the machine directions and chill for about 4 hours.
3. Storing- The sorbet will be good in your freezer for 1 month.
After that, it can start getting infused with the smell of your freezer. But you can avoid the freezer taste by covering your sorbet.
4.Yield- This recipe makes about 10 4-ounce scoops. 
NUTRITION
Calories:
318
kcal
|
Carbohydrates:
46
g
|
Protein:
1
g
|
Fat:
15
g
|
Saturated Fat:
14
g
|
Polyunsaturated Fat:
0.1
g
|
Monounsaturated Fat:
0.3
g
|
Sodium:
28
mg
|
Potassium:
85
mg
|
Fiber:
1
g
|
Sugar:
43
g
|
Vitamin C:
0.4
mg
|
Calcium:
8
mg
|
Iron:
1
mg
Keywords:
coconut milk sorbet, coconut sorbet
Don't miss another delicious recipe and sign up for our newsletter!
---
Hi! I'm Stephenie and I love to make food and share it with everyone. I make everyday recipes that are easy to follow and most importantly delicious! I hope that my recipes inspire you to cook.