This Puerto Rican Pollo en escabeche is a great recipe for any weeknight dinner because it is delicious and not complicated to make. You only need one pan to cook in less than 30 minutes.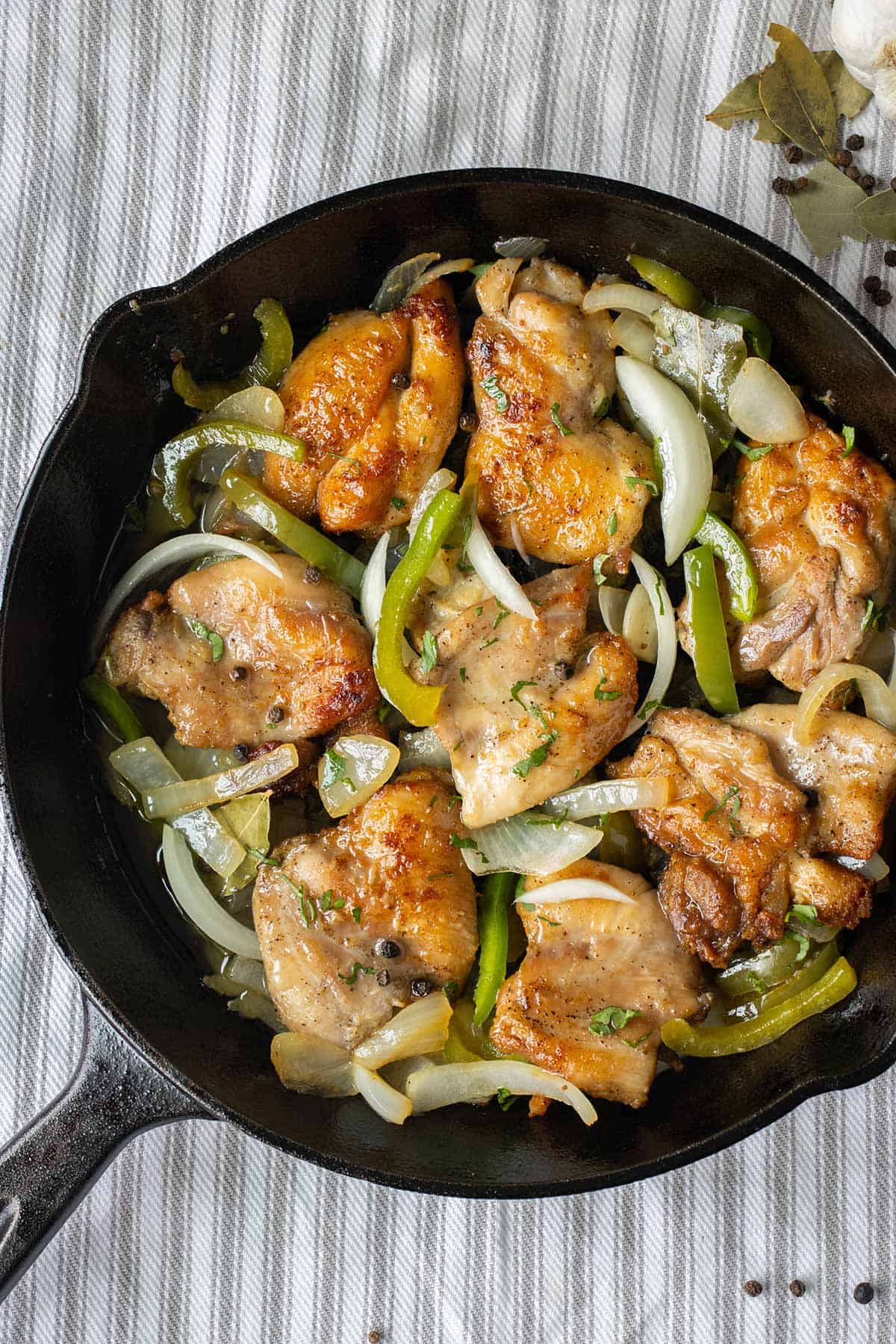 Pollo en Escabeche
Pollo en Escabeche translated to English will be a chicken escabeche recipe. The important part is the escabeche which is a pickling method that was used in Roman times. It was used as a way of preserving fish. Nowadays we use it more as a way of cooking than as a pickling method. We make escabeche with fish, meats, and vegetables. We can make yuca en escabeche, guineitos en escabeche or sierra en escabeche.
This is a dish that is very popular in Spain and Latin America but in every place is made differently. For example, the Spanish pollo en escabeche is made with white wine and paprika, while in many Latin countries, the chicken escabeche is made with achiote oil and some type of chile for spice. But all of these recipes share a vinegar base which is the main flavor.

You will love this Puerto Rican-style Pollo en Escabeche because it is easy to make and is made with everyday ingredients. This recipe is made with chicken thighs because it is the juiciest part of the chicken and is very inexpensive. You can make this chicken in less than 30 minutes which is just enough time to whip up some white rice as a side.
Should Pollo en Escabeche be Eaten Hot or Cold?
There is no right way of eating pollo en escabeche. It can be eaten both hot or cold. Some people like to make this cold and serve it as an appetizer or as party food. In my case, I have always eaten it as a main meal, especially on weeknights when I want a warm meal but don't want to spend more than an hour cooking.
Can I Use Any Cut of Chicken?
You can use chicken breast or you can use any part of the chicken you like best. If you use chicken breast just make sure to cut it in half if they are too thick. This is to make sure they cook all the way through.
Ingredients
Chicken thighs- For this recipe, we use chicken thighs without the skin or bones, but you can use any part of the chicken you prefer.
Seasonings- The seasonings for an escabeche are very basic and consist of salt, black pepper, onion, and garlic powder.
Oil- I used vegetable oil but you can substitute it with olive oil.
Green pepper- I used green pepper but any color pepper will be great to use in this recipe.
Onion- I used a yellow onion but you can use white or red onion.
Garlic- I used 1 ½ teaspoon of minced garlic. I like to measure the garlic because the cloves could be very small or way too big.
Bay leaf- I used 3 bay leaves.
Black peppercorn- I used 1 teaspoon of black peppercorn but to tell you the truth they are there for flavor because I don't eat them. If you don't want to bite into one of these I suggest you be very careful or remove them after the escabeche is made.
Vinegar- I used ¼ cup of white vinegar. I haven't tried the recipe with apple cider vinegar so I wouldn't know if it is a good substitute.
---
How to Make Pollo en Escabeche
1. Chop all your vegetables into thin strips.
2. Cut the thighs in half.
3. Season the chicken.
4. Cook the chicken thighs in half of the oil for 10 minutes per side.
5. Saute the veggies, bay leaves and black peppercorn.
6. Turn off the heat and add the rest of the oil, vinegar, chicken and mix.
Pro Tips
Be careful not to bite into the black peppercorn, not everyone likes how they taste. You can cook the escabeche and then remove them to avoid this.
When storing I suggest using a glass container instead of a plastic because these tend to retain the escabeche smell for some time.
Variations
Vegetables- You can add different vegetables to this dish. You just have to make sure that they are vegetables that can be eaten with minimal cooking like carrots.
Meats- This is a chicken recipe and any part of the chicken can be used. But did you know you can use this escabeche recipe even for beef? You just have to cook the beef to your liking then make the escabeche part and pour it over.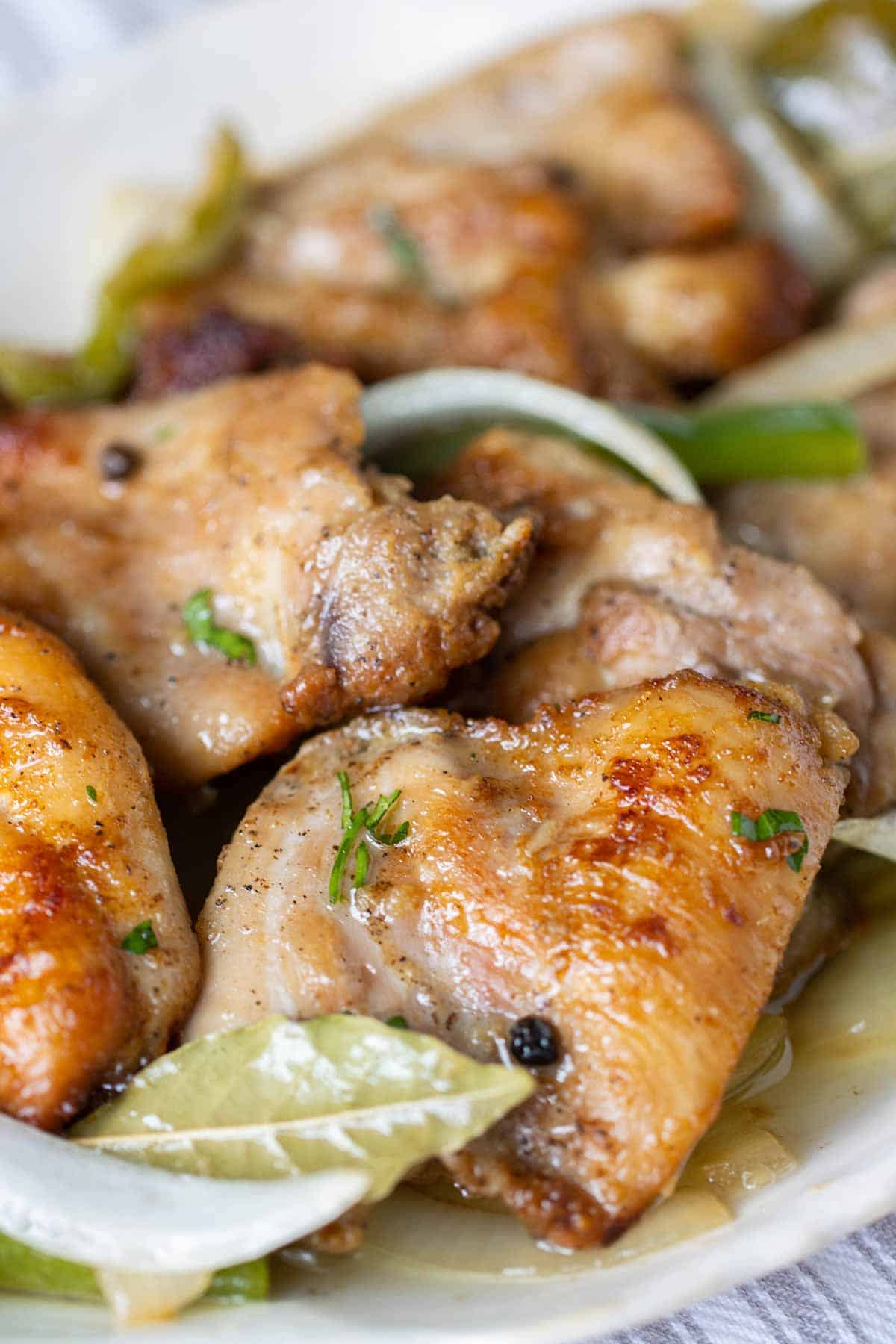 What to Serve with?
You can serve this next to rice and beans, garden vegetable rice, or any rice dish. Some crispy tostones if looking for something savory or some ripe plantains for a sweet side. You can make a refreshing mint lemonade or passion fruit mojito as a tasty drink.
How to Store?
You can store it in an airtight container and if possible a glass one. Store in your fridge for no more than 5 days and no more than a month in your freezer.
How to Reheat?
You can reheat pollo en escabeche in your microwave or the stovetop. Reheat in the stove on medium-high for about 6 minutes. Make sure the chicken is at room temperature before reheating on the stove.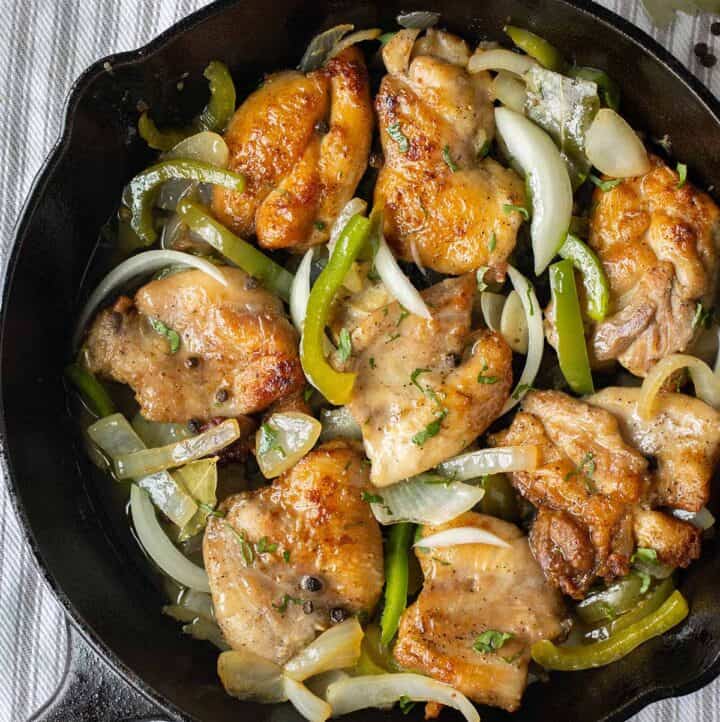 Pollo en Escabeche (Chicken Escabeche)
Tasty chicken escabeche is tangy and delicious, the perfect dinner recipe.
Ingredients
Chicken
1

pound

chicken thighs

1

teaspoon

salt

1/4

teaspoon

black pepper

1/4

teaspoon

onion powder

1/4

teaspoon

garlic powder

1/4

cup

oil
Escabeche
1/4

cup

oil

1/4

green pepper

1/2

large onion

1 1/2

teaspoon

minced garlic

3 cloves

3

bay leaves

1

teaspoon

black peppercorns

1/4

cup

white vinegar
Instructions
Cut the green pepper and onion into long strips and set aside.

Remove any excess fat from the chicken. Cut each thigh into 2 pieces. Add chicken to a big bowl. Add salt, pepper, onion, and garlic powder and mix.

In a large pan over medium-high heat add 1/4 cup of oil. Place the chicken in the pan and cook for 10 minutes on each side. Remove chicken from the pan and set aside.

In the same pan add the green pepper, onion, garlic, bay leaves, black peppercorn and the other 1/4 cup of oil. Cook for 3 minutes. Shut off the heat, add the vinegar and mix everything together.

Add the chicken and mix in with the vegetables. Serve and enjoy.
Notes
Additions- The usual vegetables used in an escabeche are onions and peppers but carrots are also used. 
Substitutions-
In this recipe I used vegetable oil but you can also use olive oil.
I used boneless chicken thighs but you can use any part of the chicken that you like. You can make chicken escabeche with breasts, wings, or drumsticks.
Storing- Store in your fridge for up to 5 days and freeze for no more than a month. Use an airtight container preferably made of glass. This is to avoid transferring the smell to plastic containers.
NUTRITION
Calories:
302
kcal
|
Carbohydrates:
3
g
|
Protein:
15
g
|
Fat:
25
g
|
Saturated Fat:
5
g
|
Polyunsaturated Fat:
10
g
|
Monounsaturated Fat:
8
g
|
Trans Fat:
0.2
g
|
Cholesterol:
58
mg
|
Sodium:
637
mg
|
Potassium:
204
mg
|
Fiber:
1
g
|
Sugar:
1
g
|
Vitamin A:
147
IU
|
Vitamin C:
9
mg
|
Calcium:
22
mg
|
Iron:
1
mg
Keywords:
chicken escabeche, pollo en escabeche
---
Don't miss another delicious recipe and sign up for our newsletter!
Hi! I'm Stephenie and I love to make food and share it with everyone. I make everyday recipes that are easy to follow and most importantly delicious! I hope that my recipes inspire you to cook.