Puerto Rican Carne Guisada is a deliciously perfect recipe for any weeknight dinner. Made with just one pot without the need of an oven.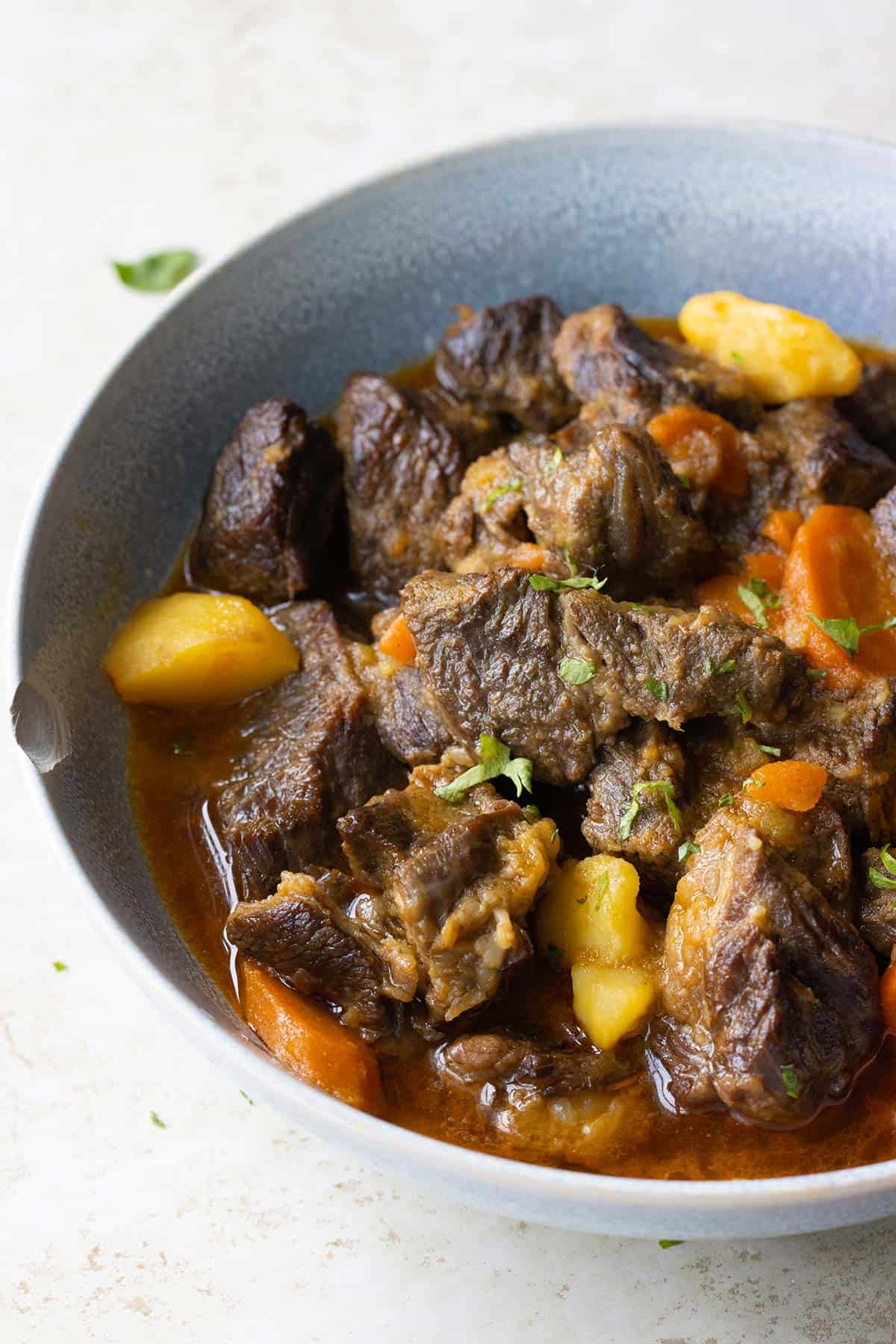 What is Puerto Rican Carne Guisada?
The name Carne Guisada or Res Guisada is the Spanish translation for beef stew. Carne Guisada is a delicious way to make it. This is a recipe that is rich in those unique flavors that Caribbean food has. This recipe is made in a Puerto Rican style which in some ways is not that different from what the American beef stew version. The similarities between the 2 recipes are that both recipes use chuck roast, carrots, potatoes, and bay leaves.
What is the difference between Puerto Rican and Mexican Carne Guisada?
The difference between Puerto Rican Beef stew and the carne guisada made in Mexico and other Latin countries comes down to the seasonings. The first ingredient that makes the Puerto Rican recipe different is the use of sofrito, which has recao, onions, peppers, and garlic all blended together so it can be ready to use. It also has sazón, which is a seasoning that gives flavor and color to the recipe. In other Latin countries, they use achiote oil instead of sazón for flavor and color.
Best cuts of meats to use in Carne Guisada
I find that the best cut to use in making carne guisada is a good chuck roast or even chuck steak. You can also use the pre-cut meat label "stew meat" that you find at your local supermarket. But I always like picking the chuck roast and cutting it myself. The reason for this is because I like to pick the meat with a nice amount of marbling a.k.a fat because this helps with the richness of my broth. Also, I like to cut the meat to my desired thickness.
What is the secret to tender beef stew meat?
The secret to always getting your meat tender is to cook it nice and slow. You want to start with high heat so you can get the perfect sear in your meat. But then you'll want to lower your heat and cook for at least an hour. Remember that you can make a beef stew in 30 minutes but that doesn't mean it will be rich and tender.
What is the best way to thicken Carne Guisada?
While you can use a flour or starch slurry to thicken, this is not necessary. The best way to thicken Carne Guisada is with the vegetables that you already are going to use in the recipe. What I do to thicken the broth is to add half of the carrots and potatoes from the beginning of the recipe. These vegetables will release starch and will break down almost completely giving your beef stew the perfect thickness.
Ingredients
Veggies- In this recipe, we use carrots and russet potatoes. These are both important because they act as thickening agents in our stew. You can also use baby carrots and don't have to cut them.
Chuck Roast- For this, you can use any chuck meat. You can use chuck roast or chuck steak. You can also use the pre-cut beef stew meat you find at your local grocery store.
Oil- I use vegetable oil but you can use coconut, olive, or the oil you usually use for cooking.
Seasonings- For seasonings, you need salt, sazón, onion, and garlic powder.
Sofrito- This is a must use ingredient for this recipe because it is one of the ingredients that give it that boricua flavor.
Tomato Sauce- I always use tomato sauce but it can be substituted with tomato paste. If using tomato paste you will only need to use half of what the recipe calls for.
Beer- This right here is the secret to making my carne guisada so good. The beer I use is corona but you can use any pale ale and lagers.
Bay Leaf- I used 3 bay leaves, you can substitute them with fresh thyme.
Vinegar- Here I used white vinegar and it is a must have ingredient in this recipe. Not only does it help tenderize your meat but the flavor it gives carne guisada is really, really good.
---
How to make Puerto Rican Carne Guisada
1. Peel the carrots and potatoes. Cut the carrots into ¼-inch thick pieces and the potatoes into about 1-inch thick.
2. Cube the meat into about 1 ½ inch thick pieces and season with salt.
3. Add oil to a large pan over high heat and sear the meat.
4. Add sofrito, and tomato sauce and cook for 3 minutes.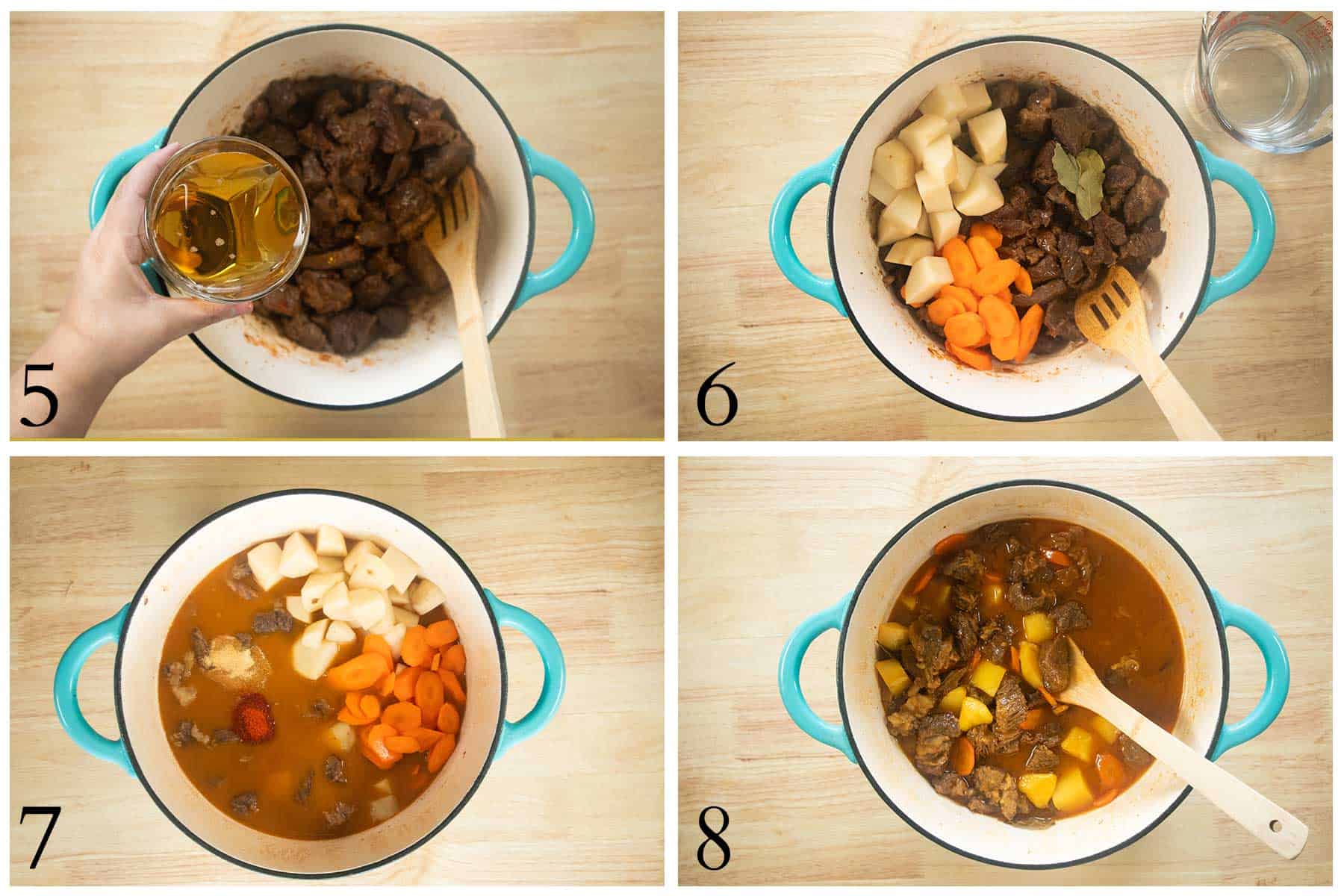 5. Now add your beer and cook it for about 7 minutes.
6. Take the bay leaves and half of the vegetables and add them.
7. Add 6 cups of water and cook for 30 minutes.
8. Now add the seasonings, 2 cups of water, and your seasonings. Lower the heat to medium heat and cook for 30 minutes.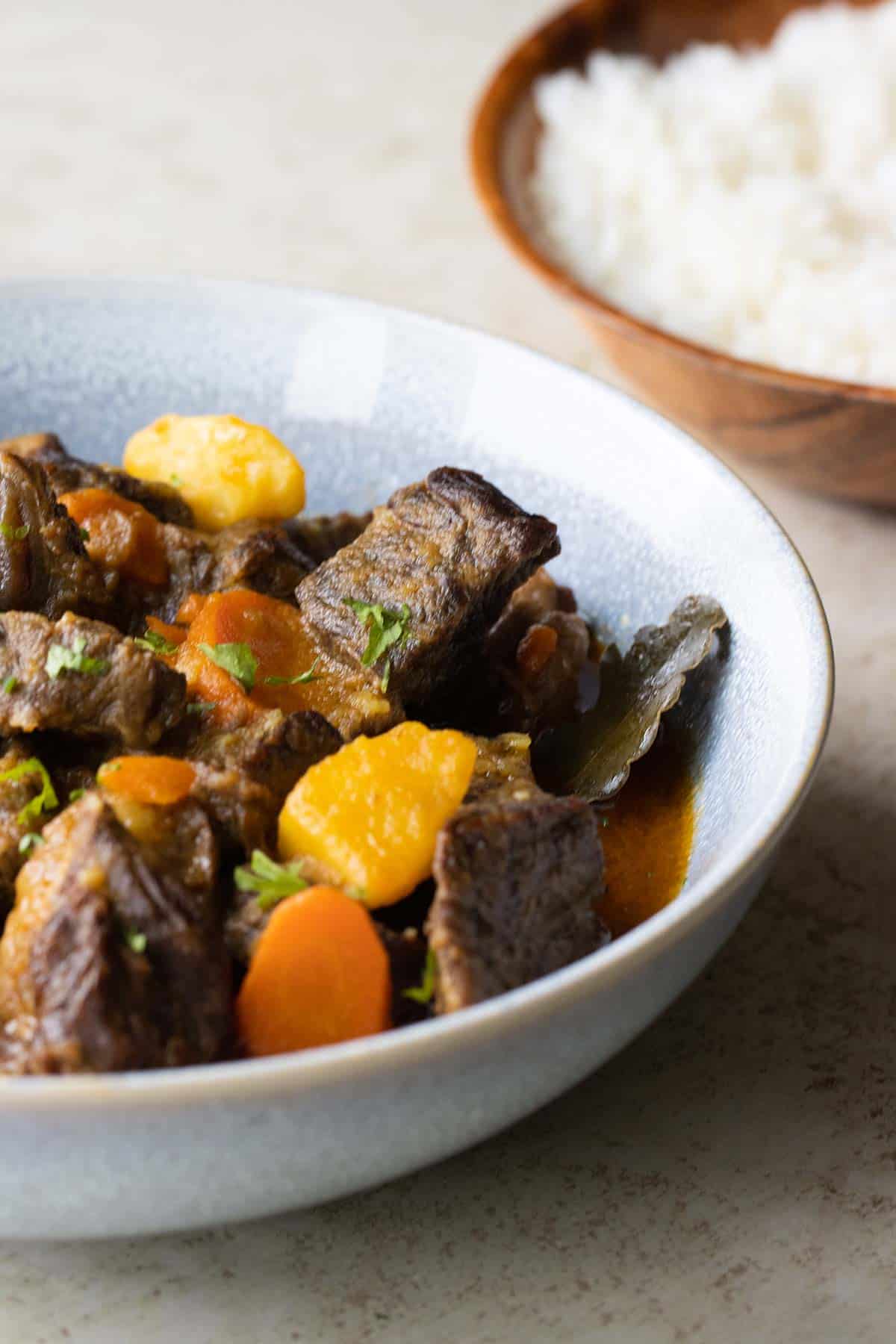 What to serve with?
You will always see that Puerto Rican Carne Guisada will be served with white rice. That's how I like to eat it too but any rice will do for me. If what I have is rice with beans then that's what I eat it with. Must have sides for this beef stew are tostones for something savory or ripe plantains for something sweet. Sometimes depending on the mood, or if the weather is cold, I like to take a warm potato bread bun and dip it and my stew.
How to store and reheat?
Listen, I don't have any scientifically proven data here but I can swear to you that leftover carne guisada will taste almost better than the day that it was made. You can save it in your fridge for up to 4 days and in your freezer for 6 months. You just need to make sure it is stored in an airtight container.
To reheat, I always suggest adding half a cup of water and heating for about 15 minutes on medium high heat. Make sure you stir a couple of times.
---
Puerto Rican Carne Guisada (Beef Stew)
Rich and flavorful is this Carne Guisada. One of the best week night recipes you can make.
Ingredients
1

pound

potatoes

1/2

pound

carrots

2 1/2

pounds

chuck roast

1/4

cup

oil

1

tablespoon

salt

2

tablespoons

sofrito

2

tablespoons

tomato sauce

7

ounces

beer

3

bay leaves

8

cups

water

1/2

cup

white vinegar

1/2

teaspoon

garlic powder

1/2

teaspoon

onion powder

1 1/2

teaspoon

sazón

or 1 packet
Instructions
Peel the carrots and the potatoes. Cut the carrots diagonally into 1/4 of an inch thick. Cut the potatoes to about 1 inch thick.

Cube the chuck roast to about 1 to 1 1/2 inch thick pieces. Season with salt.

In a large Dutch oven add the oil over high heat. Wait for the oil to be hot and then add your meat. Sear for 8 minutes. Flip the meat a couple of times. Then add tomato sauce and sofrito and cook for 1 minutes.

Now add the beer and cook for about 6 minutes. Add the bay leaves, 6 cups of water and half of the carrots, and half of the potatoes. Cook for 30 minutes with the lid on. Make sure to stir 2 or 3 times.

Add 2 cups of water, sazón, vinegar, garlic powder, onion powder, and the rest of the veggies. Finish cooking for 30 minutes but lower the heat to medium high. Crack the lid just a bit and make sure to stir a couple of times.
Notes
1. Meat:
For this recipe, you can use either a chuck roast or chuck steak and cut it into cubes. You can also use the stew meats that come pre-cut from the supermarket.
2. Beer:
In this recipe, I used a 7-ounce Corona beer.  Pale ale and lagers can also be used, but avoid dark beers. You can leave the beer out and it will still taste delicious. That's how I do it when I don't have any beer around. But I must say that it gives the stew an amazing flavor. Make sure to let your beer come to room temperature before adding it so it doesn't lower the temperature of your pan. 
3. Thickener:
In this recipe is not really necessary to add any thickeners like flour or cornstarch. The carrots and potatoes do this naturally by releasing starch. What I like to do is add half of the veggies at the beginning of the stew. By the time the stew is done, these vegetables will be disintegrated and help with the thickness. Also, it is important to know that Carne Guisada is usually made with a good amount of broth still left so it can be poured over rice. 
4. What else can I add?
As far as vegetables you can add calabaza(kent pumpkin) or squash. Sometimes I like to add a can of beans and is so delicious.
NUTRITION
Calories:
515
kcal
|
Carbohydrates:
19
g
|
Protein:
38
g
|
Fat:
31
g
|
Saturated Fat:
11
g
|
Polyunsaturated Fat:
7
g
|
Monounsaturated Fat:
13
g
|
Trans Fat:
1
g
|
Cholesterol:
130
mg
|
Sodium:
1478
mg
|
Potassium:
1096
mg
|
Fiber:
3
g
|
Sugar:
3
g
|
Vitamin A:
6366
IU
|
Vitamin C:
18
mg
|
Calcium:
68
mg
|
Iron:
5
mg
Keywords:
carne guisa, puerto rican carne guisada
Hi! I'm Stephenie and I love to make food and share it with everyone. I make everyday recipes that are easy to follow and most importantly delicious! I hope that my recipes inspire you to cook.