If you're craving something tangy, briny, and delicious then this Guineitos en Escabeche recipe is for you. They're the perfect side for your next party!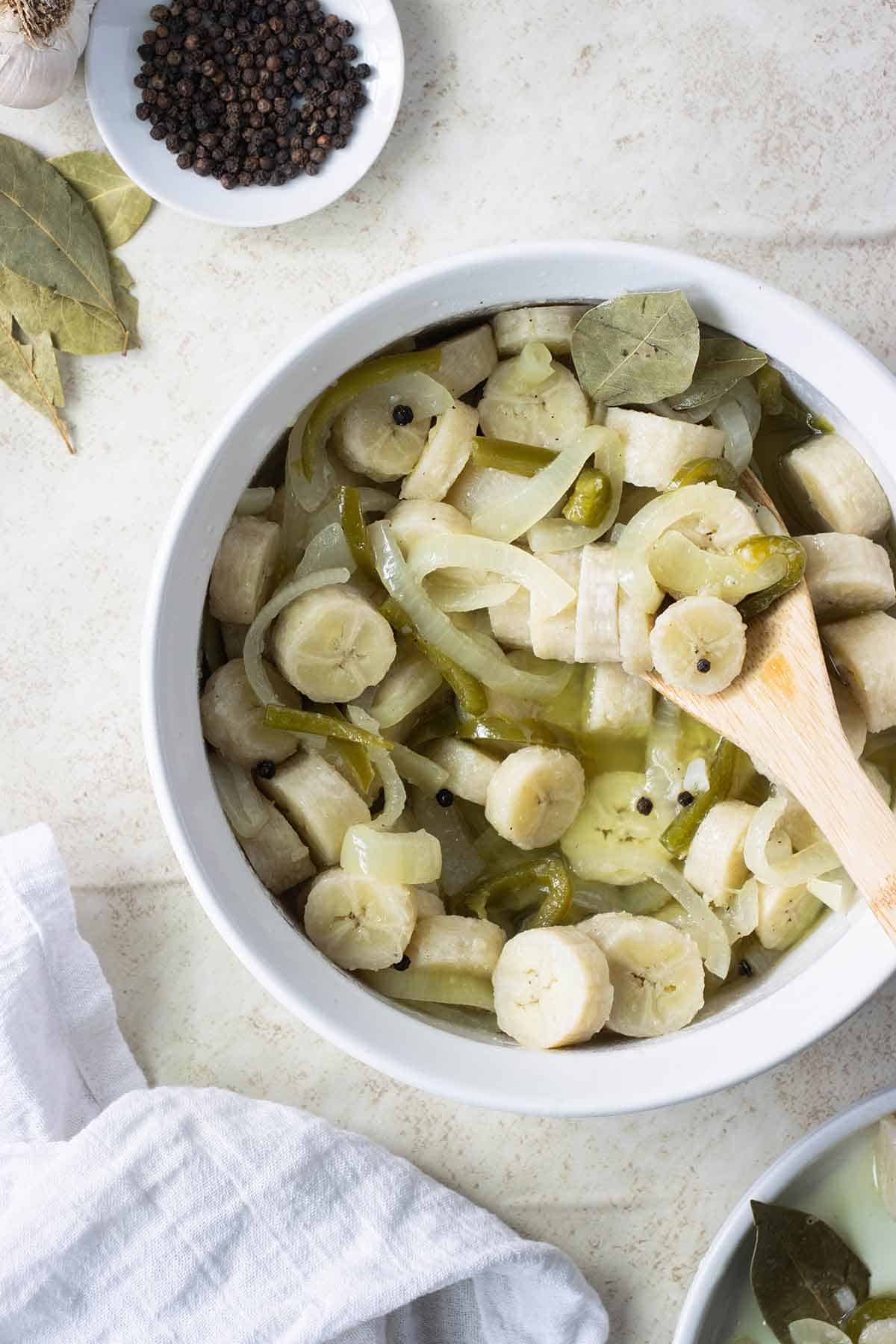 One of my favorite and one of the most popular foods to make during the holidays in Puerto Rico is Guineos en Escabeche. These are made with boiled unripped green bananas that are mixed with an escabeche that adds a pickled flavor.
The guineitos are almost always served during Thanksgiving Day and Noche Buena (December 24). A Puerto Rican Recipe Part of the typical holiday meal. Served as a side with Arroz con gandules and pernil (roasted pork).
They are a great recipe to make days before enjoying them!
Guineitos can be served hot or cold. I love to serve them next to rice with beans and fried chicken. But if am not making any meat on the side I serve them with my grandma's arroz con costillitas (rib rice).
Jump to:
Ingredients
This is what you need to make the guineitos (green bananas).
Guineos(green bananas)- You need your guineos to be as green as possible. If they're slightly yellow they will have a slightly sweet taste which is not bad but the greener the better.
Salt- I like to use salt to add to the boiling water just like if I were making pasta. It helps the green bananas taste better
Vinegar- I use white vinegar when boiling the bananas to avoid them from browning.
This is what you need to make the escabeche.
Oil- I used vegetable oil but you can use the one you prefer. Olive oil is a popular choice when making this recipe.
Garlic- I use a little bit of garlic for a nice subtle taste because I want to get more of a vinegar flavor. Always use fresh garlic.
Vegetables- I added an onion and half of green pepper. You can add more if you like and also add pimiento morron as garnish.
Adobo– I use 2 teaspoons of adobo in the escabeche.
Whole Black pepper- The black peppercorns give the dish a very delicious flavor. But you must be careful not to bite on one of those. Trust me it's not pleasant.
Bay leaves- Bay leaves are a must because it one of the flavors that complete an escabeche.
Vinegar- I used ½ cup of vinegar in this recipe. Some people like it more or less.
How to Make it
---
Step 1: Grease your hands with oil or butter to prevent your hands from staining. Cut the ends of the green banana and make 2 lines on opposite sides. Gently lift the banana skin with your knife then peel with your hands. Remove any remaining pieces with a knife.
⭐️ Tip: To guarantee to have no stains when peeling guineos it is best to wear gloves. I only use gloves if I'm doing a really big batch and I know my hands will get stained.
Step 2: Add the green bananas to a large pot with water, salt, and vinegar. Cover and cook. Once done, drain the guineos.
Step 3: Wait for the bananas to cool and cut into circles.
Step 4: Cut the vegetables into long strips.
Step 5: In a big pan add the oil, vegetables, bay leaves, pepper, and adobo. Cook for 5 minutes. If you like your veggies to be crunchy you can cook for less.
Step 6: Turn off the heat and add the vinegar, and garlic and stir.
Step 7: Mix the escabeche mixture and guineos. Eat it right away while hot or chill it in the fridge and serve it cold.
⭐️ Tip: If you want to avoid biting into a whole pepper, cook the escabeche and remove them from the mixture before adding it to the guineos.
Variations
A popular variation is to add boiled chicken gizzards.
Recipe Tips
Some people like to add ¼ cup of milk when boiling the guineos. This is done so the mancha or stain released from the guineo gets on the foam the milk makes and not on your pan. I myself do it because I never do enough guineitos where I have to worry about having too much of the mancha sticking to my pans.
Storing
Use an airtight container, glass or disposable ones are a good option. This is because the escabeche smell is pretty hard to remove from plastic. Remember you can make this ahead. Keep in your fridge for no more than 5 days.
Frequently asked questions
What Is Guineitos En Escabeche?
Guineitos en Escabeche is a dish made with boiled green bananas. Then they're cut into circles and marinated in this delicious escabeche which is a mixture of vinegar, oil, garlic, and spices. They are pickled green bananas without the jar. 
Where to buy the green bananas?
Depending on where you live, green bananas are hard to find. The best place to buy them is in Latin or Asian supermarkets. I have seen them frozen in the supermarket Save A Lot.
More Delicious Puerto Rican Side Recipes
💬 Do you have any questions or comments on this Guineitos en Escabeche Recipe? Leave your questions or comments below and I'll reply as soon as possible!
Recipe
Guineitos en Escabeche
Guineitos en escabeche in a Puerto Rican style are very easy to make. The perfect side to make ahead!
Ingredients
Guineos (green banana)
8

cups

water

1

tablespoon

salt

1

tablespoon

white vinegar

3

pounds

guineos
Escabeche
1

cup

oil

1

large

onion

½

green pepper

⅛

teaspoon

black pepper

3

bay

leaves

2

teaspoon

adobo

1 ½

teaspoon

garlic paste

½

cup

white vinegar
Instructions
In a big pot over high heat add water, 1 tablespoon of salt, and 1 tablespoon of vinegar.

Peel the bananas and add them to the pot. Cook covered for 20 minutes. Remove from water and place them on a plate to cool down.

Once the green bananas are cool enough to handle, cut them into ½-inch circles. Transfer into a big bowl.

In a big pan over medium-high heat add the oil, onions, green peppers, black pepper, bay leaves, and adobo. Cook for 5 minutes. Once cooked turn off the heat and add the garlic paste, vinegar, and stir. Pour the escabeche mixture over the guineitos. Mix, serve, and enjoy.
Recipe Notes
1. Water to salt ratio- I use 8 cups of water and add 1 tablespoon of salt. I tell you how much water I use because depending on the amount of water 1 tablespoon can be a lot of salt. So just make sure to taste the water. It should have flavor but not salty.
2. Peeling the green bananas- there are 2 peeling methods to use 
Method #1: you can peel the whole banana and boil it.
Method #2: Cut the ends of the banana, make a line in the middle, and boil with the skin on. After is cooked, remove the skin.
3. Storing- Store in the fridge for no more than 5 days. Preferably in a glass or disposable container. This is because the escabeche smell is very hard to remove from plastic.
4. Yield-
The yield for this recipe is for 8 people. It can be more or less depending on how much is served.
Nutrition
Calories:
240
kcal
|
Carbohydrates:
29
g
|
Protein:
2
g
|
Fat:
14
g
|
Saturated Fat:
2
g
|
Polyunsaturated Fat:
8
g
|
Monounsaturated Fat:
3
g
|
Trans Fat:
0.1
g
|
Sodium:
1101
mg
|
Potassium:
455
mg
|
Fiber:
4
g
|
Sugar:
15
g
|
Vitamin A:
127
IU
|
Vitamin C:
18
mg
|
Calcium:
26
mg
|
Iron:
1
mg
Keywords:
green banana salad, guineitos en escabeche, guineos en escabeche, pickled green bananas
---
Don't miss another delicious recipe and sign up for our newsletter!
---