When you make Chicharron de Pollo, you will get ultra crispy chicken. Easy to make with only a few everyday ingredients needed. This recipe is a 10 out of 10.
Chicharron de Pollo
Chicharron de Pollo is made of pieces of chicken that are breaded and fried. It is very simple to make but every step of this recipe is what makes it amazing.
First, the chicken. This recipe uses chicken thighs because they are the tastiest part. Then you have Latin seasonings like adobo to make it very flavorful, and sazón that gives it a nice color and a few other ingredients. Then you bread it and fry it and get very crispy chicken pieces.

This dish is very popular in Puerto Rico, the Dominican Republic, and a lot of Latin countries. It is commonly sold in chinchorros which are small food places.
This is where you get good drinks like passion fruit mojitos and finger foods that are made fast like carne frita with tostones or bacalaitos. I love to eat chicharrones de pollo with yellow rice and beans. Then in less than 5 minutes, I make a mayo ketchup sauce to go over the chicken.
What is the best flour to coat the chicken?
For chicharron de pollo I always like to use a mixture of 2 types of flour. I use all purpose flour and cornstarch. I feel that if I only use all purpose flour my chicken won't be as crispy as chicharrones de pollo are meant to be.
If I only use cornstarch then they get mega crispy but also very hard to bite. The mix in this recipe makes for very crispy chicken skin but the crispness is very airy and that's what makes the chicken super delicious.
What is the best part of the chicken to use?
The best part of the chicken to make chicharron de pollo is the thigh. This is because it is the juiciest part. I always buy it with the bone in. Some people think that the bones bring more flavor to the chicken but I have never noticed the difference when I buy boneless.
If you get boneless it will be like making super crispy chicken nuggets at home. You can also use breasts but they will be dryer than thighs. The most important part is that no matter the cut you get, it needs to be with the skin on.
What is the best oil to fry Chicharron de Pollo?
The best oils to fry with are canola, vegetable, peanut or sunflower. For this recipe, I used vegetable oil. Sometimes I have lard and that's what I use. I am not going to lie that when you fry it in lard it tastes amazing.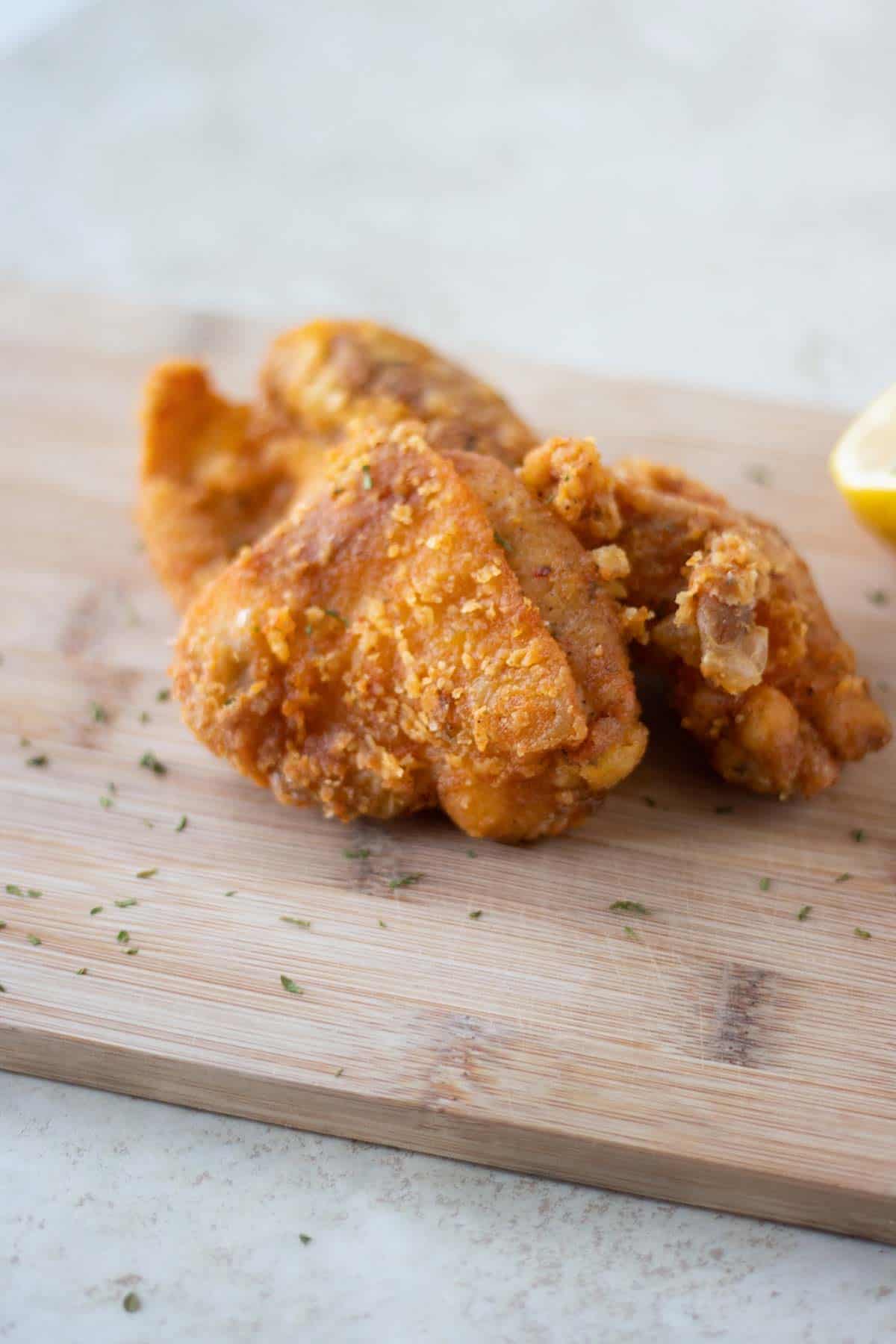 What to serve with?
This recipe for chicharron de pollo is so good that you can eat them by itself. If you want something simple to pair this up with a garlic cilantro sauce and a piece of lime. If you want to pair this chicken in a take out style then a buttery delicious mofongo is the perfect side. For a more heavy type meal, you can have it next to white rice and stewed beans.
How to store?
The most important step in storing chicharron de pollo or any fried chicken is to completely cool the chicken. This is because if it is stored hot, the steam will make the skin soggy and the breading can fall off. You can store it in an airtight container for 3 months in the freezer or up to 4 days in your fridge.
How to reheat?
To reheat the fried chicken pieces you can do it in 3 ways. First, You can heat it in the microwave. This may be the fastest way but not the best result. Second, you can reheat it in the oven at 350°F for about 10 minutes or until hot and crispy. The last and my preferred method is to fry it for about 2 -3 minutes over medium high heat.
---
How to make Chicharrones de Pollo
1. Cut the chicken thighs into smaller pieces which are about 3 pieces.
2. Mix all the seasonings. Save a tablespoon of the seasonings to add to the flour. Squeeze 1 lemon over the chicken. Add the rest of the seasonings and mix.
3. Add the cornstarch, all purpose flour and the tablespoon of seasonings and mix. Bread all of the chicken pieces.
4. Fry for 6-7 minutes on each side over medium high heat.
Ingredients
1. Oil- I used vegetable oil in this recipe but you can use canola, coconut or sunflower oil.
2. Chicken thighs- I use 2 ½ pounds of chicken thigh with the bone in and the skin on.
3. Lemon- I use 1 lemon.
4. Seasonings- The seasonings are salt, onion powder, black pepper, dried oregano, adobo, and sazón.
5. Flour- I used all purpose flour.
6. Corn starch- I used cornstarch.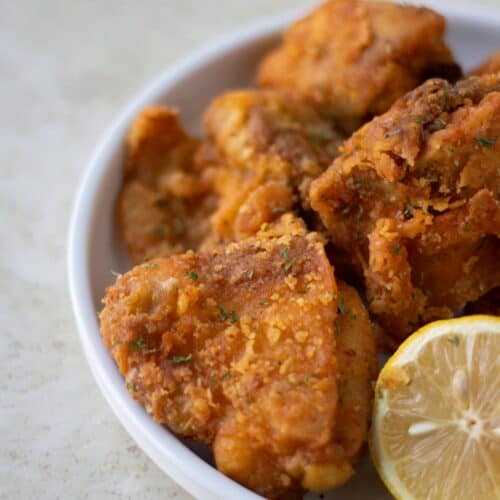 Chicharron de Pollo
Chicharrones de Pollo is going to be your favorite way to make chicken. Very flavorful, lightly floured, and fried until you make perfect crunchy pieces of chicken.
Ingredients
1

cup

oil

2 1/2

pounds

chicken thighs

1

lemon

1 1/2

teaspoons

sazón

1

teaspoon

onion powder

1/2

teaspoon

black pepper

1

teaspoon

dried oregano

2

teaspoon

adobo

1 1/4

teaspoon

salt

1

cup

all purpose flour

1/2

cup

cornstarch
Instructions
Cut the chicken thighs. If your thighs are big cut it into 3 pieces. If small, cut it into 2 pieces. Transfer the chicken into a large bowl. Squeeze the lemon over it and mix it well.

In a small bowl add salt, sazón, adobo, onion powder, black pepper and dried oregano. Mix it well and save a tablespoon of the mix to put into the flour. Season all the thighs with the rest of the seasoning. Mix it well until all the pieces are completely covered.

In a large bowl add your flour, cornstarch, seasoning and mix it well. Bread every piece of chicken and make sure it is well coated. Pull the skin up whenever possible and make sure the flour gets in there too. Shake off any excess flour.

In a large pan add your oil over medium high heat. Fry the chicken pieces for 6 minutes on each side. Do this in 2 batches. If you want crunchier chicken, then fry for an extra minute per side. Remove from oil. Serve and enjoy.
Notes
1. I used 2 1/2 pounds of chicken thighs. This was 4 big thighs which I cut into 3 pieces each.
2. In this recipe I used chicken thighs with the bone in. You can also use boneless but it is important for them to have the skin on.
NUTRITION
Calories:
660
kcal
|
Carbohydrates:
40
g
|
Protein:
39
g
|
Fat:
37
g
|
Saturated Fat:
9
g
|
Polyunsaturated Fat:
10
g
|
Monounsaturated Fat:
14
g
|
Trans Fat:
0.2
g
|
Cholesterol:
145
mg
|
Sodium:
822
mg
|
Potassium:
418
mg
|
Fiber:
1
g
|
Sugar:
0.2
g
|
Vitamin A:
285
IU
|
Vitamin C:
3
mg
|
Calcium:
40
mg
|
Iron:
4
mg
Keywords:
chicharron de pollo, fried chicken pieces
Hi! I'm Stephenie and I love to make food and share it with everyone. I make everyday recipes that are easy to follow and most importantly delicious! I hope that my recipes inspire you to cook.