This stewed beans recipe is packed with flavor and is super easy to make on any day of the week.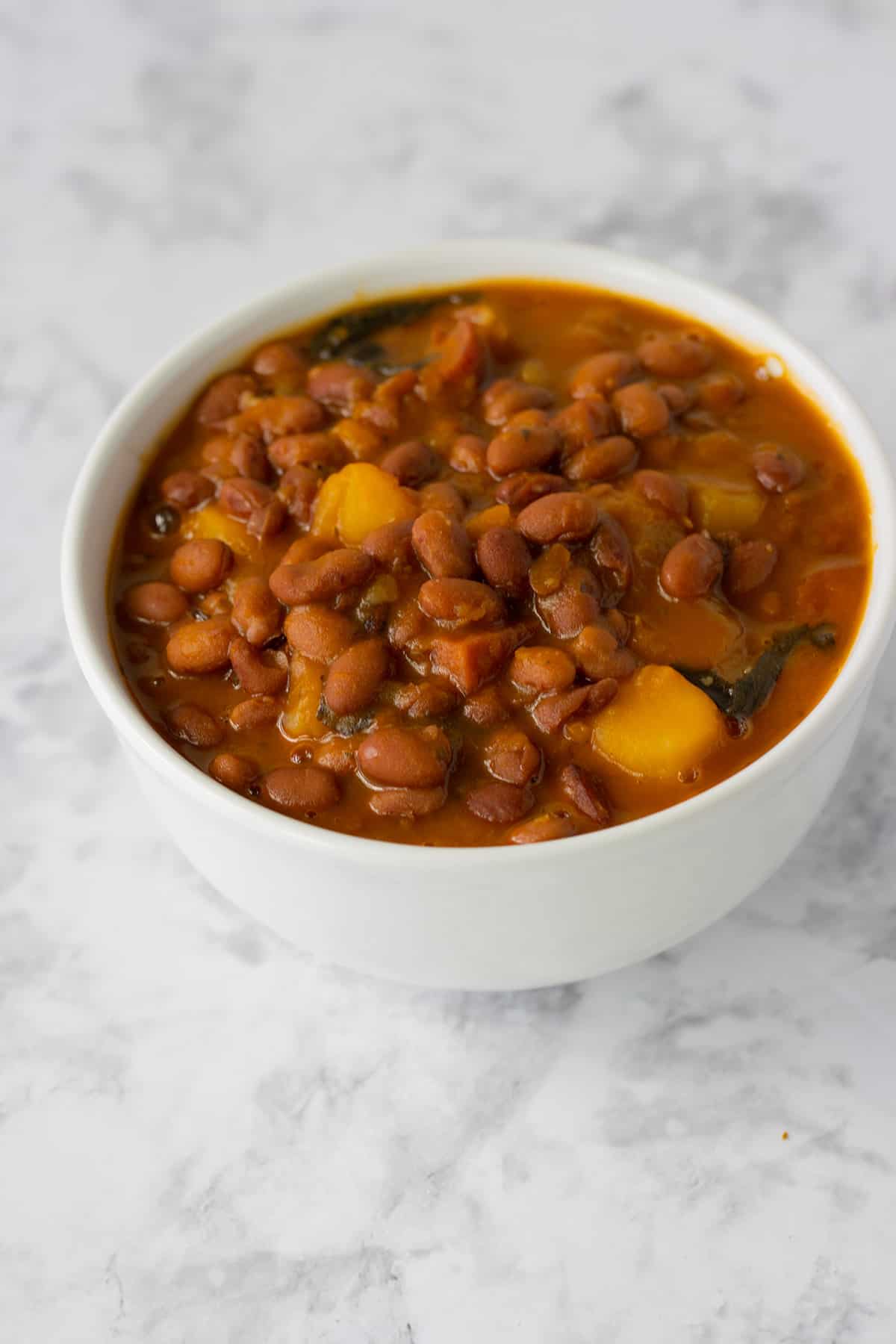 Stewed beans are not hard to make at all. Simply grab a large pot, add all your ingredients and in less than an hour you will have a hearty steamy bowl of beans. I've known how to make this dish since my early childhood watching my grandma cook it. I've known this dish as habichuelas guisadas which is the Spanish translation for stewed beans.
What are stewed beans made of?
Stewed beans are made of a mix of delicious vegetables such as pumpkin and potatoes. Mixed in with some spices and of course beans. In reality, there is no official recipe for stewed beans because everyone adds their little special ingredient. In the Caribbean that special ingredient is sofrito and recao. But if you are in the Dominican Republic their special ingredient is a little bit of brown sugar!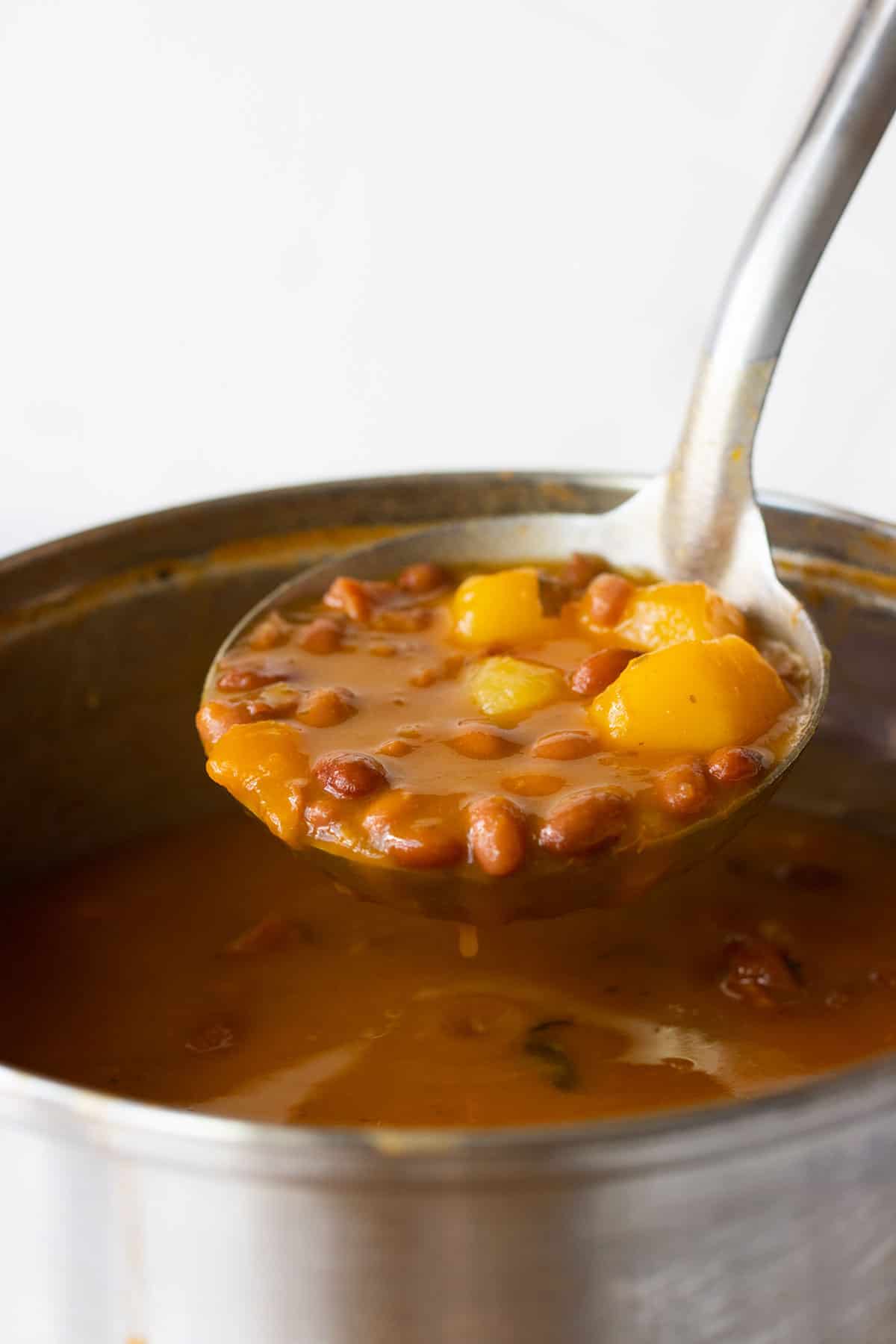 What type of beans do I need?
This recipe calls for pink beans but in the Caribbean it is very common to make them with red kidney beans. But don't worry because any beans are good for this recipe. Seriously, you can use black beans, white beans, lima beans and even chickpeas.
What is the base for stewed beans?
The base for stewed beans is Sofrito. You might not know what it is or how to make it but don't worry I have a Puerto Rican Sofrito recipe you can try. You don't have to make my recipe, you can simply go to your local Latino store and buy some that are pre-made. The good thing about buying or making sofrito is that it lasts a long time in your freezer and you'll already have the base for many Latin dishes such as yellow rice or eggplant with salted codfish and many more.
How do you thicken stewed beans?
All you need to thicken your stewed beans are starchy vegetables. Your potatoes will cook, releasing starch and thus aiding with the thickening process. Some people may think that the trick is adding a cornstarch or a flour slurry but I assure you won't need to add anything else. After you make this recipe your bean broth will be creamy, thick but at the same time light and not watery.
What to serve stewed beans with?
The most basic yet delicious thing to serve stewed beans with is a plate of fluffy white rice and that can be a whole meal and don't forget to add some delicious ripe plantains. You can also have it as a side for some fried chicken or a couple of tostones.
How to store?
To store your habichuelas guisadas (stewed beans) in your fridge just move it to an airtight container and it will be good for about 3-4 days. To freeze you also need an airtight container. You can also store them in freezer bags but you'll need to wait for them to cool before transferring them to the bag. Once in your freezer, they can last for up to 3 months. I don't know the science behind this but beans taste better the day after and even after they've been frozen. To reheat you can use your microwave or heat it on the stove.
---
How to make stewed beans (habichuelas Guisadas)
1. First add your oil, ham and sauté for 1 minute. This is to brown and bring out all the ham flavor which will give our bean broth a nice flavor.
2. Add your sofrito and tomato paste then mix. This step is important to add it to your oil instead of your water so the sofrito can be cooked in oil.
3. Next add your beans and make sure to add all the liquid they come in.
4. Add all your seasonings. It doesn't matter the order. Also, add your recao.
5. Add the potatoes, pumpkin and stir.
6. Last cook for about 35-40 minutes.
Ingredients
1. Canned Beans- I used 2 15.5 cans of pink beans in this recipe but you can use your favorite type of beans.
2. Ham- I used ham steak and I just cut what I needed. You can use cubed ham or pork belly. But if you use the pork then skip the oil.
3. Tomato Sauce- I use tomato sauce but you can substitute for 1 tablespoon of tomato paste.
4. Sofrito- I use 2 tablespoons of sofrito which adds a lot of flavors to this dish.
5. Water and oil- I used vegetable oil but you can use coconut, olive oil or achiote oil to enhance the color and give a nice smokey flavor. I used water as my liquid and not stock because the ham pieces and ham flavoring act as my bouillon to my water.
6. Pumpkin- I used Kent/Jap pumpkin but you can use any type you like.
7. Potatoes- This recipe calls for russet potatoes but you can use yellow or gold ones.
8. Recao- One of the things that bring all the flavors out is the recao. I used ¼ cup but if you can't find any you can substitute for cilantro. It won't be the same because it is milder in flavor but it will help the dish.
9. Seasonings- I used salt, ham flavoring and sazón.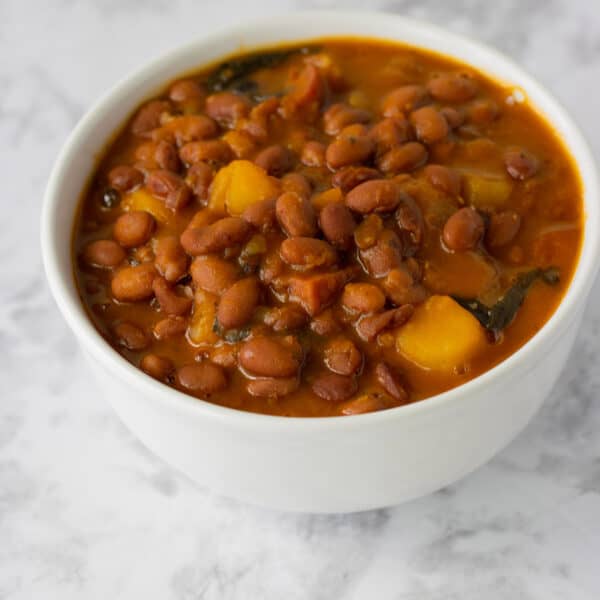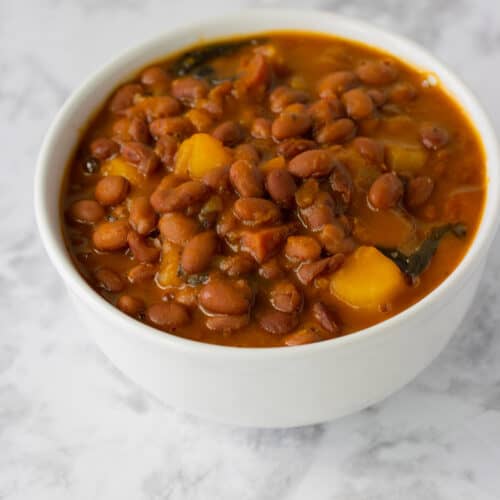 Stewed Beans (Habichuelas Guisadas)
Packed with flavor and super easy to make on any day of the week is this stewed beans recipe.
Ingredients
2

canned pink beans

15.5 ounce can

2

tablespoons

sofrito

2

tablespoons

tomato sauce

1/2

cup

ham

1 1/2

teaspoons

sazón

1 1/2

teaspoons

salt

3 1/2

cups

water

1/4

cup

recao

1/2

pound

kent pumpkin

1/2

pound

potatoes

1 1/2

teaspoons

ham flavoring

1

tablespoon

oil
Instructions
Peel your potato and pumpkin and roughly cut into 1/2 inch thick pieces. Set aside.

In a large pot over high heat add your oil, ham and sauté for 1 minute. Next add your sofrito, tomato sauce, beans, sazón, recao, pumpkin and potatoes. Give it a good stir and add your water, ham flavoring and salt. Stir once more and cover with a lid.

Cook for about 35-40 minutes. Serve immediately and enjoy.
Notes
You can substitute your oil with achiote oil.
NUTRITION
Calories:
125
kcal
|
Carbohydrates:
16
g
|
Protein:
6
g
|
Fat:
4
g
|
Saturated Fat:
1
g
|
Polyunsaturated Fat:
148
g
|
Monounsaturated Fat:
2
g
|
Trans Fat:
0.01
g
|
Cholesterol:
7
mg
|
Sodium:
1012
mg
|
Potassium:
350
mg
|
Fiber:
2
g
|
Sugar:
2
g
|
Vitamin A:
3285
IU
|
Vitamin C:
11
mg
|
Calcium:
40
mg
|
Iron:
1
mg
Keywords:
Puerto Rican Habichuelas Guisadas, Puerto Rican Stewed Beans
Hi! I'm Stephenie and I love to make food and share it with everyone. I make everyday recipes that are easy to follow and most importantly delicious! I hope that my recipes inspire you to cook.