Puerto Rican Bacalaitos are thin, crispy, and fried to perfection until they are golden brown.
If there's one thing I can eat every day that will be mofongo, tostones or bacalaitos. Trust me when I tell you I'm not the only one who feels this way. These salted codfish fritters can be found everywhere in Puerto Rico. From high end restaurants to popular street food joints. This recipe is one of the many delicious traditional foods in Puerto Rico.
What are Bacalaitos?
Many countries make these bacalaitos with very slight variations. For example in the Dominican Republic they are called Bacalaitos but their recipe includes eggs and milk. In Puerto Rico besides being freaking delicious, Bacalaitos are just a very simple fish batter fried to perfection. Made with flour, seasonings like salt, ground oregano, onion and garlic powder. Plus it has some Recao and the star ingredient which is the salted codfish. They are the ultimate finger food.
Made in Puerto Rico
The way that bacalaitos are usually made in Puerto Rico is on a wood fire. Eating one is a whole experience starting from the smell of the wood burning to taking a bite and hearing the crunch. In many places you will see multiple big pots and even big metal trays. This is because usually one pot is on a medium heat and is where they first cook the bacalaito. The other is on high heat because this is where is transferred to get their crunchiness.
Can I make ahead?
Yes, you can make these ahead of time. First let's talk batter. You can make your batter one day ahead and store it in an airtight container or plastic wrap. When you are ready to make, take the batter out of the fridge at least 15 minutes before so your batter won't be too cold.
I never make the bacalaitos ahead of time because I make and eat them right away. But you can make them ahead no more than 1 hour before you are ready to eat. So what I will suggest is turning your oven on 200 F for 10 minutes and then turning it off. Then make your bacalaitos and keep them in your oven with the light on.
What can I serve Bacalaitos?
Bacalaitos are considered a fritter, a snack or an appetizer. Usually is not something you eat in combination of something else like white rice and beans. But what you can have with a crispy delicious bacalaito is a refreshing passion fruit mojito or a big piña colada.
Where can I find Bacalao?
The star ingredient of bacalaitos is the salted codfish and that is why is important to find Bacalao. You can go to your local supermarket or a Latin grocery store to see if they have any. If you still can't find any then you can use other salted fish as pollock. You can also use fresh cod and it will still be delicious.
---
How to make Bacalaitos
1. The first step is to rinse your salted codfish to remove as much excess salt as possible.
2. Now is the time to cook for 15 minutes. After this is complete drain and cut into smaller pieces. You can leave it in big chunks if you like. The most important thing is to make sure that you check if any bones were left in.
3. Mix in your water, flour and all the seasonings making sure there are no lumps left. Now is the time to check the consistency of your batter. It should not be as thick as a pancake batter nor as thin as a crepe one.
4. Add your codfish and mix well. Now taste your mix and you can add more salt if needed by adding 1/2 of teaspoon at a time.
5. Time to fry your bacalaitos. Turn your heat to a medium and pour your batter. It will look like a flat pancake and that's exactly what you want. When the temperature of your oil is low it helps the batter spread out instead of just sitting into a lump. I also try to spread the mix with whatever I pour it with.
6. Now turn up the heat to high. Cook on each side for two minutes or until it has a nice golden color. This is when your bacalaito will get super crunchy. Unless you have a big frying pan you must fry in batches. Make sure that before each batch your oil has cooled down.
Ingredients
Water
Flour- I used all purpose flour.
salted codfish- Here the Bacalao or Salted Codfish is the star ingredient. You can substitute with salted pollock.
Recao- This recipe calls for recao but sometimes this can be hard to come by. A good substitute is cilantro which is not as strong in flavor but it will suffice.
Seasonings- Salt, ground oregano and onion and garlic powder. Some people add other seasonings and also Sofrito. I don't like to add sofrito because its flavor is very strong and will overpower the salted codfish.
Oil- I used vegetable oil but you can use any kind you regularly use to fry.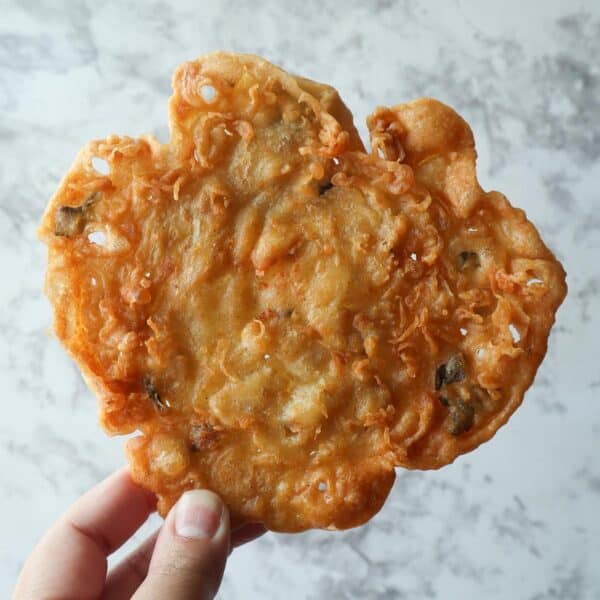 Puerto Rican Bacalaitos | Salted Codfish Fritters
Puerto Rican Bacalaitos are thin, crispy, and fried to perfection until they are golden brown. 
Ingredients
1 1/2

cups

all purpose flour

12

ounces

water

4

ounces

bacalao (salted codfish)

1

teaspoon

salt

1/2

teaspoon

ground oregano

1/2

teaspoon

onion powder

1/2

teaspoon

garlic powder

1

tablespoon

recao

1

cup

oil

for frying
Instructions
Bacalao (Salted Codfish)
Rinse any excess salt from your salted codfish. You can do this under running water in your sink or in a bowl of water. In a large saucepan add water and cook your codfish for 15 minutes.

Drain and shred into smaller pieces. While doing this check that there are no bones in left. Taste your codfish to make sure that it has the perfect amount of saltiness. If it still has too much salt then rinse in a bowl and taste again. Set aside.
Batter
In a medium bowl add water, flour and seasonings. Mix everything together well until there are no visible bumps. Add recao and mix in. Last, add your codfish and mix it well.
Fry
In a medium pan add your oil and set it to medium. Add your mix and fry on each side for 3 minutes. Then bring up your oil to medium high and fry for an extra 2 minutes per side.
Notes
1. One of the most important things to do is to make sure you check your codfish for any bones that were left in. 
2. Your batter should have a thin consistency.

If the batter is too thick add 1 tablespoon of water at a time until you reach the right consistency. If too thin then add 1 tablespoon of flour until it gets thick enough.
3. I used a 1/2 cup to measure the batter for each bacalaito. You can use a cup or a ladle. You can make them smaller if you like or even bigger.
4. When frying your bacalaitos your oil should not be very hot. The reason for this is that if it is very hot instead of one bacalaito it will spread into tiny pieces. When you first put your batter in it will look soggy and that's ok. After 6 minutes you will increase your oil temperature to medium-high and this is when it will start to get crispy.
Tip:
Bacalaitos are best eaten right after frying but you can make and eat them later. To keep them warm what I do is mimic the hot food displays used in Puerto Rico. Turn your oven on for 10 minutes at 200°F. Turn off your oven and turn on the light. This will keep the temperature of your oven warm. Your bacalaitos should not be there for more than 1 hour as they will become soggy and won't taste as good.
NUTRITION
Calories:
316
kcal
|
Carbohydrates:
36
g
|
Protein:
23
g
|
Fat:
8
g
|
Saturated Fat:
1
g
|
Polyunsaturated Fat:
4
g
|
Monounsaturated Fat:
2
g
|
Trans Fat:
0.04
g
|
Cholesterol:
43
mg
|
Sodium:
2580
mg
|
Potassium:
475
mg
|
Fiber:
1
g
|
Sugar:
0.2
g
|
Vitamin A:
51
IU
|
Vitamin C:
1
mg
|
Calcium:
61
mg
|
Iron:
3
mg
Keywords:
bacalaitos, codfish fritters
Thank you for stopping by!
Hi! I'm Stephenie and I love to make food and share it with everyone. I make everyday recipes that are easy to follow and most importantly delicious! I hope that my recipes inspire you to cook.