The Guava Sauce recipe is a very versatile one. It can be used in savory and sweet dishes. It is sweet, tangy, and delicious.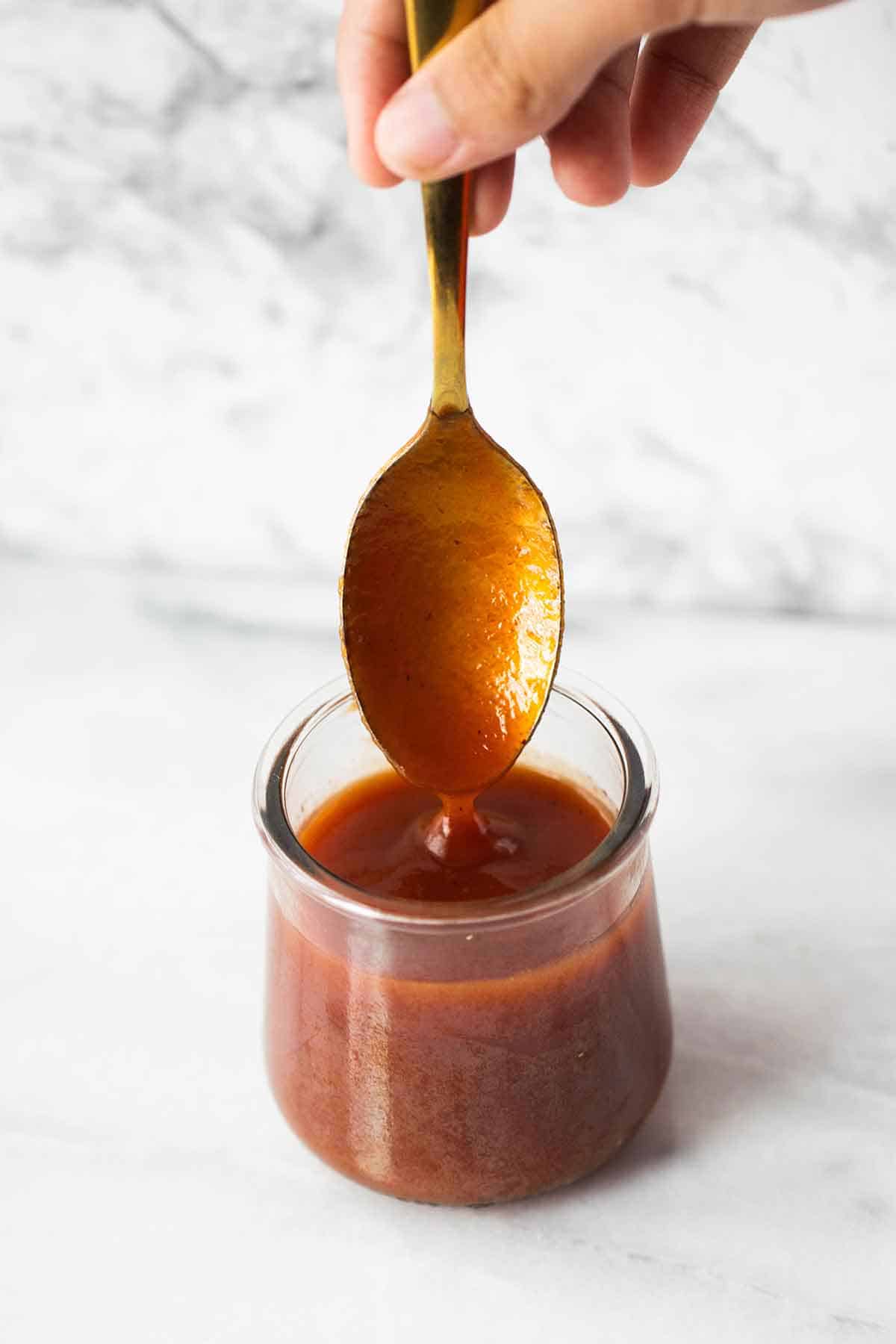 Guava Sauce
The Guava Sauce is a good condiment recipe to learn how to make because the flavor goes well with almost anything. It is good for desserts like cheesecakes or pastries because the acidity in the recipe balances the sugar flavor. But is incredibly tasty when paired with savory foods. That sweet mix of savory with sweet.

This recipe is very popular in the Caribbean where is called salsa de guayaba. In Puerto Rico, we love to eat guava sauce with queso frito (fried cheese). It is very common to be served as an appetizer or as a party food because you can dip anything in it. You can dip cheeses, nuts, and meats in it.
What is Guava Paste?
The guava paste is the result of the guava fruit being processed with sugar and acid. It is basically the cooked puree of the fruit including the skin that has been strained, mixed with a few ingredients, and then molded. The cool thing about the guava paste is that it doesn't need any thickening agent to be made because the fruit already has it.
What Does Guava Taste Like?
The guava fruit has an interesting taste because it always depends on the stage of the fruit when you eat it. If you eat it when it's on the greener side it can taste like a pear. If you eat it when is ripe then the taste is more like a strawberry but sweet without any tanginess. But you will notice that you can almost taste it as soon as you smell it because is very fragrant.
Where Can I Buy Guava Paste?
Of course, this will depend on where you are located but if you are in the US it is very easy to find. The first stop can be in any Latin bodega or supermarket. But don't worry because big chain supermarkets carry it like Walmart. I have even seen it in Dollar Tree stores. You can also buy it online.
Ingredients
1. Water- The water in this recipe serves to dilute the sauce. You can use less water if you want a thick marmalade texture.
2. Guava paste- the star of the show is the guava paste. It comes in different shapes but it doesn't matter the shape or the brand.
3. Butter- The butter in this recipe adds a subtle touch of saltiness to the sauce and it also helps to balance the sugar.
4. Vinegar- The acid in the vinegar enhances the flavor of the guava. I used white vinegar for the recipe.
---
How to Make a Guava Sauce
1. The first step in this recipe is cutting the guava paste into smaller pieces. It is an important step because it helps the guava melt faster without burning.
2. Add all the ingredients in the pot to cook.
3. Cook and constantly stir. The reason to stir continuously is because 1 the sauce won't burn. 2 because the sauce tends to bubble and jump out of the pan if is not being stirred.
4. Lastly you need to store the guava sauce in any container with a lid. I like to store my sauce in a jar.
Variations
You can make this guava sauce spicy by adding any spice. You can add cayenne pepper or you can add crushed red peppers which is what I like to use.
Useful Tips
It is a good idea to store the guava sauce in a bottle. This is because it is easier to pour only a little bit at a time. This comes very handy if all you want is to drizzle the sauce.
If you are using the guava sauce soon, meaning the same day you don't have to refrigerate it.
How to Use Guava Sauce?
Use the guava sauce to top cakes as you would do with icing. This sauce is also good as a filling in between cake layers. A good way to use the sauce is as marmalade over a nice soft bread. But the best way to use this recipe is for meats. Brush guava sauce on top of a hot chicken pincho and be prepared for a party in your mouth. Or you can use it as a dipping sauce for chicken wings.
How to Store?
You can store this in any container with a lid. You can also store it in a bottle to distribute it better.
How to Reheat?
The easiest way to reheat is in the microwave. Heat it up by giving it 15 seconds at a time and then stir. Continue to do this until the sauce is hot.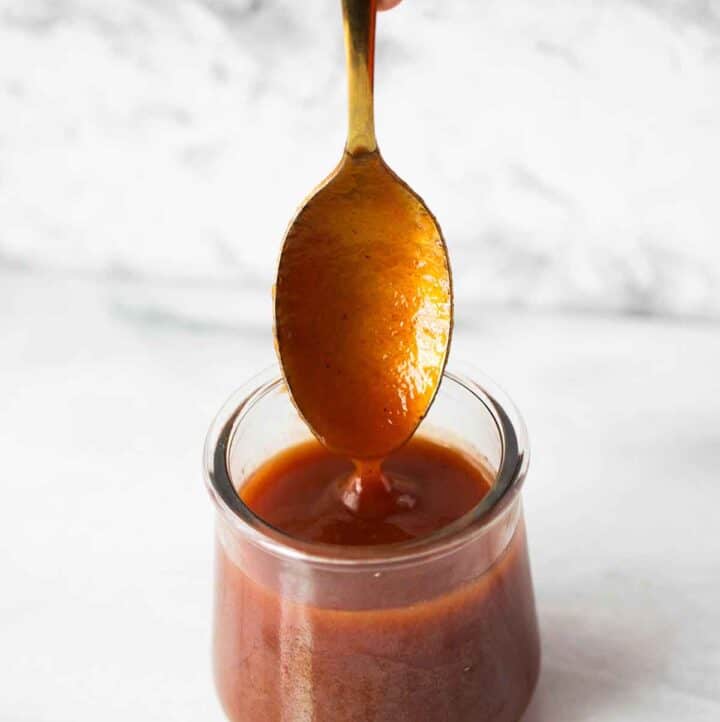 Guava Sauce
Salsa de Guayaba is a sauce good for sweet and savory recipes.
Ingredients
1

cup

water

10

ounces

guava paste

1

teaspoon

vinegar

1

tablespoon

butter
Instructions
Cut the guava paste into smaller pieces.

In a large pot over high heat add the water, guava paste, butter and vinegar.

Cook for 10 minutes and stir constanly so it won't burn. Let it cool before storing.
Notes
1. Storing–
Use a container or jar with a lid to store the salsa de guayaba. It is best to let it cool before storing it. I have saved the sauce in my fridge for a week. I have never left it for longer.
You can also use a condiment bottle so it can be easier to drizzle.
2. Reheating-
To reheat the salsa de guayaba you can either use the microwave or heat it up on the stow top on low heat. 
3. Yield-
The recipe yields about 1 1/3 cups. The serving size is 2 tablespoons.
NUTRITION
Calories:
56
kcal
|
Carbohydrates:
12
g
|
Protein:
0.01
g
|
Fat:
1
g
|
Saturated Fat:
1
g
|
Polyunsaturated Fat:
0.03
g
|
Monounsaturated Fat:
0.2
g
|
Trans Fat:
0.04
g
|
Cholesterol:
2
mg
|
Sodium:
8
mg
|
Potassium:
45
mg
|
Fiber:
1
g
|
Sugar:
12
g
|
Vitamin A:
27
IU
|
Calcium:
1
mg
Keywords:
guava sauce, salsa de guayaba
---
Did you like this Guava Sauce Recipe? Try these other tasty sauces
---
Don't miss another delicious recipe and sign up for our newsletter!
---
Hi! I'm Stephenie and I love to make food and share it with everyone. I make everyday recipes that are easy to follow and most importantly delicious! I hope that my recipes inspire you to cook.