Creamy, garlicky and lemony is the best way to describe this delicious Garlic Cilantro Sauce that you can make in just 5 minutes.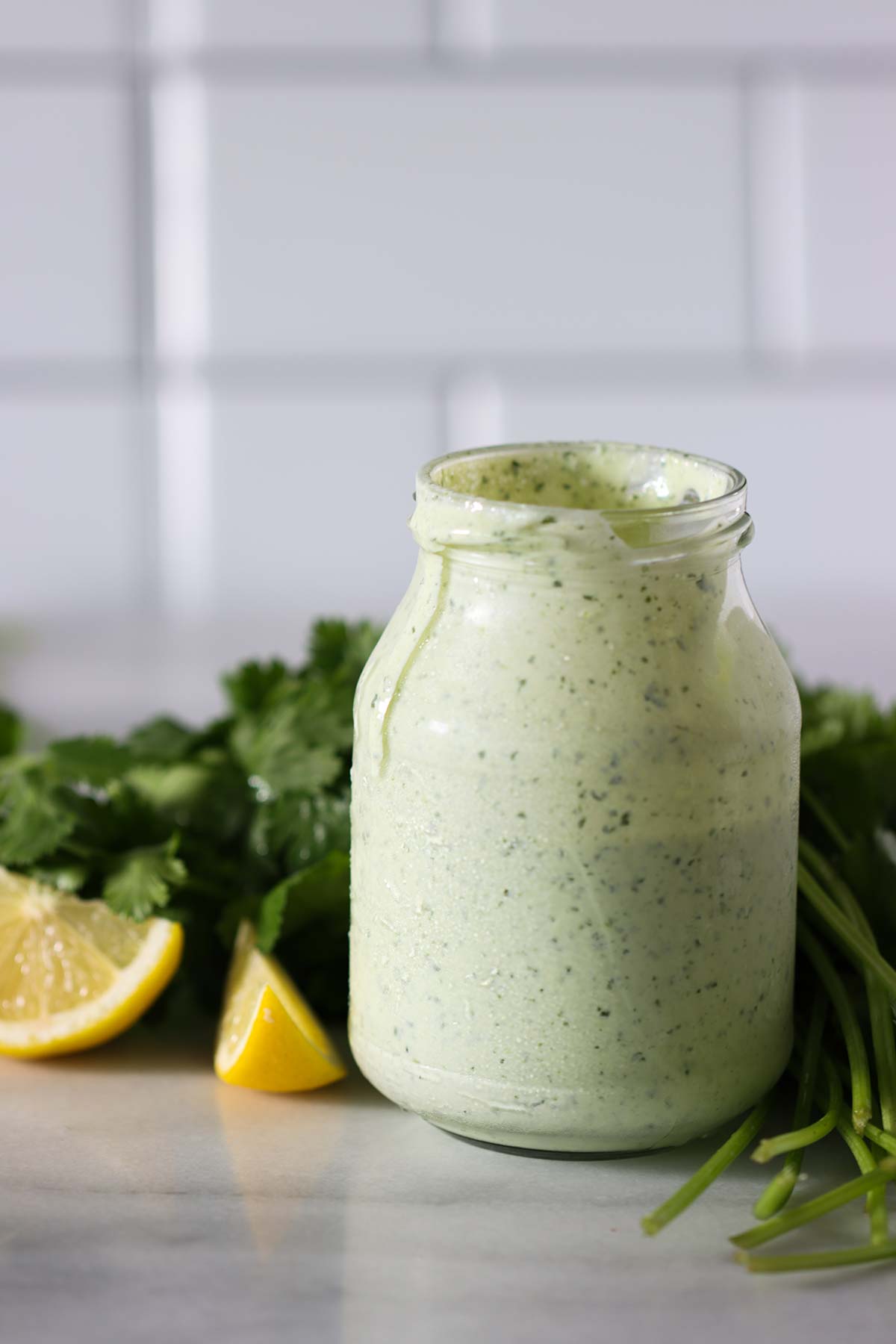 Most of the time I have a jar of Garlic Cilantro Sauce in my fridge and I think you should too. It is so yummy and goes well with almost anything. Just like my mayo ketchup sauce, this is also made in 5 minutes or less!
What is Garlic Cilantro Sauce?
This is a very versatile sauce that can be used in many different ways. Garlic Cilantro Sauce is made with cilantro, garlic, lemon, oil, sour cream and a touch of salt and pepper. It is very fragrant and you can taste the cilantro but it is very mild because the flavors are balanced between the garlic and lemon taste.
What do I need?
This sauce can very well be made by hand without any equipment. You just have to chop your cilantro very finely. The result will be a garlic cilantro sauce that is a bit chunky. It can be quite delicious and very helpful depending on how you intend to use this sauce. I used a hand blender but you can also use a food processor. You can also use a regular blender but I always feel like I waste a good amount of sauce that stays in the bowl.
Cilantro
This is a herb that comes from the Coriandrum sativum plant. Probably you have heard and used the seeds of this plant which are called coriander. Cilantro is the leafy part of this plant. It is important that when you are going to buy this not to get confused with parsley because they look very similar but cilantro leaves are a little more rounder. You can also confuse cilantro with culantro because they are very close in smell.
Garlic Cilantro Sauce Variations
This recipe is great and the best part is that you can make many variations to it.
Swap lemons for limes
Change sour cream for plain yogurt
Remove the sour cream and add olive oil
Add hot sauce to spice it up
What to serve with?
What goes best with Garlic Cilantro Sauce has to be hands down a good fried fish. It can be fried cod or fried tilapia, it doesn't matter which fish it will be delicious. You can pour it over a mofongo or put it inside plantain cups before stuffing it with your favorite toppings. Another great way is to take a yellow potato bread roll, spread some cilantro sauce and add your favorite veggies with a piece of ham and you have the perfect lunch sandwich.
How to store?
To store it is best to use a glass jar with a lid. I will not leave this sauce at room temperature for longer than 2 hours. Store it in your fridge for up to 5 days. I don't suggest freezing this recipe because once the sour cream is frozen it will change its texture.
---
How to make Garlic Cilantro Sauce
1. The first thing to do is to roughly chop your cilantro. This is so it can be easier to blend.
2. Next you want to add your lemon juice, and oil and mix it well.
3. Then add your sour cream, garlic, salt and pepper. Add any other spices you would like now.
4. Lastly, blend your ingredients. You can blend until it is nice and smooth or you can blend for a couple of seconds to get a chunkier texture.
Ingredients
1. Cilantro- The star ingredient is cilantro. I use it all even with stems but you can chop the ends off if they look a little brown.
2. Sour Cream- I used sour cream but you can substitute it with plain yogurt.
3. Oil- I use vegetable oil but you can use olive oil, coconut or your preferred oil of choice.
4. Lemon- I always use fresh lemons, not juice concentrate. I like the flavor of the lemons but you can use limes if that's what you have.
5. Garlic Paste and Garlic Powder- I always make the garlic paste fresh because I like the fresh flavor but you can use store bought garlic paste. I also use garlic powder because it has a stronger flavor than fresh garlic perfect for this recipe.
6. Salt- the salt is used to balance all the flavors of all the ingredients.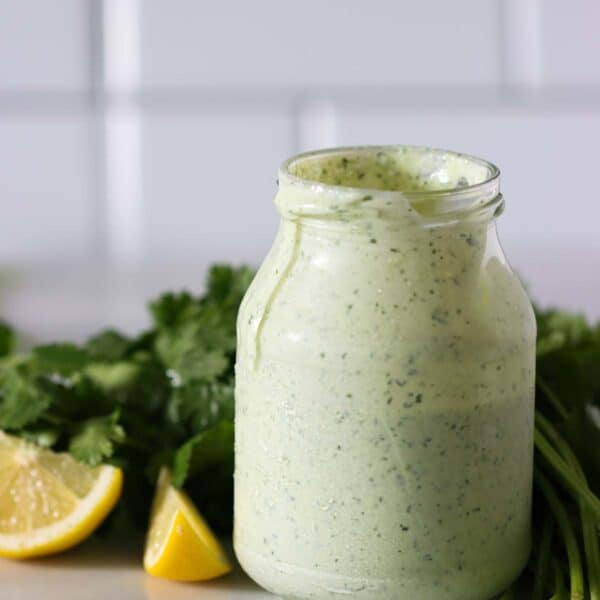 Garlic Cilantro Sauce
This Garlic Cilantro sauce is deliciously light and perfect for meats, fish and salads.
Ingredients
1

cup

cilantro

1

cup

sour cream

1

tablespoon

oil

1/4

teaspoon

salt

1/2

lemon

1/4

teaspoon

garlic paste

1/2

teaspoon

garlic powder
Instructions
Roughly chop your cilantro into smaller pieces. In a medium bowl add your cilantro and oil. Squeeze the lemon over the cilantro and mix everything. Now add your sour cream, garlic powder and salt.

Now with the aid of a hand blender or food processor blend all together. Do this for about 2 minutes or until the consistency of your sauce is smoother. Last, add your garlic paste and mix. Serve and enjoy.
Notes
1. I used a hand blender but this recipe can be done with a food processor. 
2. If you like a more intense garlicky flavor you can add 1/2 teaspoon at a time until is to your liking.
NUTRITION
Calories:
587
kcal
|
Carbohydrates:
12
g
|
Protein:
6
g
|
Fat:
59
g
|
Saturated Fat:
24
g
|
Polyunsaturated Fat:
6
g
|
Monounsaturated Fat:
19
g
|
Trans Fat:
0.1
g
|
Cholesterol:
136
mg
|
Sodium:
660
mg
|
Potassium:
381
mg
|
Fiber:
1
g
|
Sugar:
8
g
|
Vitamin A:
2513
IU
|
Vitamin C:
7
mg
|
Calcium:
248
mg
|
Iron:
0.5
mg
Keywords:
cilantro sauce, garlic cilantro sauce
Hi! I'm Stephenie and I love to make food and share it with everyone. I make everyday recipes that are easy to follow and most importantly delicious! I hope that my recipes inspire you to cook.