Rich in flavors and super creamy is this Piña Colada Mocktail. Learn how to make it like a Pro. You need only 3 ingredients and less than ten minutes to enjoy this any time of the year.
What is a Piña Colada Mocktail
Piña Colada is a nonalcoholic heavenly mix of pineapple juice, cream of coconut, and ice that is all blended together until you get a delicious frozen drink. It is a smooth drink that tastes sweet and it is very refreshing. It is a very popular summer drink, but you can have it any time of the year.
Since this is a Piña Colada Mocktail recipe it has no alcohol. In fact, in Puerto Rico, it is usually served without alcohol and is enjoyed by kids and adults alike. It is very popular in street food joints where you can have it as a virgin pina colada or with rum.
Where does Piña Colada come from?
Piña Colada was born in San Juan, the capital of the beautiful island of Puerto Rico. Exactly who invented it is still debatable because 3 men claim the invention. They all want the glory to be named the inventor of Puerto Rico's national drink. A Lot of people think that this drink is Mexican or Hawaiian but Pina colada is as Puerto Rican as sofrito.
Do I use Cream of coconut in the can or in the bottle?
I have always seen it made with cream of coconut from the can. I always make it with either Coco Lopez or the Goya brand. I find that the can version is far better but if you have the bottle version use it. Do not deny yourself this delicious drink just because of that.
Can I use pineapple chunks instead of pineapple juice?
You can use fresh pineapple chunks instead of juice. The difference you will notice is in the texture you'll get.
Ingredients
Pineapple Juice– I always use 100% pineapple juice. I have always used the dole brand but any brand will do as long as it is 100% juice. You can also use fresh or frozen pineapple chunks.
Cream of Coconut– As mentioned before I use coco lopez or goya cream of coconut. You cannot substitute the coconut cream for coconut milk because it will lack the sugar to make this a tasty sweet drink.
Ice– You can use ice cubes as big or as small as your blender can handle.
---
How to make a Piña Colada Mocktail
1. Add your ice to your blender.
2. Add your pineapple juice or your fresh pineapple.
3. Pour in the cream of coconut.
4. Blend for about 1 minute or until smooth.
Pro Tips on making the Perfect Piña Colada
The perfect ratio for making a pina colada is 1 part cream of coconut and 2 parts pineapple juice.
On very hot summer days, chill your mix so it won't water down quickly.
Toppings and additions
This addition is something that is not authentic but I sometimes like to add coconut flakes to add a crunch.
As for toppings, the most popular are whipped cream, maraschino cherries, and a pineapple wedge.
Not common but sometimes I like to sprinkle it with cinnamon. It is really good.
Variations
This is not how you will typically see this drink but if you don't have a blender you can make this drink simply poured over ice. It will still be delicious, it just is not going to have that frozen texture.
There are many variations and they won't taste exactly the same as the original one but the main flavors will be there. You can make blue colada, mango colada, strawberry piña colada, and the list goes on.
How to store?
You can store your Piña Colada as long as it is not blended because it will water down. You can store your ingredients separately in your fridge beside obviously the ice. What I usually do is take an empty water gallon and combine the cream of coconut and pineapple juice and store it in the fridge.
I usually store this mix for no more than 3 days because it never lasts the weekend so I don't recommend saving it more than 3 days. When a day goes by, you will notice that your mix has separated. Don't panic, this is normal because of the fat in the cream of coconut. Just give it a nice shake and you're good to go.
What to serve with?
To tell you the truth a refreshing pina colada will go nicely with almost anything. You can have it with something fried like a bacalaito, chicharron de pollo, fried pork, or even next to a delicious fried chicken.
---
Don't miss another delicious recipe, Sign up for email updates
---
Recipe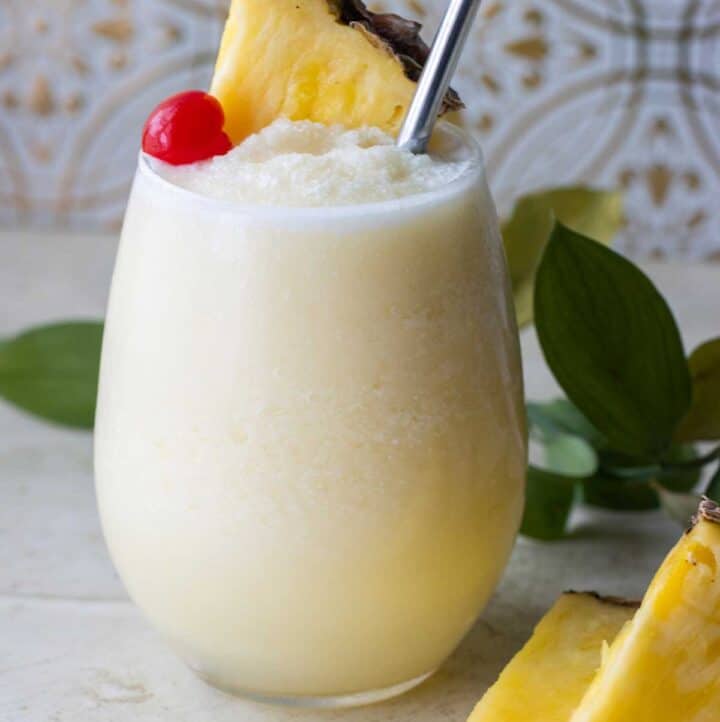 Piña Colada Mocktail
Deliciously creamy is this Piña Colada Mocktail. Made with rich cream of coconut and refreshing pineapple juice.
Ingredients
8

ounce

pineapple juice

4

ounce

cream of coconut

4

cups

ice
Instructions
In a blender, add the ice, pineapple juice, and cream of coconut. Blend for about 1 minute or until you no longer see big ice chunks. Serve and garnish as desired. Enjoy!
Recipe Notes
Recipe yields– 2 (16-ounce) drinks. If you portion this in an 8-ounce cup, you will have 4 drinks.
Pineapple– You can use any 100% pineapple juice or fresh pineapple.
The ratio- to make the perfect colada is 1 part cream of coconut, and 2 parts pineapple juice. 
Tip– Is always a good idea to chill your liquids before using them if is a really hot day. You also want to make sure you don't blend that long. Do it for about 1 minute or until smooth. If you leave your mix blending for a long time it can get watery.
Toppings– You don't need any toppings for a piña colada but there are many things that go great with this drink. You can use fresh pineapples, whipped cream, and maraschino cherries.
Lime– I have seen many recipes that say to add lime to the drink. Piña colada does not need any lime juice because it changes the flavor. But if you want to add it, go for it, no judgment here.
No blender– If you don't have a blender you can drink this over ice and even add some club soda to make this a bubbly drink.
Nutrition
Calories:
306
kcal
|
Carbohydrates:
54
g
|
Protein:
0.4
g
|
Fat:
10
g
|
Saturated Fat:
9
g
|
Polyunsaturated Fat:
0.1
g
|
Monounsaturated Fat:
0.01
g
|
Sodium:
54
mg
|
Potassium:
147
mg
|
Fiber:
2
g
|
Sugar:
49
g
|
Vitamin A:
6
IU
|
Vitamin C:
11
mg
|
Calcium:
29
mg
|
Iron:
0.3
mg
Keywords:
piña colada, pina colada mocktail