Alcapurria de Yuca is one of the most popular street foods in Puerto Rico. You can find them almost at any roadside stand. If you ever had alcapurrias de yuca before, this recipe will transport you to Puerto Rico. If not, you're about to get a taste of one of the most delicious fritters you can have.
The best part of this recipe is that no matter where you live, the ingredients are pretty easy to get. This is also a very versatile recipe because it can be stuffed with ground beef, chicken, or even vegetables to make them vegetarian-friendly.
What is Alcapurria de Yuca?
Alcapurrias de Yuca are stuffed yuca fritters made from grated yuca or cassava. This forms a dough that is then seasoned with salt and adobo. Then we add achiote oil to give it that beautiful golden yellow color. Then they are stuffed usually with some type of protein. The most popular stuffings are picadillo and stewed crab meat. I have even had an alcapurria loaded with pork chunks. Nowadays they are also made of vegetables for vegetarians and vegans.
After you add the stuffing, the alcapurrias are shaped into small long cylinders. Traditionally they are fried over a wood open fire where they get this incredible taste. But at home, we just take a large pan with enough oil to cover half of the alcapurria and fry them until nice and crispy.
Alcapurrias are one of those recipes that are a fun tradition to make together as a family just like when making pasteles. Alcapurrias can be a quick delicious lunch or a tasty snack. But be careful, you might want to eat more than one alcapurria. I must confess that I have never eaten only one. I always have 2 of them. That's how good they are.

The alcapurrias can be made in all types of sizes. You can even make mini alcapurrias de yuca as a party food. There are also alcapurrias made from masa. The masa is a dough made from grated green bananas and yautia. Both of these alcapurrias are delicious.
Where to buy Grated Yuca?
You can find grated yuca in the frozen section in your local supermarket. Big chain supermarkets like Walmart and Stop and Shop usually carry them. Another place to find grated yuca is in Latin or Asian markets. You will usually find it by the name brand Goya.
I use store-bought grated yuca because it's more convenient. But you can make the grated yuca yourself. First, peel the yuca and cut it into small chunks so it can be easier for your blender to break apart. You can use a food processor or a small blender like the Nutri Bullet or the Ninja brand. You may have to do it in batches depending on how much you are making.
Ingredients and Substitution
1. Grated Yuca- For this recipe, you can use fresh or frozen grated yuca. There is no noticeable difference between the two.
2. Seasonings- To season the alcapurrias we use salt and adobo. Some people season the alcapurrias differently by adding garlic powder and even sofrito. I like to keep it simple so you can get a real taste of the yuca.
3. Achiote Oil- The oil is added to give the dough a smokey flavor and the beautiful color that alcapurrias de yuca have.
Substitution- If you don't have achiote oil you can substitute it with 1 packet of sazon. If you use sazon, you must add it first then your salt. Then add the salt little by little, mix the dough, and taste it to make sure is not too salty.
4. Picadillo- I used cooked ground beef as a filling.
Substitution- You can use any meat you like or a vegetable mix.
---
How to Make Alcapurria de Yuca
1. First, we need to prepare the yuca dough by seasoning it and adding the achiote oil. Mix it all until it has an even color.
2. Take parchment paper and cut it into large squares. Add achiote oil to the parchment. This is to avoid the alcapurria sticking from the paper.
3. Add the yuca dough. Form an even tortilla shape.
4. Add your preferred filling on top of the dough.
5. Close up the alcapurria and finish shaping with a spoon.
6. Fry the alcapurrias for 6 minutes and drain on a paper towel.
Useful Tips
If you are having trouble shaping the alcapurria, you can make it a boxed square shape. While this shape is not traditional at all, it will be easier if you are having trouble making the traditional shape.
When you bite into the alcapurria and you see the dough a light yellow, it means it's still raw. You can put it again to fry for 2 minutes.
How to Store?
If you store your alcapurrias de yuca raw in the fridge, keep no more than 3 days in an airtight container or freezer bag. If you are storing it in the freezer, you can keep it for up to 3 months to avoid freezer burn. Ensure they are wrapped in plastic, a freezer bag, or an airtight container before freezing.
How to Reheat?
I always recommend eating alcapurrias right after frying them because that's how they taste best. If you want to reheat you can re-fry for 1 minute but it tends to get crunchier on the outside. You can also use the microwave and heat 20 seconds at a time. They won't taste the same as freshly fried but they still are good.
What to Serve with An Alcapurria de Yuca?
Alcapurrias de Yuca is usually eaten by itself unless you treat yourself to another fritter. You can have an alcapurria with a Puerto Rican piña colada or a mojito with passion fruit.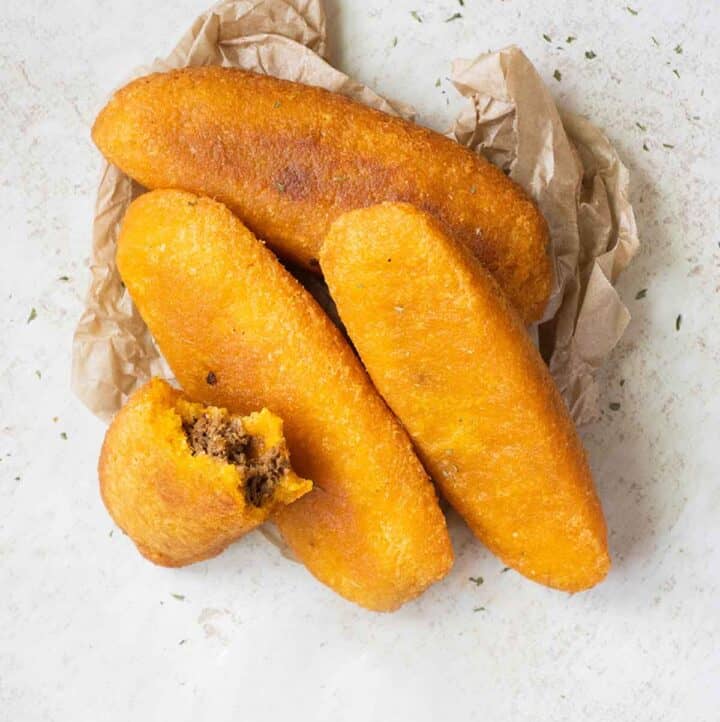 Easy Alcapurria de Yuca
Crispy and delicious are these Alcapurrias de Yuca. Make them regular size or the mini version to share.
Ingredients
Alcapurria Dough
2

pounds

grated yuca

1/2

tablespoon

salt

1/4

teaspoon

adobo

1/4

cup

achiote oil
Meat Filling
2

tablespoons

sofrito

2

tablespoons

tomato sauce

1

pound

ground beef

1/2

cup

water

1 1/2

teaspoons

sazon

or 1 packet

1

teaspoon

adobo
Instructions
Ground Beef
In a medium size pan over high heat add the sofrito and tomato sauce. Cook for about 2 minutes while stirring. Add the ground beef, water, sazon, and adobo. Break apart the meat until you have no chunks left. Cook for 10 minutes and set aside.
Alcapurria Assembly
In a big bowl add the grated yuca, salt, adobo, and achiote oil. Mix everything until you see the dough get an even color.

Take parchment paper and cut it into a square of about 7 inches. Add 1/2 teaspoon of oil on to the parchment.

Add 1/2 cup of the dough onto the parchment and flatten it until you make a small tortilla shape. Add 1/4 cup or 4 tablespoons of beef to the middle of the dough.

Take both ends of the parchment paper and close the alcapurria. With a spoon softly shape the excess dough into the rest of the alcapurria.
Frying
In a large pot over medium-high heat, add 2 cups of oil. Once the oil is hot, slowly add the alcapurrias by taking one end of the parchment and putting it close to the oil so the alcapurria can roll in it. Fry for 3 minutes on each side. You might need to fry in batches depending on your pan size.
Notes
1. Substitutions- 
Store-bought grated yuca- You can also use fresh grated yuca.
Achiote oil- If you don't have achiote oil for the dough, you can use sazon. But you must add the sazon to the grated yuca before the salt. Then add about half of the salt and taste the dough. This is to make sure the dough is not too salty.
2. Shaping– If is difficult for you to shape the alcapurrias you can give them a rectangular shape. While this is not the traditional form, it will be easier to shape. The alcapurria will still taste amazing.
3. Storing- When storing alcapurrias de yuca, the best is to wrap them all in plastic and put them in a freezer bag or an airtight container. There are 2 reasons for this. First, is to avoid the achiote oil from staining anything in your kitchen. Second, it is to avoid freezer burn when freezing.
Keep in the fridge for no more than 3 days and in your freezer for no more than 3 months.
4. Yield- This recipe makes 8 (6-inch) yuca alcapurrias. You can make 16 mini ones by doing them half the size of a regular one.
NUTRITION
Calories:
359
kcal
|
Carbohydrates:
44
g
|
Protein:
11
g
|
Fat:
15
g
|
Saturated Fat:
5
g
|
Polyunsaturated Fat:
2
g
|
Monounsaturated Fat:
6
g
|
Trans Fat:
1
g
|
Cholesterol:
40
mg
|
Sodium:
710
mg
|
Potassium:
473
mg
|
Fiber:
2
g
|
Sugar:
2
g
|
Vitamin A:
33
IU
|
Vitamin C:
24
mg
|
Calcium:
31
mg
|
Iron:
1
mg
Keywords:
alcapurria de yuca, alcapurrias de yuca, stuffed yuca fritters
---
Did you like this Alcapurria de Yuca Recipe? Looking for more finger foods?
---
Don't miss another delicious recipe and sign up for our newsletter!
---
Hi! I'm Stephenie and I love to make food and share it with everyone. I make everyday recipes that are easy to follow and most importantly delicious! I hope that my recipes inspire you to cook.