This recipe is here to show you that making masa de empanadilla is not hard at all. This dough is made with only a few economical ingredients with endless possibilities. When it cooks, it gets flaky, and crispy and is just an explosion of flavor in your mouth. You can make this as a sweet or savory recipe that you can make as a snack, appetizer, lunch, and even for breakfast. Making this a great party food recipe.
Masa de Empanadillas
You will love how easy and delicious it is to make this empanadilla dough. This is a recipe that is deeply rooted in Puerto Rican culture. It is the dough you need to make empanadillas but is also used to make pastelillos. They are almost the same but the only real difference is the way they are sealed. It is normally eaten as a quick lunch or snack with a nice cold beverage. If you were having this after school, then there's no doubt that it was accompanied by a frozen icee or slushie. The most popular empanadillas to make are pizza empanadillas or beef and cheese empanadillas.
Are Empanadillas the same as Empanadas?
You will hear many people use the term empanadilla and empanada interchangeably but they are not always the same. The dough is very similar but depending on the recipe, the empanada sometimes has eggs. Another major difference is that empanadillas are always fried, at least the puerto rican empanadillas. But you must know that some people call empanadillas puerto rican empanadas.
Do I need a mixer?
The best thing is that for this recipe you don't need a mixer or much equipment at all besides a rolling pin. Even if you don't have a rolling pin you can still make this recipe. Listen, I have even used a wine bottle to roll the dough. So use anything you have at home. The good thing is that you'll have fewer dishes to wash afterward.
What is the best way to cook?
The best way to cook will always be by frying. The reason for this is that it will give us the best results on the outside of the masa. By frying the dough, it will form little air bubbles that aid with the crispiness of the empanadillas. But you can also make this by air frying if you like. But you have to remember that it will taste slightly different because of the texture.
Ingredients
All purpose flour- For this recipe, we use all purpose flour to get the best results.
Salt- I use 1/2 teaspoon of salt for seasoning. You can add herbs to infuse more flavor into your dough.
Vegetable shortening- The shortening is key to giving the dough a soft consistency. If you want to add more flavor to your dough you can substitute it with lard.
Achiote Oil- This is responsible for giving the dough a beautiful golden color. You can use vegetable oil if you can't find achiote oil.
Water- I always use room temperature water. No need for cold or boiling water.
---
How To Make Masa de Empanadillas
Basic Steps:
1. The first step is to mix all the dry ingredients. Then you need to add the shortening and mix it in until there are no visible lumps in the dough. You can do this by hand or with a dough mixer. Then add the water and mix.
2. Add the achiote oil and knead the dough for about 10 minutes.
3. Cover the dough with plastic wrap and let it rest for 30 minutes.
2 Ways of Forming an Empanadilla Disk
Method A
The benefits of this method are that it is faster and it doesn't involve any measuring.
1. In a lightly floured surface, roll all the dough until thin or about ⅛ of an inch thick.
2. Take a plate, or any round dish large enough to cut the dough. Reroll any dough left and repeat until there's no more left.
3. Store by placing each disk on top of parchment or wax paper. Then you can wrap it in plastic and put it away.
Method B
The benefits of this method are that it is way easier to roll each disk to size.
1. Cut the dough in half. Then cut each half into 6 pieces. I like to weigh the dough for accuracy but is not necessary.
2. Lightly flour your surface and roll out each disk.
3. Store your disk by first separating each in wax or parchment paper. Then store as instructed.
---
Pro Tip
The thinner the dough, the crispier and flaky it will be. If your dough is thicker it will have a more bread like consistency.
Masa de Empanadillas Variations
The one reason why this is a must know recipe in your kitchen is because of the variations. This recipe is made to go well with almost anything.
Dough variations- You can add different herbs or spices to make this dough have many different flavors while still having a great dough.
Filling variations- The fillings for this are endless. In Puerto Rico we love to use this masa de empanadillas to make chicken empanadillas, Ham and cheese empanadillas, or to make seafood pastelillos. But not only is this great for savory fillings but it is amazing for sweet ones too. You can make sweet guava and cheese pastelillos or even strawberry and cream ones. You can also do seasonal fillings. Make a light and fresh caprese empanadilla or a cinnamon pumpkin in the fall.
How to Store?
To store the empanadilla dough you must place each disk on a wax or parchment piece of paper to avoid sticking and better handling. Then you can wrap them in plastic and store them in an airtight container or a freezer bag. You can freeze it for 3 months and keep it in your fridge for up to 5 days.
What to serve with?
This recipe is perfect to fill with any leftover chicken, or with tasty ground beef. You can make a cilantro sauce to go over or a delicious mayo ketchup to dip. You can accompany this with any refreshing drink like the famous Piña colada or a tropical Passion Fruit Mojito.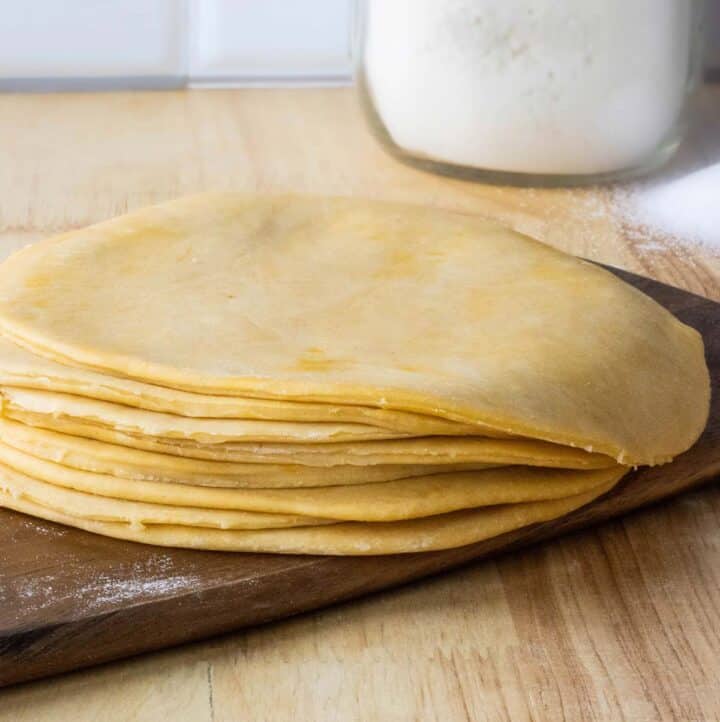 Masa de Empanadillas
This dough is perfect for any occasion. Perfect to fill with practically anything. Making it sweet or savory is your choice.
Ingredients
3

cups

all purpose flour

408g

2

tablespoons

vegetable shortening

1/2

teaspoon

salt

1

cup

warm water

1

tablespoon

achiote oil
Instructions
In a large bowl add the flour, salt, and shortening. Mix the shortening in the flour with a dough blender or with your hands. Do this until you no longer feel big lumps in your mix. Add the water and mix.

Add the achiote oil and mix to evenly distribute the color. Knead the dough for 10 minutes

Cover the dough with plastic wrap and let it rest for 30 minutes.

Lightly flour a surface and roll the dough to 1/8th of an inch thick. Use a 6-inch round cutter or a small plate and cut out the empanadilla disks. Make a ball with the leftover dough and roll it again and cut. Repeat the process until you've done all the disks.

Place each disk on wax or parchment paper. Then wrap all the disks in plastic film and transfer them to an airtight container or a freezer bag.
Notes
1. Substitutions-
You can use regular oil if you don't have achiote oil or simply don't want any coloring in your dough. Or you can also use lard.
If you still want to give the dough color but don't have achiote, you can use food coloring.
2. Dough-  If you feel that the dough is too sticky add 1 teaspoon of flour.
3. Storing- To store the empanadilla disk it's best to place each disk on wax or parchment paper. Then you want to wrap all the disks in plastic wrap to avoid the disk from drying. You can store it in your fridge for up to 5 days and up to 3 months in the freezer.
4. Making- To cook the masa (dough), it is best to fry. If you want to bake it, you can. Set your oven to 350°F for 20 minutes. But you must know that the texture when baking is different than when frying.
5. Yield- The recipe yields 12 6-inch round disks, but you can get more or less depending on what you use to cut the dough. You can use a small plate to make big disks or any cup to make small ones.
6. You can use this recipe to make Empanadillas and also to make Pastelillos. 
There are 2 ways of forming the empanadilla masa.
A. You roll out all the dough and then cut out the disk using anything round you have.
B. You divide the dough into 12 balls and then roll them out until you make a disk.
NUTRITION
Calories:
164
kcal
|
Carbohydrates:
24
g
|
Protein:
3
g
|
Fat:
6
g
|
Saturated Fat:
1
g
|
Polyunsaturated Fat:
1
g
|
Monounsaturated Fat:
1
g
|
Trans Fat:
0.3
g
|
Sodium:
583
mg
|
Potassium:
34
mg
|
Fiber:
1
g
|
Sugar:
0.1
g
|
Calcium:
6
mg
|
Iron:
1
mg
Keywords:
masa de empanadilla, masa de empanadilla o pastelillos
Don't miss another delicious recipe and sign up for our newsletter!
Hi! I'm Stephenie and I love to make food and share it with everyone. I make everyday recipes that are easy to follow and most importantly delicious! I hope that my recipes inspire you to cook.